What Is Art Blocks and Why Are These NFTs Suddenly Selling for Millions in ETH?
7 min read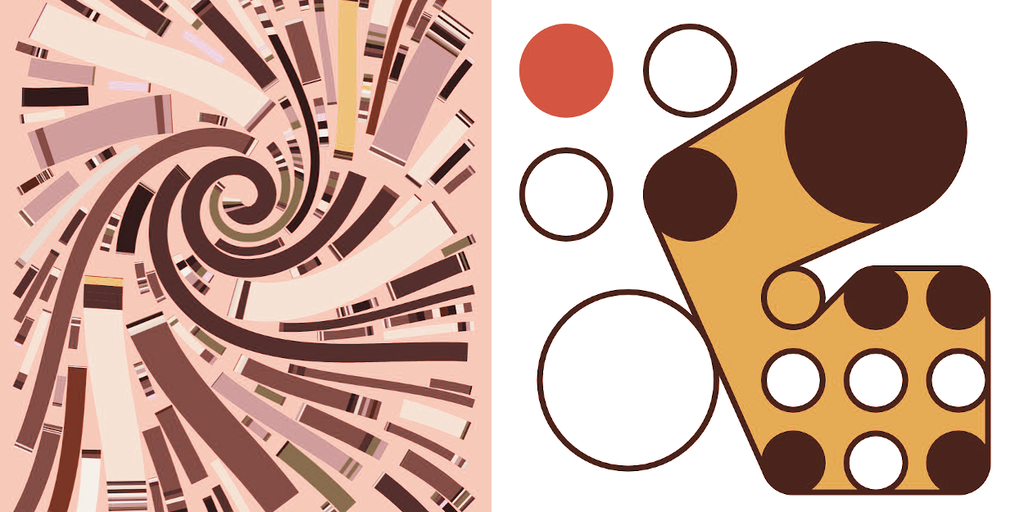 Much of the conversation around the latest NFT market boom has centered on profile picture collections such as CryptoPunks and Bored Ape Yacht Club, which have collectively accounted for hundreds of millions of dollars of transaction volume in recent weeks.
But there's another surging NFT collection with a very different kind of allure: Art Blocks.
It's not a brand new project, but its impact in the NFT market has quickly accelerated: Art Blocks has spawned $403 million worth of trading volume so far in August, per CryptoSlam, which is more than 80% of its total since launching in November 2020.
Earlier this week, a single Art Blocks NFT sold for $3.3 million worth of ETH—a new record for the collection—and it's one of 16 single pieces in the vast collection that have now sold for $1 million or more each.
Just brokered the first 4-digit @artblocks_io sale at 1,000ETH ($3.3M)

I present to you @tylerxhobbs Fidenza 313, "The Tulip" . A remarkably beautiful and memorable onchain artifact now owned by legend @punk6529. Unmistakably one of the top 5 Fidenzas

Now vaulted forever pic.twitter.com/TVcCmYIFuN

— bonafidehan.eth (@bonafidehan) August 23, 2021
An NFT is a blockchain-verified deed of ownership to a unique digital item, whether it's an image, video file, or something else entirely. Art Blocks is a generative art collection that spans a wide array of different drops by varying artists—some are flat images or interactive 3D compositions—but they're all united by a similar origin story: every final, one-of-a-kind image is generated by the ETH blockchain.
The artist creates an algorithm or script and deploys it on ETH, experimenting with compositional elements to develop the project's unique style before locking the code. During the minting process, the final image is generated from the script via the hash string or "seed" provided by the token. Each resulting image is different and created on the spot, sight unseen by the buyer, but there are consistent elements and repeating motifs that join them all into a cohesive project.
It's a marriage of traditional art aesthetics and blockchain data that yields something that is undeniably crypto-native. The look and feel of each drop varies widely across the different Art Blocks projects, but some have been celebrated and hailed as fine art—and they're selling for similarly towering prices, accordingly.
Blocks make bank
Tyler Hobbs' Fidenza line, which spans 999 separate NFT pieces, has rapidly become one of the stars of the collection, accounting for four of the top five highest-priced Art Blocks secondary market NFT sales to date. The lowest-priced Fidenza piece currently listed on secondary market OpenSea is listed above $550,000 worth of ETH.
"Fidenza is by far my most versatile algorithm to date," Hobbs wrote on the official Art Blocks project page. "Although the program stays focused on structured curves and blocks, the varieties of scale, organization, texture, and color usage it can employ create a wide array of generative possibilities." According to Texas Monthly, the Austin-based Hobbs spent months refining the algorithm behind Fidenza.
The Fidenza project dropped in June at a mint price of 0.17 ETH each—about $400 at the time—and sold out in 28 minutes. The pieces have quickly accelerated in value since. Here's a good example from OpenSea: Fidenza #284 was sold for 7.5 ETH ($23,400) on July 13, sold again on July 19 for nearly 18 ETH ($56,200), and then sold again on July 24 for 20 ETH (about $62,500). It's now listed at 215 ETH ($672,500).
Whether it sells for that much remains to be seen, but there is recent precedent for top-dollar Fidenza sales. Along with the $3.3 million sale on Monday, another Fidenza sold yesterday for 777 ETH ($2.4 million) from Kevin Rose, partner at VC firm True Ventures and co-founder of Digg. Rose is one of the most prominent Fidenza owners and admirers and has discussed the collection and interviewed Hobbs on his Modern Finance podcast.
Wow… just shocked. When I set this price (yesterday) I didn't really expect it to sell this quickly. Thank you @tylerxhobbs for your fantastic work. I will certainly reinvest this in new and upcoming artists / donate a portion to charity. https://t.co/rbaJQ73D48

— KΞvin R◎se (@kevinrose) August 25, 2021
Fidenza isn't the only Art Blocks collection to surpass the $1 million mark with single NFT sales. Dmitri Cherniak's Ringers project has seen six sales just above that mark, including three that transacted today. Kjetil Golid's Archetype project has amassed a pair of seven-figure sales too, and Art Blocks founder and CEO Erick Calderon's original Chromie Squiggle drop is responsible for the second-highest single Art Blocks sale at nearly $2.44 million worth of ETH.
"[It's] incredibly validating, exhilarating, but also terrifying," Calderon told Decrypt this week about Art Blocks' recent upswing, following a record-breaking Monday haul of $69.4 million worth of trading volume. "It's all overwhelming, but we have an incredible team and are pouring our hearts into this. As a result, we are enjoying the success."
Growth headaches
Given the rate of Art Blocks' growth, it's understandable why Calderon would describe the recent surge as "overwhelming." It's a lot of money paired with a lot of sudden demand. The $429 million in trading volume over the last 30-day span makes up the vast majority of what Art Blocks has generated to date, and isn't far behind $497 million tied to CryptoPunks in the same span. (Both trail behind surging ETH crypto game Axie Infinity, which has $852 million in NFT sales over the last 30 days.)
It's worth noting that there are a lot of Art Block NFTs out there. Currently, there are 140 collections under the Art Blocks Curated banner, which are selected by the project's curation board, but there's more. Art Blocks Playground is a banner under which existing "Curated" artists can release additional projects with less stringent oversight, while Art Blocks Factory is another banner with more relaxed requirements for participating artists.
AB Ringers #686 just sold for 500 ETH ($1.5 MILLION)

Damn we really love the ringers don't we? pic.twitter.com/gJ7GNNjzIF

— nathanhead.eth (@NathanHeadPhoto) August 26, 2021
All told, there are some 99,000 NFTs bearing the Art Blocks name, although the Playground and Factory banners typically don't yield as much money in secondary market sales. For example, the cheapest available Art Blocks Curated NFT on OpenSea is listed at 1.9 ETH ($5,900) while the most affordable Factory NFT is 0.1 ETH ($310).
The Art Blocks community has its share of outspoken enthusiasts and collectors. Rose is one of those notable fans who has repeatedly shared the project with his legion of followers and listeners, and there are others who appear to appreciate Art Blocks and/or generative artwork more broadly for the art itself. But amidst the recent surge in overall NFT market activity, there's also a layer of speculative frenzy around Art Blocks right now.
Many Art Blocks drops until late have had relatively low minting fees, and it resulted in a lot of quickly-flipped NFTs. For example, the Fidenza NFT that sold for 1,000 ETH ($3.3 million) this week was previously sold for 0.58 ETH ($1,400) on the same day it was minted. Someone minted it comparatively cheaply and then turned a quick profit by selling it… and then that buyer resold it for 1,724x more ETH two months later. Given the demand and quick rate of appreciation, Art Blocks drops increasingly look like can't-lose propositions for speculators.
The feeding frenzy around new Art Blocks drops has caused headaches for both its team and collectors, driving up ETH gas prices (the variable cost of transacting on the network) as prospective buyers desperately scramble to secure one of the generative pieces. "While we love to see the platform grow, we recognize that drop times have been a source of network-wide congestion and frustration for collectors," the Art Blocks team wrote in a July 28 blog post.
Recently, Art Blocks has experimented with other sale approaches, including the Dutch auction format, which starts with a higher price point and then gradually scales down until selling out. But it's not slowing demand. Eccentrics 2: Orbits, a project by artist Radix that launched yesterday, sold all 500 pieces in about four minutes at 5 ETH (about $16,000) each, immediately generating $8 million in primary sales. Many of those pieces are now listed on OpenSea for purchase, and some have already been sold and then re-listed by the buyer at a higher price.
A Dutch auction is an option that creates more upfront profit for the artist, but prices out some buyers. As the team wrote bluntly in that blog post, "That's just how markets work. Unfortunately, we cannot collect everything." Increasingly, that's the case with Art Blocks NFTs, particularly as more and more headline-grabbing sales pop up and help propel secondary market demand. However, the wide range of projects and banners means that some Art Blocks NFTs aren't anywhere near as expensive as those eye-popping examples.
As in the traditional art world, speculation comes with the territory—and it's very much a bull market in the NFT space right now. Art Blocks isn't the only non-avatar generative NFT artwork project, plus many artists have profited from non-generative NFT artwork sales via marketplaces like SuperRare and Nifty Gateway.
Even so, the wild success of Art Blocks suggests the ongoing maturation of the NFT market, with a diverse array of highly successful projects reaching potentially unique audiences.
The views and opinions expressed by the author are for informational purposes only and do not constitute financial, investment, or other advice.