What to expect from Solana's next aRPG?
2 min read
Developed by experienced professionals, inspired by Diablo and hosted at Solana, Synergy Land is the next aRPG that promises an immersive experience in the metaverse.
So far, the game promises revolutionary features for this type of blockchain game. Players will be able to explore and form groups of up to 4 players. Teams will be able to explore dungeons, loot locations, steal and work to generate valuable resources. Promised rewards are NFTs and native in-game tokens.
The game revolves around developing your character and exploring dungeons. Almost all in-game items are NFT that players can trade openly in-game or on foreign markets.
THE Synergy Studio, the company behind the game, announced the game in their recent post on medium. The post explains how the team has 16 years of collective industry experience. The developers have an impressive track record, working on games like Assasin's Creed, Metroid, Ghost Recon and Warhammer Vermintide!
The studio recently closed the seed round and found the perfect investors for the project. According to the announcement, some of the companies that bet on the game are: Nodseeds, OnChain Group, Black Mamba Ventures and Ego Capital.
How will Synergy Land play?
Although there are no teasers for the game yet, we can expect an amazing experience. Combining the developers' game history and blockchain technology, the expectation is for a game at a level matched with Star Atlas.
In addition, the developer announced the focus on the following points:
Dungeon exploration is a big focus of the 3D game;
All rewards will be in NFTs or game tokens;
There will be four unique biomes;
Players will create spells by synergizing elements to create unique effects;
There will be a variety of classes available, with each one being customizable to suit your playing style;
Players can have boss NFTs that generate passive income;
PvP events will reward players based on performance;
Dungeon puzzles will fall between rare players and NFTs;
Players can collect and raise pets, which can fight alongside them and take place in pet battles;
Players can buy private islands to build a business or house;
Craft stations will allow players to build their own NFTs;
Roadmap
According to the developer's information, we can expect the game in four main stages.
Q4 2021: PC demo release and NFT sales (has gameplay advantages)
Q1 and Q2 2022: NFT integration, dungeon system, inventory system, loot system, synergy system, skill system, PvP design
Q3 2022: Additional game systems and PC beta
2022 Q4: PC Season One Release, Combo Systems Development & Market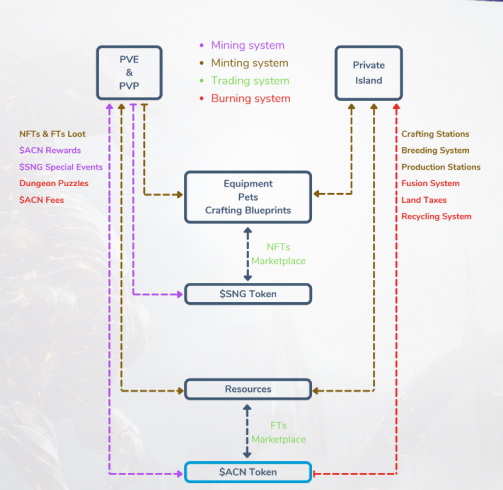 Much to the delight of on-call players, most of the roadmap is gameplay-focused.
In addition, the game will also have two tokens: the SNG (Synergy) and ACN (Ancient Coin). The SNG is the governance token and will be a reward for specific events, but not the main reward token. ACN will be the game's reward token.
In 10 minutes, the teenager earned $ 1 million on NFT "Belugies"