What's Next for BNB After Another All-Time High?
2 min read
The Binance Coin (BNB) price reached a new all-time high on Dec. 29 and has been moving upwards since. BNB should continue moving upwards towards the targets of $50 and potentially near $70.
BNB Reaches All-Time High
On Jun. 22, BNB reached an all-time high of $39.51. It began a significant downward movement afterward, which lead to a low of $6.38 on Mar. 13. However, it has been moving upwards since.
On Dec. 29, it reached a new all-time high and has been increasing, reaching a high of $44.90 to date.
The previous resistance area at $39 is now likely to act as support.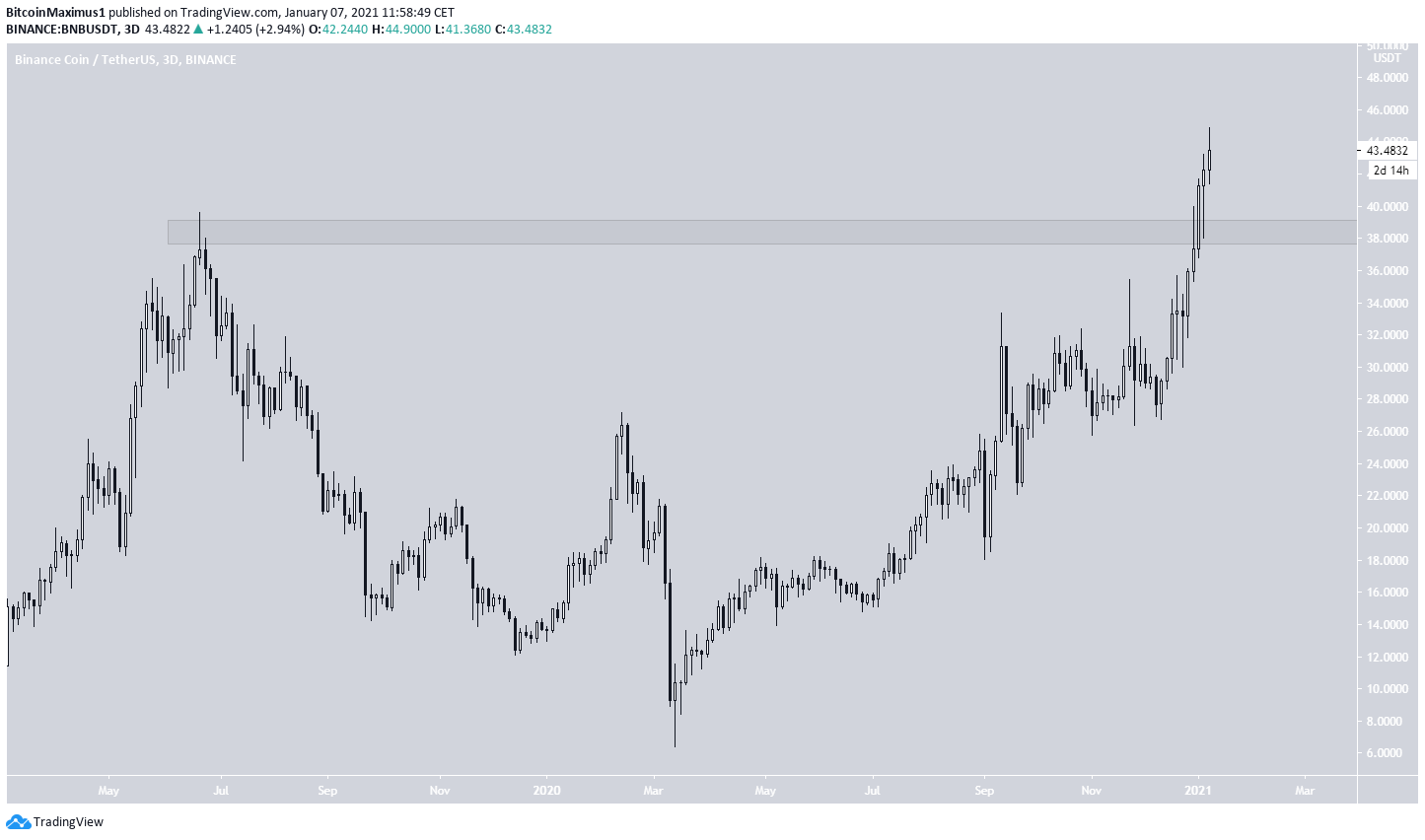 Future Movement
Cryptocurrency trader @Tradingtank outlined a BNB chart, stating that it's likely to increase. They gave targets of $46 and $52.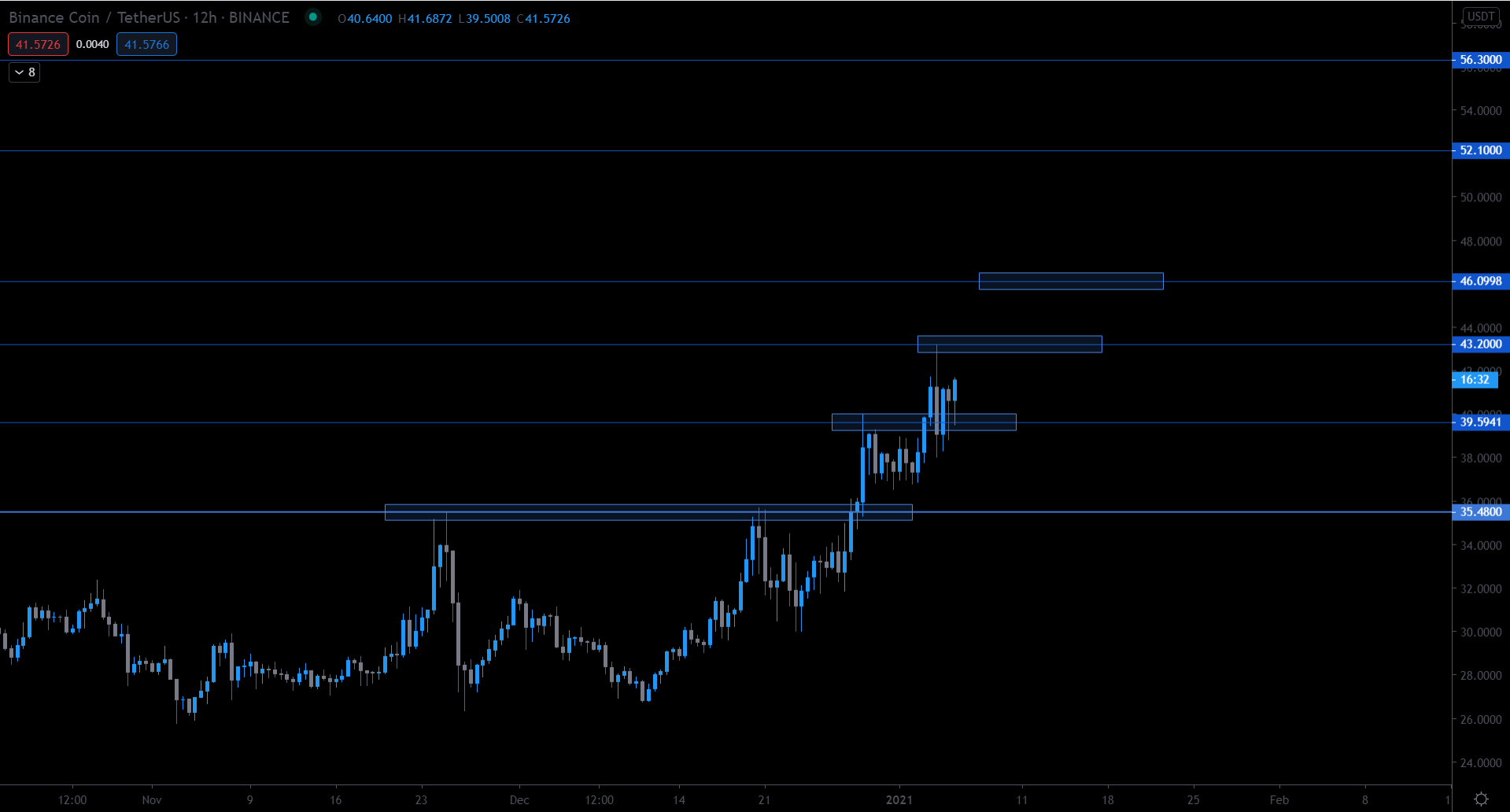 Technical indicators on the daily time-frame are bullish, supporting the continuation of an upward move, even though the rally is overextended.
However, since BNB is trading at an all-time high and there are no resistance levels above the current price, we need to use a fib extension to determine future targets.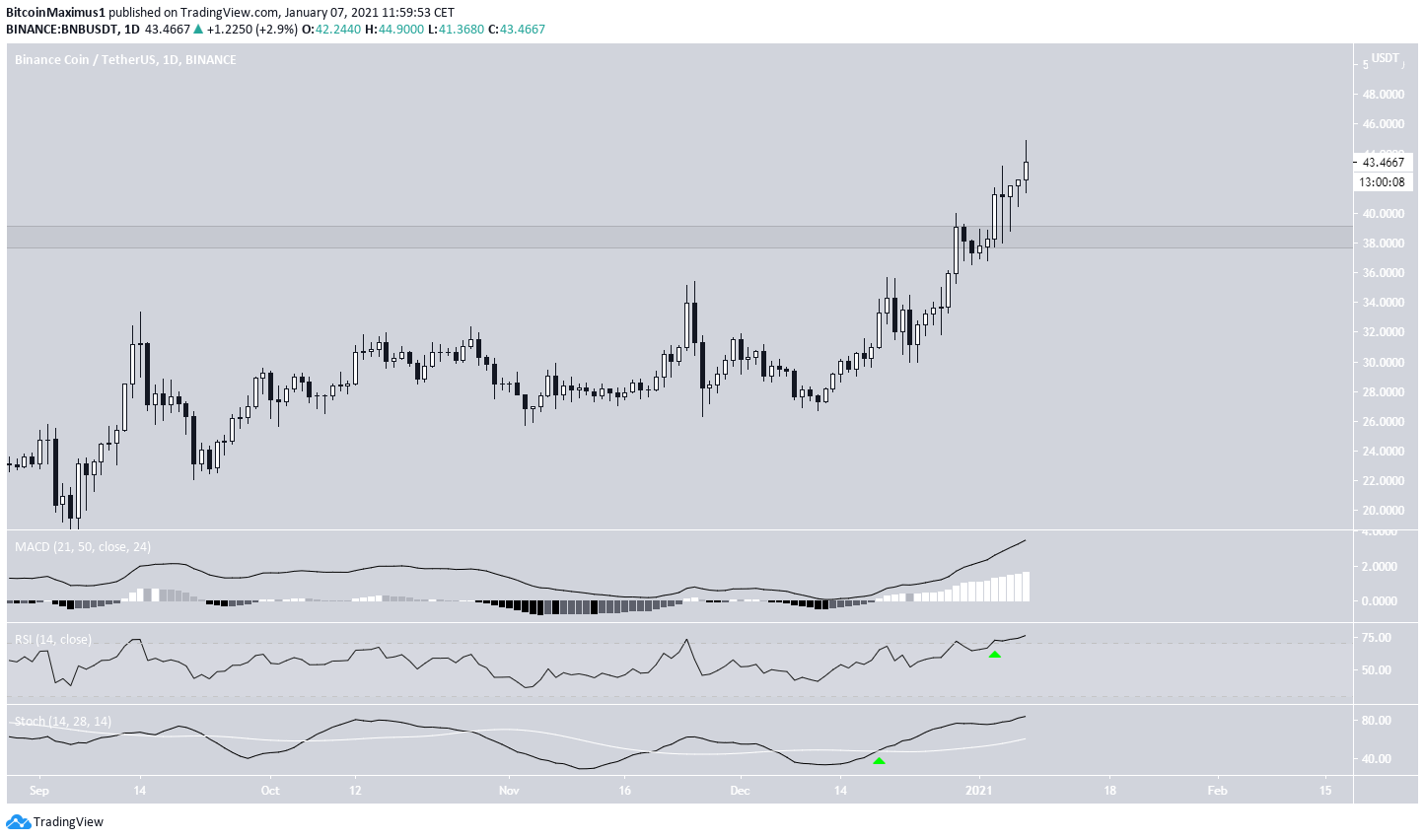 Furthermore, the two-hour chart shows that BNB is also following an ascending support line, which coincides with the minor $42 support area. As long as BNB is trading above this level, the trend is bullish.
Similar to the daily time-frame, indicators on the two-hour time-frame are also bullish.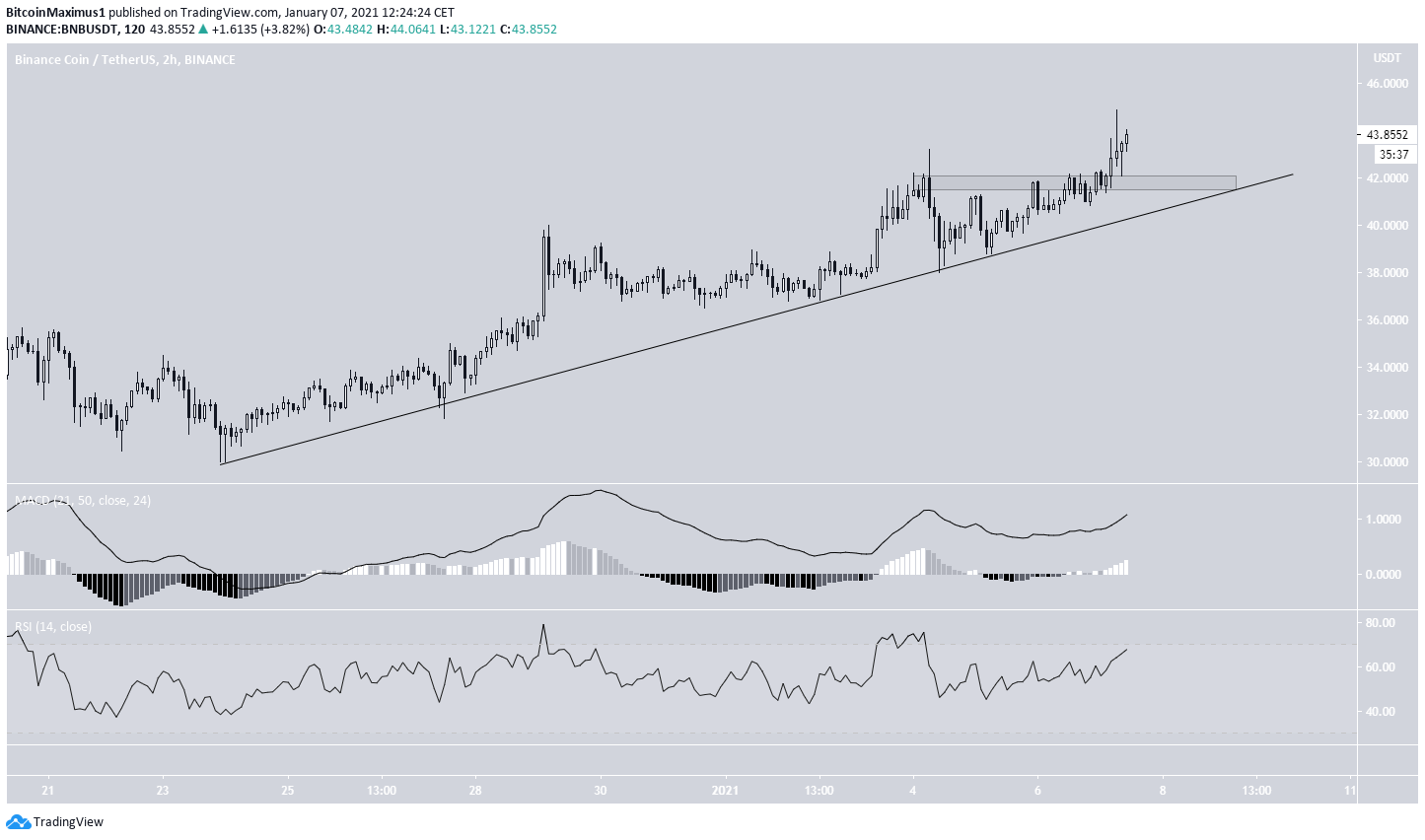 Wave Count
The wave count suggests that BNB is probably in wave 3 of a long-term bullish impulse (shown in white below), which began in March.
A possible target for the top of the entire move is at $69.58, which would give waves 1:3 a 1:1.61 ratio, common in bullish impulses.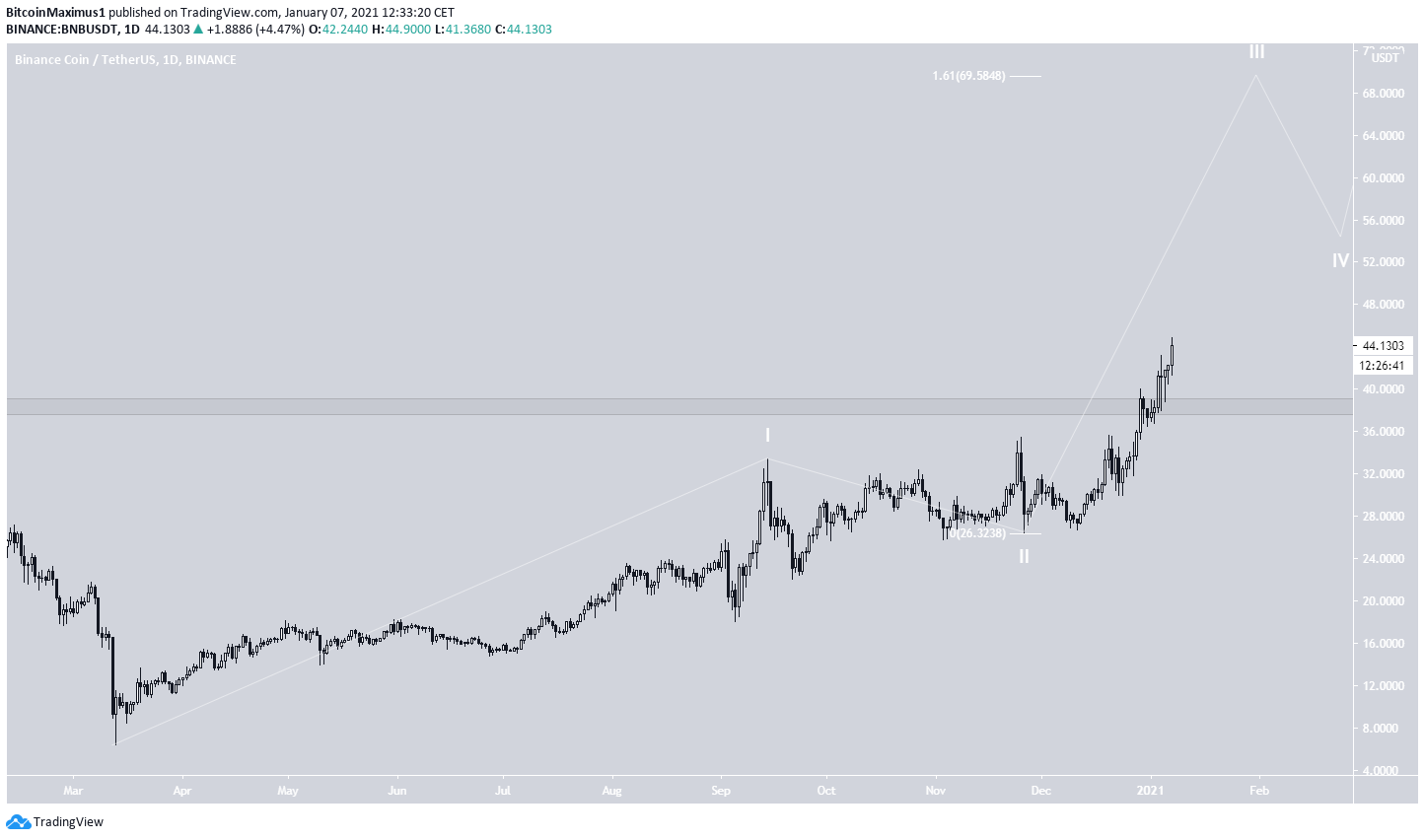 The short-term chart shows that BNB is likely nearing the top of sub-wave 3 (shown in orange), while the minor sub-wave count is given in black.
The most likely targets for the top of sub-wave 3 are at $46 and $50-$51, found using a combination of fib extensions (orange) and projections (black).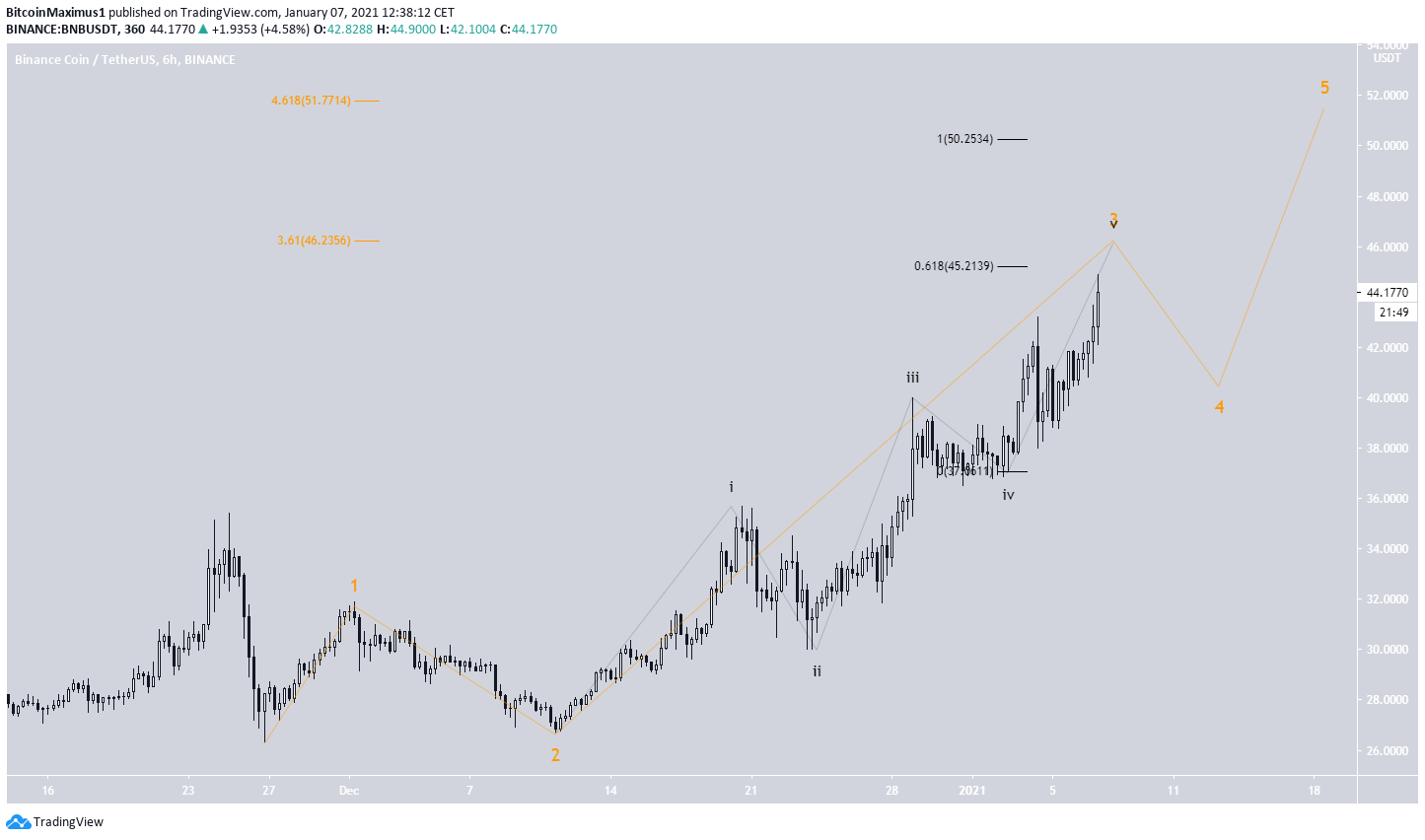 Conclusion
To conclude, as long as BNB is trading above its short-term ascending support line, it should continue rallying towards $50 and possibly $70.
For BeInCrypto's latest Bitcoin (BTC) analysis, click here!
Disclaimer: Cryptocurrency trading carries a high level of risk and may not be suitable for all investors. The views expressed in this article do not reflect those of BeInCrypto.
The post What's Next for BNB After Another All-Time High? appeared first on BeInCrypto.