Why Filecoin Price Is Surging: Look to China
3 min read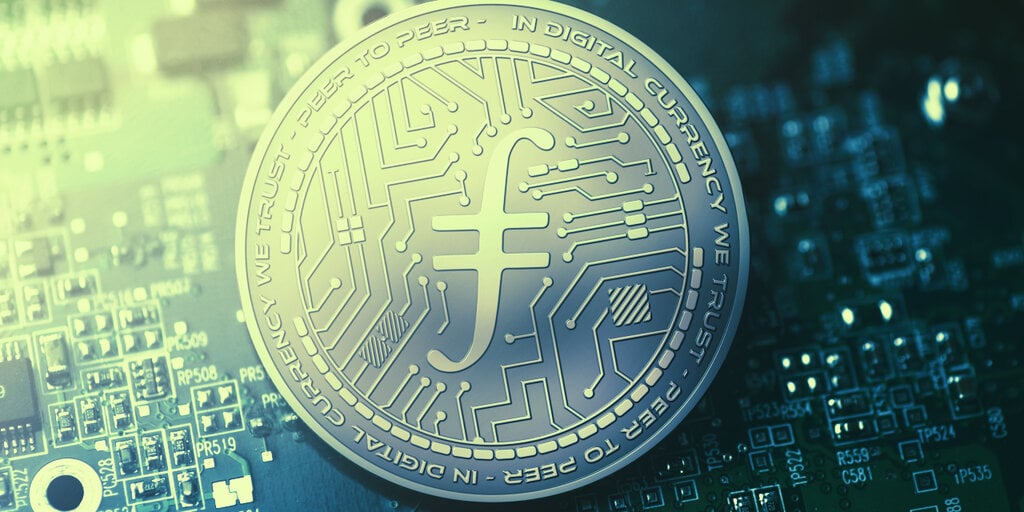 Filecoin (FIL), the token associated with the decentralized file-sharing protocol of the same name from Protocol Labs, is surging. Its price has shot up 165% in the past week, and 530% in the past month.
Now Filecoin has leapfrogged Chainlink (LINK) and Litecoin (LTC) as the No. 9 coin by market cap.
So, what's driving the spike?
Yes, the larger crypto market is in the midst of a sustained bull run. And yes, there has been a lot of news about Filecoin recently that has brought the "decentralized Dropbox" to the attention of crypto speculators, including Coinbase listing Filecoin in December, and Grayscale Investments adding a Filecoin Investment Trust to its roster of crypto investment vehicles.
But for another source of the Filecoin surge, look to China.
Filecoin mining is booming in China, especially on crypto exchange Huobi, where Filecoin trading activity using the Chinese yuan is higher over the past few days than yuan trades into ETH or BTC.
China is crazy for Filecoin, with a 24h increase of more than 30%, reaching a maximum of $236. The 24h trading volume of FIL in Huobi, China's largest exchange, reached $24.2b, nearly three times the volume of the second ETH $8.8b, BTC was $7.8b. pic.twitter.com/LbKlTkfBqt

— Wu Blockchain (@WuBlockchain) April 1, 2021
For more insights, Decrypt spoke to two people closely familiar with the Filecoin scene in China, who didn't want to be named since they work at major cryptocurrency companies. They said that Chinese officials have all-but-officially encouraged Filecoin mining because its decentralized cloud storage purpose fits into China's agenda to build out its own internet infrastructure as a defense mechanism in the ongoing tech Cold War.
Major Chinese companies have been getting into Filecoin mining, including Xinyuan, which invested nearly $100 million in Filecoin miners, and Ninth City, which is publicly traded on the Nasdaq (NCTY) and has spent $12 million since February on Filecoin mining partnerships.
And Chinese retail investors are gobbling up FIL too, pumping it on social media apps like WeChat. There are even Filecoin mining ads running in the Chinese subway; it has gone fully mainstream there.
OMG this is insane, a granny introducing fil payments in a Chinese wedding. In tradition if you got invited to a wedding you got bring a red-pocket with cash. pic.twitter.com/32C1FVVOy2

— Molly (@bigmagicdao) April 1, 2021
Unlike with BTC mining, Filecoin miners must buy FIL in order to mine more of it, which means new miners are always buying FIL to get starting capital. Decrypt's sources said that Huobi is no longer letting miners borrow FIL, which means miners must buy FIL on the open market, which is driving up the price further. (Decrypt has reached out to Huobi for comment.) Thus, there's a self-fulfilling cycle where early FIL miners are eagerly selling FIL to the latecomers.

And early Filecoin miners are making huge money by converting testnet FIL to mainnet FIL. 
But for how long is this all sustainable? According to Filfox, a Filecoin blockchain explorer, an average 370,000 FIL tokens are being mined every day (about $82 million at the current FIL price), and unsurprisingly, gas prices (on the Filecoin blockchain, gas is nanoFIL) are ticking up. That could mean a FIL market correction is coming. (And its RSI, or relative strength index, shows FIL is way overbought.) Decrypt has reached out to Protocol Labs for comment on Filecoin's price action.
For now, early miners, new investors, and Chinese tech companies eager to diversify are all playing a part in fueling the Filecoin frenzy.