XRP Breaks $1 to Reach a Top Five Position
2 min read
The new high pushes XRP past cardano (ADA) and polkadot (DOT), the longtime frontrunners in the altcoin bull market. 
XRP claims number four spot on TradingView as XRP breaks $1, at the time of writing. This means the token is up over 45%  in the last 24 hours.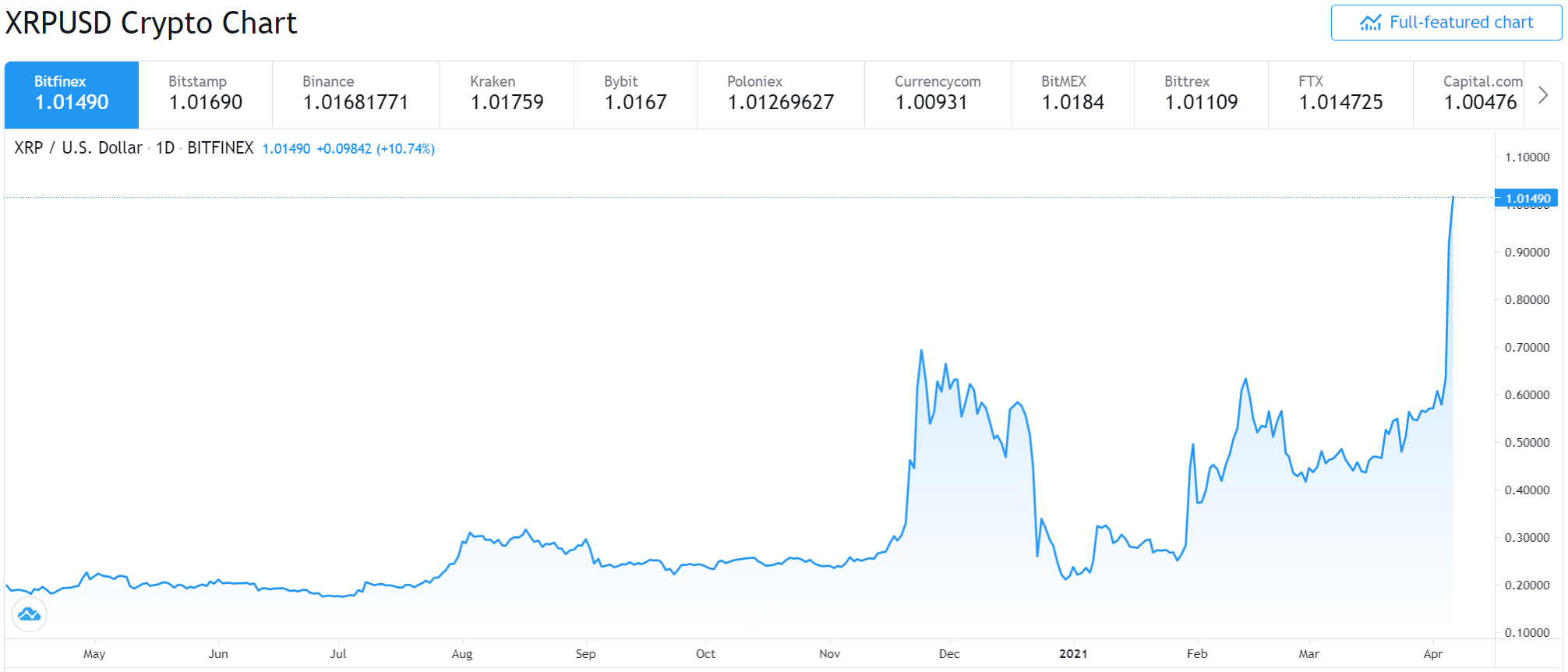 The new high occurs during Ripple's ongoing legal battle against the U.S. Securities and Exchange Commission (SEC). The U.S. regulator filed suit against the Silicon Valley-based crypto company for raising over a billion dollars by selling XRP on allegedly unregistered securities offerings.
Ripple is currently attempting to prove to the SEC that XRP is not a security, and should be viewed the same as BTC (BTC) or ETH (ETH).
A major plummet of the token's price
This battle against the U.S. SEC caused a major plummet of the token's price upon announcement of the case, as well as delisting threats from major crypto exchanges. Prior to the lawsuit, XRP had struggled to break through a $0.60 resistance level since May 2018. 
In November of 2020, the token finally managed to push through, bringing trading levels up to $0.75 by the end of March 2021. Ripple has not yet won the case against the SEC, however a victory in the case could mean huge gains for investors who have held on despite recent fluctuations. 
This altcoin breakout also comes on the heels of ETH punching through the key resistance level of $2,000, earlier this month. This could signal a trend for further growth in the altcoin market.
While this breakout is important for XRP, they are not out of the woods yet in terms of their SEC case, which could jeopardize their reclaimed dominance in the increasingly competitive crypto market. 
The post XRP Breaks $1 to Reach a Top Five Position appeared first on BeInCrypto.