Technical analysis BTC – bull flag on a weekly?
2 min read
Monthly time frame looks positive. From the weekly chart, it is clear that we are stuck, but quite possibly a pattern is forming in front of us. A pattern that will lead us to the coveted new historical maximum.
Current situation on 1W BTC / USD
Last week's candle closed again like Doji. If it was a little bigger body, it would be again Spinning top. However, the context tells us that, according to the candle, BTC is completely undecided on future price developments. We did not move up, but as can be seen, the effort to break down was also redeemed. In addition, the candle is not on top, so the overall impression is really neutral.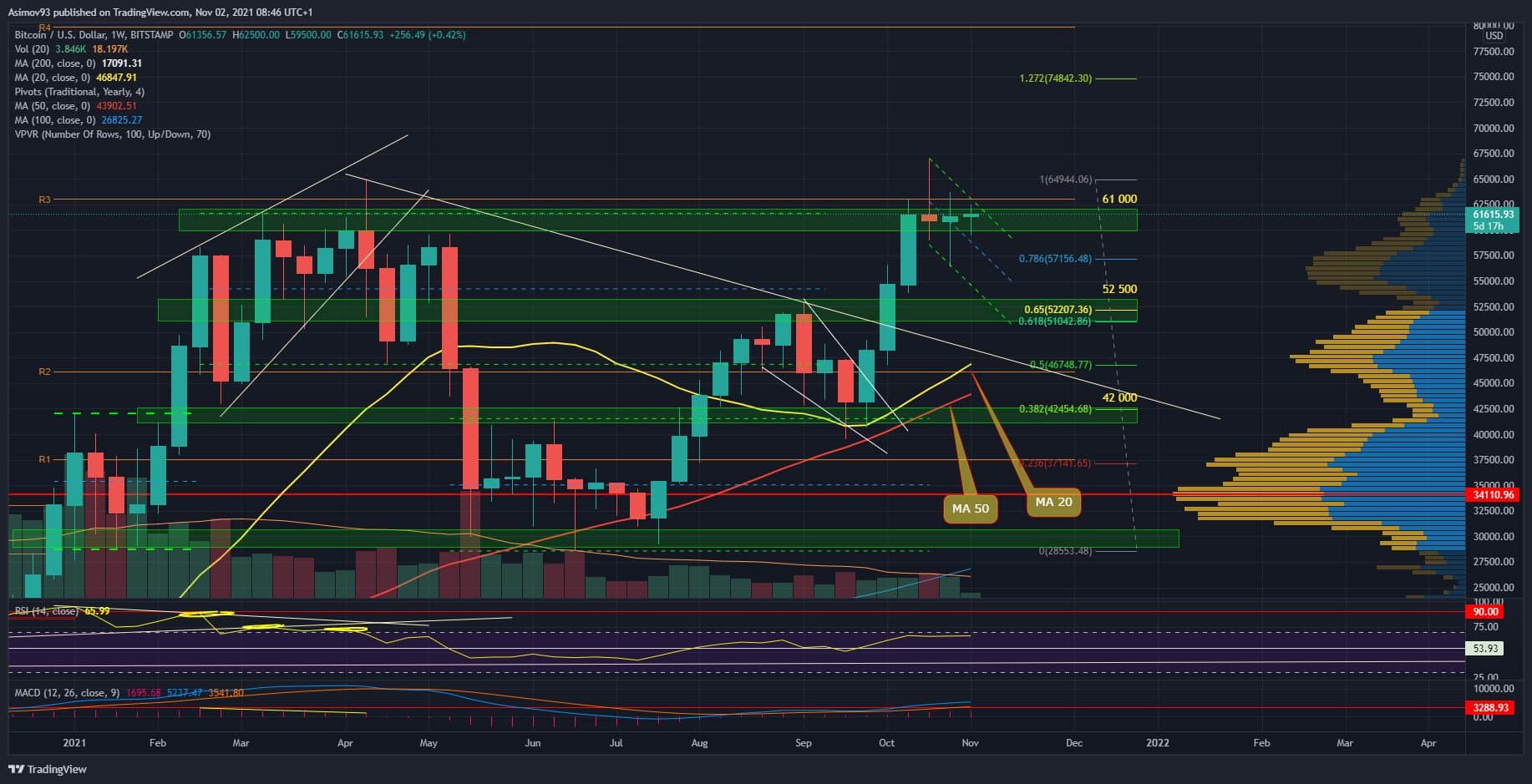 The primary question, however, is what will emerge from such a thing. Are we going to new historical highs? Or is it a signal to turn around? As we said monthly chart is clearly bullish. The only mistake is that the monthly close BTC is simply below resistance. Such an almost defect in beauty. Then there are the problems with those volumes, but I pointed out that the CMEs with futures are very high. And we have to get used to the fact that the regulated market will have an increasing influence.
So, based on a weekly chart, the hesitation itself actually acts as a consolidation into a pattern. Based on the fresh price action, we have potential ahead of us bull flag which can act as a big slingshot for the stone. But I'm not 100% sure of the said pattern. As I often repeat, finding patterns is quite a subjective matter. Do you see a bull flag there too? Or maybe another department?
In any case, we have an uptrend structure before us. If we have consolidation in the uptrend structure, it is rational to calculate that BTC will maintain its growth trajectory. But nothing is certain and I have personally let myself be heard a few times that I don't like the current market behavior very much.
Indicators
The weekly RSI has not even reached 70 points yet. We oscillate around 65 points. It is necessary to get above those limit 70 points and stay there. This confirms the continuation of the bull cycle.