The best platfroms to buy Bitcoin by debit or credit card 2023
8 min read
This article contains the best platforms for instant buy Bitcoin by debit or credit card.
It is difficult to find a cryptoplatform, application or exchange that would charge acceptable payments for purchases of cryptocurrencies by credit or debit card. Most platforms have exorbitant fees of up to 7%.
That's why we've compiled this list of the best places to buy Bitcoin by debit or credit card, instantly and at no hidden cost. Here we prepare the list of the best platfroms to buy Bitcoin by debit or credit card.
Coinmama
Coinsmart
Binance
Bybit
Bitpanda
Coinbase
eToro
Paybis
Buy Bitcoin by debit or credit card – the best platforms
Coinmama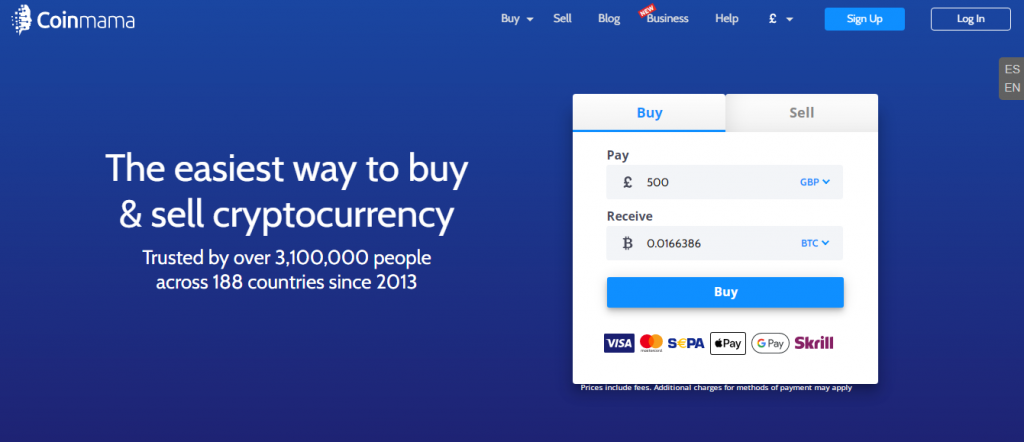 Coinmama is a crypto broker that supports purchases with debit and credit cards. It started its activities in 2013 in Slovakia and now has more than 800,000 users in 190 countries around the world.
After verifying the account and card, the user can buy Bitcoin by debit or credit card up to $ 20,000 per month. The daily limit with a verified credit card and account is $ 5,000. These limits apply to Level 1 verification, which requires a valid government-issued ID and selfie.
For level 2, you must add an energy bill for additional verification, while level 3 requires a short form to be completed. However, compared to other exchanges such as Coinbase, Bitstamp and Binance, it charges a higher fee.
Another disadvantage is that it does not provide a hosted wallet, so you will have to create your own. There is also no dedicated mobile or desktop application, only a web platform that can be used on any device.
Steps to buy Bitcoin by credit card at Coinmama:
Create an account on Coinmama.
Get verified by presenting your passport, ID card or other documents.
Link your credit card to payment options or methods.
Shop by entering your wallet and purchase card address.
Properties:
It allows a Bitcoin purchase limit of up to $ 5,000 per day. The monthly limit is $ 20,000 in BTC.
The exchange requires verification of identification data. Verification takes one hour after you submit information such as a government-issued ID, international passport, driver's license, and ID card.
The disadvantage is that it is only a web platform and does not have a dedicated mobile or desktop application.
Although it accepts Visa and MasterCard debit cards, it does not support American Express. Does not support Discover or PayPal.
It supports bank transfers via SWIFT, SEPA, Fedwire, FasterPayments, Apple Pay and Sofort.
Fees: For any purchase of Bitcoin, regardless of the method of payment, you expect to pay 5% above the spot price of the cryptocurrency on this exchange. Otherwise, you pay between 4.9% and 5.9% for debit and credit card fees.
SEPA transfers purchases cost around 3.9%.
Coinsmart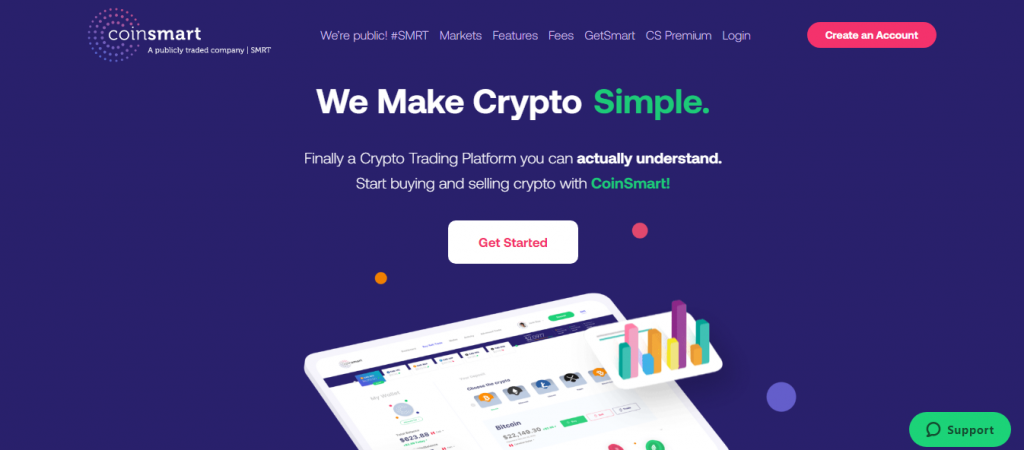 CoinSmart is an easy-to-use platform that can be used by both beginners and experts. The application is available for desktop and mobile devices. It allows you to buy and sell Bitcoin Cash, Cardano, Stellar, etc. It provides advanced tools for cryptocurrency trading.
Steps to buy Bitcoin by credit card at CoinSmart:
Create Account.
Verify account.
You must then link your bank account, credit card, or debit card and configure your payment source.
Insert resources.
Properties:
CoinSmart allows you to take advantage of the market without long waits.
It supports various financing methods, such as SEPA, bank transfers, electronic transfers, etc.
It allows you to monitor all your trading activities, deposits and withdrawals.
Fees: Credit or debit cards charge up to 6% with immediate processing ($ 100 to $ 5,000).
Binance
Binance is a platform for exchanging cryptocurrencies. It allows you to buy and sell BTC, ETH and altcoins. The platform is compatible with multiple devices, including iOS and Android.
After completing the purchase, Binance inserts a new cryptocurrency directly into your Binance wallet. It offers a simple and secure way to manage crypto assets.
Steps to buy Bitcoin by credit card at Binance:
Log in to your Binance account.
Select 'Buy Crypto' and 'Credit / Debit Card.'
You will be taken to a new page where you can buy a BTC. Here you need to select your currency and enter the amount you want to spend.
Select the BTC or cryptocurrency of your choice.
Click Buy BTC.
You must fill in the card details and click on "Next". After filling in all the required information, you can click on "Pay now".
You must confirm on the order confirmation confirmation.
Features :
Binance supports various payment options, such as bank transfers, credit / debit cards and cash.
With Binance, you get a safe and hassle-free purchase of cryptocurrencies because it works with proven and trusted platforms.
Binance supports a wide range of currencies.
The Binance platform allows you to immediately trade in purchased cryptocurrencies and use various products and services.
Fees: There is a charge of 1 to 3.5% for a card transaction or $ 10.
ByBit
Bybit is a cryptocurrency trading platform and can be used to purchase cryptocurrencies, BTC, ETH and USDT. Supports 59 fiat currencies. It supports various payment methods, including Visa / Mastercard credit cards, debit cards and cash deposits. Cash deposits are limited to certain areas.
Steps to buy Bitcoin by debit or credit card at Bybit:
Log in to a verified account.
Open the Fiat gate and buy.
Select a currency and enter an amount.
Now select your service provider as well as your payment method.
Confirm the transaction.
Features :
Thanks to flexible trading strategies, the platform is suitable for traders of any level.
New assets and innovative products are constantly being added to the platform.
It provides real-time market data, as well as competitive market depth and liquidity.
It securely stores your resources offline and provides maximum protection.
Fees : Bybit does not charge any transaction fees for the use of Fiat Gateway.
Bitpanda
Bitpanda – This Austrian broker was formerly known as Coinimal and was founded in October 2014. Since its launch, it has been a trusted place for people to buy BTC using a credit card.
In fact, the number of Bitcoin purchases by credit card on this exchange is the highest compared to purchases by other methods. The exchange serves 1.2 million customers worldwide and has a very positive credibility rating.
Steps to buy Bitcoin by credit card at Bitpanda:
Register and verify your identity on Bitpanda.
Link a debit card in your account profile.
Deposit money using a debit or credit card.
Properties:
It allows people to buy cryptocurrencies by credit or debit cards, it is useful for Europeans.
It takes approximately one day to complete a SEPA transaction.
Bitpanda allows people to trade for more than 100 cryptocurrencies.
Users must verify their identity and follow AML / KYC procedures by submitting ID and selfie photos or other verifiable IDs such as a driver's license.
The limit for buying Bitcoin by credit card is up to EUR 350 per day and up to EUR 10,000 per month upon verification. The limit is EUR 5,000 per day and up to EUR 75,000 BTC per month when using other payment methods.
Fees: 3-4% for credit card purchases. Those who want to buy Bitcoin on this exchange by credit card can reduce their fees by up to 20% by paying them by BEST (Bitpanda Ecosystem Token).
Coinbase
Coinbase began in 2012 in the United States. One of the advantages of this exchange is the huge liquidity. Users also find working with the interface easy.
Although Coinbase allows people to buy BTC and other cryptocurrencies using debit cards, it does not allow you to buy BTC credit cards. It is one of the largest cryptocurrency exchanges in the world.
Coinbase also offers wallets for individuals and retail investors, as well as advanced trading tools. In addition, it has its own stable USD-backed stablecoins for those who want to avoid volatility problems and are still experimenting with cryptocurrencies.
Steps to buying by debit card on Coinbase:
Register and verify an account on Coinbase.
Go to the Payment methods page. Select a debit card.
Enter your debit card information. Coinbase will apply a small temporary debit to the card.
Find the debit in the online banking card statement.
Verify the card by entering the amount on the Coinbase debit confirmation page.
Return to the purchase page and enter the amount you want to buy. Select a debit card as your payment method.
Properties:
Users can reduce fees by using the Coinbase Pro version.
It works in the form of order books and not peer-to-peer transfers.
Transfers from crypto-to-crypto wallets are free.
Fees: Debit card transactions are charged 3.99%. You pay 1% via PayPal. Instant card withdrawals in Europe cost up to 2% of any transaction and a minimum fee of € 0.55.
eToro
eToro is one of the largest platforms in the world and is loved by many people, including novice crypto traders. You can start your crypto purchases for as little as $ 50.
The platform also allows users to easily invest in Forex, stocks and derivatives, in addition to cryptocurrencies.
The most powerful feature for eToro is Copy Trading, which allows traders to track and copy the trades of other traders. This is beneficial for beginners and people who do not have confidence in trading digital currency. It helps them trade with zero skills.
Steps to buy Bitcoin by debit or credit card on eToro:
Create an eToro account.
Link a debit card to your account in your profile.
Go back to the dashboard of your profile, click on your preferred cryptocurrency, enter the required amount and continue paying with a debit card.
Features :
Instant card purchases.
There is no charge for purchases of cryptocurrencies by credit or debit card on this platform, only conversion fees)
It provides an eToro wallet that is free, easy and secure.
In addition to Bitcoin, the wallet supports more than 120 cryptocurrencies.
In addition to credit and debit cards, it also supports payments for purchases via PayPal and Wire Transfer.
Fees: All Fiat funds on eToro will be converted to one of your preferred currencies in US Dollars or Euros, so if you deposit GBP into your account, eToro will convert them to USD or Euro. As such, you will be charged a conversion fee. The trading fee is only spreads, which differ for individual cryptocurrencies and are currently at 0.75% for Bitcoin.
Paybis
Founded in 2014 and headquartered in the UK, Paybis is available in more than 180 countries around the world and allows people to buy Bitcoin instantly with credit cards.
You can also trade with 47 currencies.
Paybis allows people to purchase BTC credit cards after verifying their account. Therefore, users must follow the AML / KYC guidelines when purchasing BTC on this platform. However, registration and verification are fast.
In addition to allowing people to buy with credit cards, it also provides liquidity services to fintech businesses.
Steps to buy Bitcoin by credit card on Paybis:
Create a Paybis account and verify ownership. Enter your details to verify your account.
Link your debit or credit card to your profile. Make sure the name on the documents used for verification matches the name on your debit or credit card.
Start a change and select your credit / debit card and your currency. Make payments by initiating a charge from your credit or debit card.
Properties:
In addition to Bitcoin, the Exchange supports more cryptocurrencies, while more than 10 cryptocurrencies are supported.
You can only sell BTC and no other cryptocurrencies. The others are for sale. If you need to sell others, you will first transfer them to BTC within the same platform.
Users get hosted crypto-wallets, so there is no need to sign in to another wallet.
Option to view transaction history.
Fees: The purchase fee is free for the first debit or credit card transaction on the platform. Then you pay 2.49% for every purchase on Paybis.
Conclusion
Cryptocurrency exchanges that allow you to buy Bitcoin by debit or credit card require account verification by submitting a name, verifiable ID, photos, and geolocation details. You can then make purchases as soon as the account is linked to your debit or credit card.