Bybit Review and Guide 2023
5 min read
The Bybit exchange was officially established in the British Virgin Islands, based in Singapore. The exchange was launched in March 2018. The exchange is primarily for experienced traders, and if you don't know what to do, the platform can be risky. The bybit exchange became a significant player in the field of Bitcoin derivatives in a short time. Experienced traders may be particularly enchanted by the speed offered by the platform and the ease of use. If you want to know more, we have prepared this Bybit review.
For the purposes of the Bybit review, we will divide the article into several points:
Basic information
Bybit review
Leverage trading
Deposits, withdrawals and rewards
Bybit guide
Bybit security
1. Basic information
Name: Bybit
Fiat currency: USD
Cryptocurrencies BTC, LTC, ETH, XRP …
Verification: Optional
Bonuses: up to 590 USD
Customer support: Very active
Trust in: Good
Operator: Bybit Fintech Limited
Head office: Singapore
Establishment of the company: 2018
Fees: for transactions (0.075%)
Customer support: 24/7 Live Chat
Language: English, Russian, Chinese, Japanese, Korean, Vietnamese
Website: https://www.bybit.com/
2. Bybit review
In the world of cryptocurrencies, it is possible to buy and sell cryptocurrencies in various ways. Beginners are likely to start with cryptocurrency brokers who offer a low entry level, and more experienced traders can be found on the exchanges. Experienced traders will use more advanced tools such as trading bots and leverage. In this review, we will discuss an exchange that focuses on trading with extra instruments.
Bybit differs from other exchanges mainly due to its functions. For example, the platform offers the possibility of margin trading. For some cryptocurrencies it is even possible to use a leverage of 100x. With the help of the leverage, you can earn a nice profit even with a small deposit, but you can also lose it very easily. This is especially true for the leverage of 100 times. This feature is suitable for a more experienced trader, or rather a gambler.
Exchange claims that can handle up to 100,000 transactions per second. So the advantage is that you do not lose money during trading if the platform is congested or if the price moves sharply. The platform is therefore ready for the future. Thanks to the ever-increasing popularity, exchanges are becoming more and more congested, so more transactions a second exchange can handle, the better.
The fact that Bybit is particularly suitable for more experienced traders does not mean that there is no support. Exactly opposite. You can ask your questions at any time using the live chat, which is available non-stop. Live chat is fully in English.
How does Bybit work?
With Bybit, you can open stores in the same way as on BitMex, for example. To start trading, the exchange will allow you to enter Bitcoin, Ethereum, EOS or Ripple. It is therefore not possible to deposit euros or dollars directly. Bybit has newly introduced the possibility to buy a crypto for Fiat from its website, but with the use of third parties. Will see in guide for details.
Referral program
Like most other exchanges that offer leverage trading, Bybit also has its own referral program. This referral program will give each user 10 dollars reward for referring another customer, provided the referred customer has made a deposit of at least 0.02 BTC. This is not the most generous referral program, but it's better than nothing!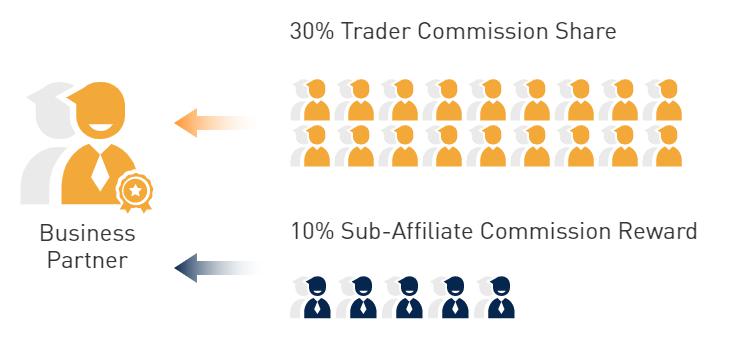 3. Leverage Trading
We have a little warning before continuing this Bybit review for people considering leveraging. Trading on leverage can lead to big profits, but also to big losses.
Let's say you have 10,000 USD in your trading account and you bet 100 USD that BTC will run long (that is, its value will increase). You do this with the leverage of 100x. If the value of BTC increases by 10%, then you bet 100 USD, your profit would be 10 USD. However, because you bet 100 USD with leverage of 100x, you earned a thousand dollars instead (990 USD more than if you didn't bet with leverage). On the other hand, if the value of BTC drops by 10%, you would lose a thousand dollars (990 USD more than if you didn't bet with leverage). So as you can see, there is room for huge profits and losses…
Binance Futures Guide – Long, Short with up to 125x levearge! Bonus for Cryptheory readers!
4. Deposits, withdrawals and rewards
Deposit methods
Bybit does not directly accept any deposits of fiat currencies. This means that new investors (ie. investors who do not yet have a cryptocurrency) cannot trade here. However, a novelty is the possibility to purchase cryptocurrency through third parties directly from the third parties directly on Bybit – Fiat deposit.
Withdrawal fees
When withdrawing BTC from the Bybit trading platform, you will have to pay a fee of 0.0005 BTC. This is 40% less than the average global BTC withdrawal fee (which is 0.0008 BTC) and is therefore a very competitive fee.
Rewards Center
Bybit also offers a wide range of rewards in the form of bonuses and coupons. Bonuses can be used as a margin and to deduct trading losses and transaction fees. Bonuses will be deducted to cover losses and fees before using the user's capital. New users can use the bonuses to try live trading without having to risk equity capital. The attractive thing is that new users can get some bonuses just by following Bybit on Twitter. Bonuses cannot be withdrawn, however profits from trading with bonuses can already be withdrawn.
5. Bybit Guide
Creating a Bybit account is very simple, mainly because this exchange does not require a lot of personal data. What you may have noticed from many brokers and exchange is that you need to verify your identity before you can start trading. This does not apply to Bybit. All you need is an email address or a phone number.
Step 1.
Register using your e-mail or phone number and fill in a new password.

Step 2.
You will receive a verification code immediately by e-mail or phone. After activating your account via e-mail or SMS, you can start trading immediately.
Step 3.
Click on Trade, select the cryptocurrency you want to trade and a main menu with a graph and details will appear. If you already own a cryptocurrency, you can start investing straight away.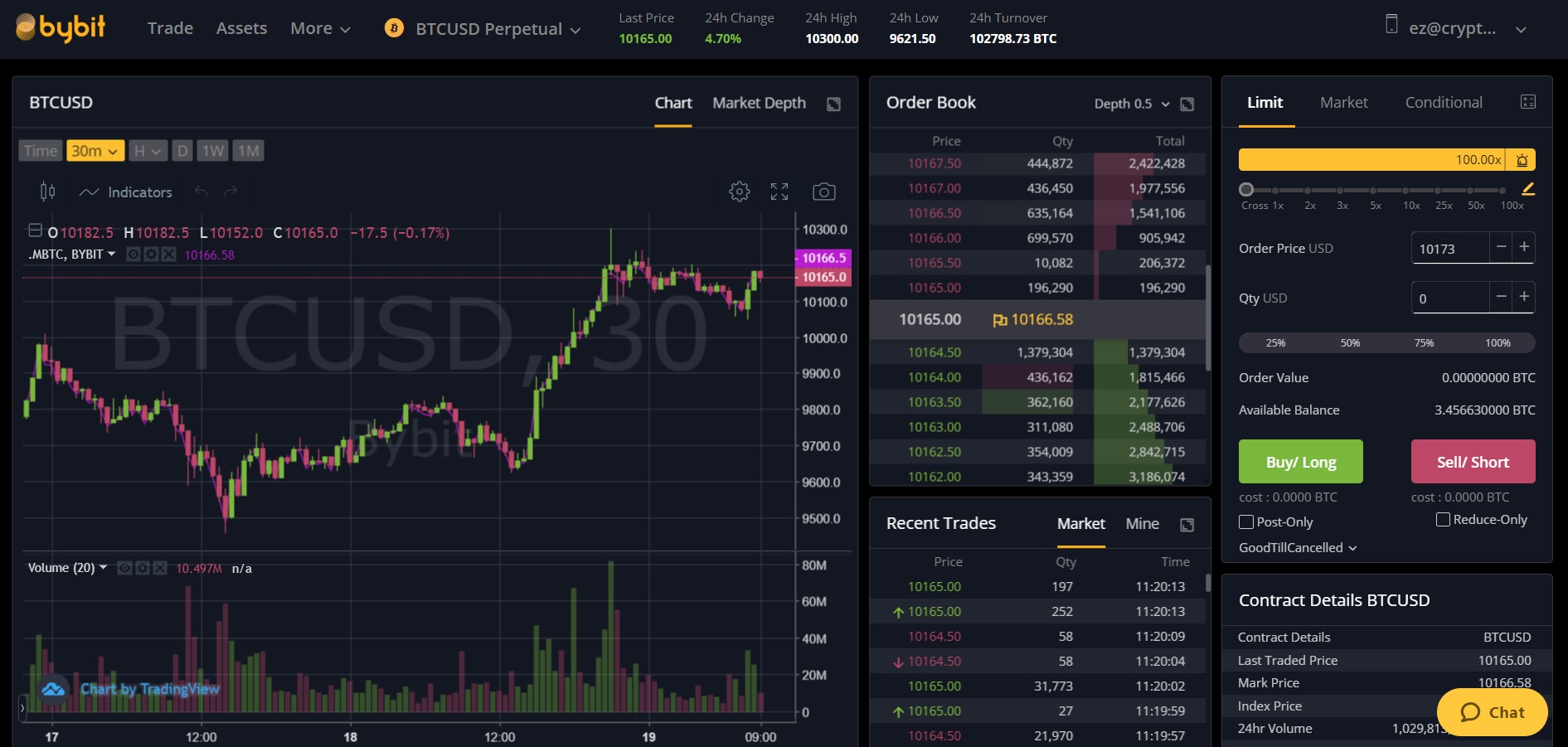 Step 4.
If you do not already have a cryptocurrency, there are several options. You can use the exchange of your choice and buy, for example, BTC, then return to Bybit. Alternatively, you can use the new function directly on the exchange's website. Click on the Fiat deposit menu.
Step 5.
Choose the amount and currency you want to buy, then choose from the menu of providers. You will be redirected to their site where you can purchase according to the terms of the provider.
6. Is Bybit Safe?
Many traders perceive Bybit as a large and secure platform. Don't be intimidated by the verification process – there is none here. Bybit offers its users good and fast technical support in English. As with many other platforms, it is possible to try it out first using the demo environment. After a simple registration via e-mail, you can view and try the interface before you start the actual trading.
Although Bybit appears to be a secure platform, we do not recommend it for complete beginners.
Thank you for rading our Bybit review.