Phemex Exchange – review and guide 2023
3 min read
Exchange Phemex is fast becoming a hit across the cryptocurrency community. The futures trade a number of assets, such as BTC or gold. You can also use a lever that reaches up to a hundred times the deposit. In addition, you can try the exchange with two dollars, which you will receive immediately after registration for free. If you like it, you can use bonus deposits. Futures trading can be very interesting. Phemex review and Phemex guide can be found below.
For the purposes of the review, we will divide the article into several points:
Basic information
Phemex reviews
Phemex tutorial
1. Basic information
Page Type: Cryptocurrency Exchange
Operator: Phemex Limited
Available cryptocurrencies: BTC, ETH, XRP, LINK, XTZ, USDT
Fiat currency: No
Confidence in society: Strong
Fees: 0.075 Maker, -0.025 Taker
Language: English, Russian
Page: https://phemex.com
2. Phemex review
Phemex reviews have already written such names as The NYTimes and Cointelegraph. The team behind has been trying to promote its name because they are former associates at Morgan Stanley. The whole platform looks robust and trustworthy.
On the main page of the stock exchange itself, it lists its advantages over its biggest competitors, which include Bitfinex and BitMEX – ie cryptocurrency exchanges that focus on Futures trading.
Competition
The biggest difference is in the currency in which your profit will be recorded. Phemex exchange is interesting in that it offers both USD and BTC. For example, BitMEX offers only BTC and Bitfinex even only USDT.
Fees
Compared to Bitfinex, this exchange also offers smaller fees. Maker here pays 0.075% fee and taken – 0.025% fees. The long position applies to the position that is short.
Deposit
Only BTC can be deposited to the exchange. The same goes for competition in the form of BitMEX.
Bonuses
Exchange itself offers a number of bonuses to attract new users. Immediately after the first login, you will receive 2 US dollars to try the exchange. Although it is a small amount, touching the exchange without a deposit is a very nice bonus, which I recommend to use.
Phemex also offers a number of bonuses in the form of adding BTC to your deposit. Interestingly, the bonus is in USD, but the result in BTC.  You can choose from three, depending on how much you want to insert. From 0.02 BTC to 2 BTC. You can get up to $ 72.
In addition, it is possible to use the affiliate program.
3. Phemex guide
I will present the Phemex guide for the purposes of this article in points, which I will supplement with pictures. At the same time, the exchange offers its own instructions, so I will use it.
Step 1
On the main page register with the button "Register" in the upper right corner. Fill in your e-mail address and password. A message will arrive in the mailbox, which we will find a link to confirm. We will then log in.
Step 2
First, the sexchange will acquaint us with the deposit options. Only BTC can be deposited and we will do it by sending the cryptocurrency to the address, which can be found under the button "Deposit".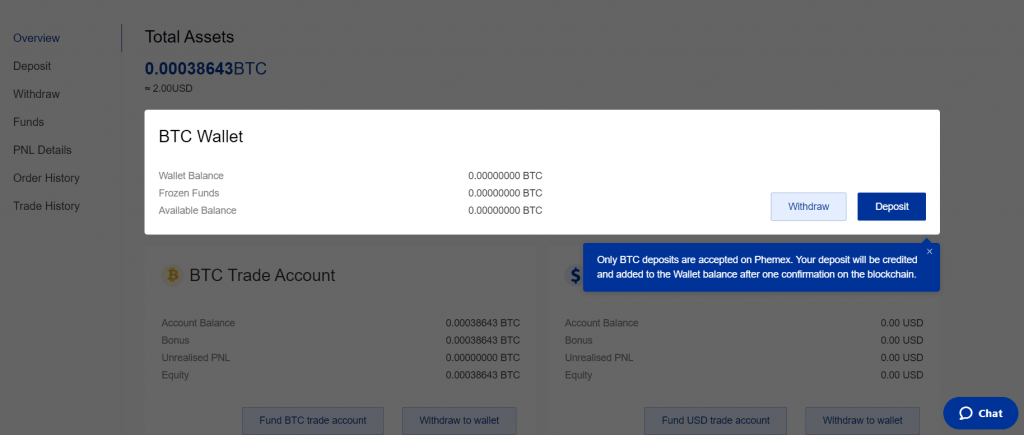 Step 3
It's important to keep in mind that there is a difference between a classic account and a Futures trading account. Once we have the funds sent to the exchange and are in our classic wallet, we will have to transfer them to the Futures account. To do this, we will use either a 1: 1 conversion directly to BTC, or exchange rate changes to USD.
Simply put, it's about what your main trading currency will be. However, it is always necessary to return to the BTC for selection. It's just more pleasant for someone to calculate profits in USD.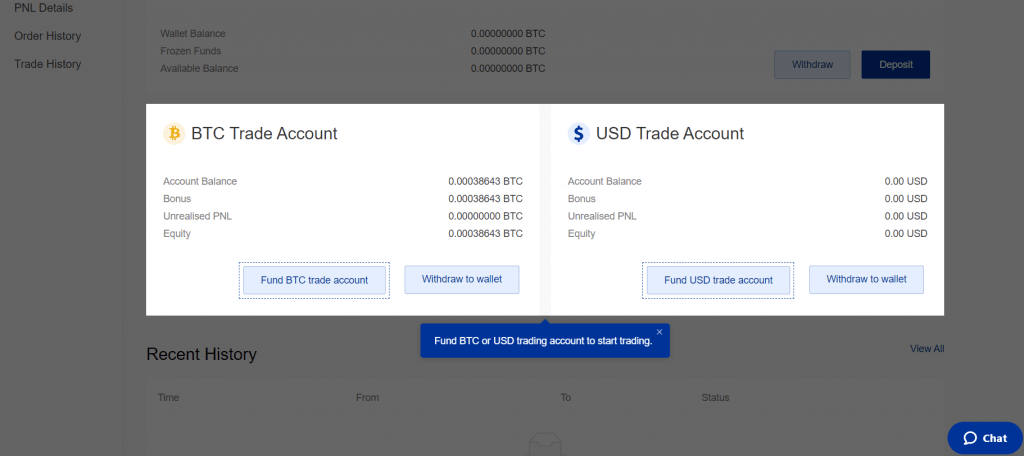 Step 4
Now click on the button "Trade" on the top bar.
We will get to the main interface, in which we will be interested in four areas (according to the picture).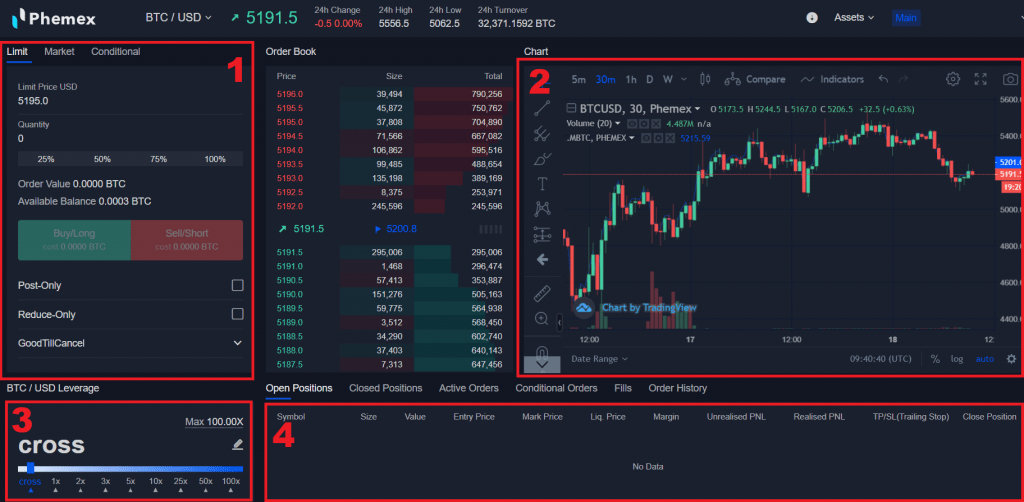 The first area is the one in which you will make trades. Here you will find classic Limit and Market orders. It is also possible to use the OCO brake mechanism.
The second area is designed to monitor how the price is evolving. Phemex takes the charts from Trading View, which is nice for Futures trading.
The third area determines your leverage. That is, the amount of money you borrow for trading.
The fourth area is reserved for trading history, open positions and position overview.
The whole interface is generally very similar to Binance and should not be a problem.