Technical analysis Altcoin Index: altcoins are getting stronger, but there are also risk signals
2 min read
Today we will focus on the Altcoin Index.  In short, it can be seen that there is an effort to ride on everything else when BTC does not have enough momentum.
Current situation on the 1D TF Altcoin Index
So high volumes and good price action still hold on altcoins, which is of course bullish. Unfortunately, the volumes are mostly mainly on alts, shitcoins and BTC are mostly unlucky. As for the last week, the exchange rate rose impulsively and probably managed to break through the resistance of 5,700 points. The truth is, there was none confluence, so the breakthrough was quite probable.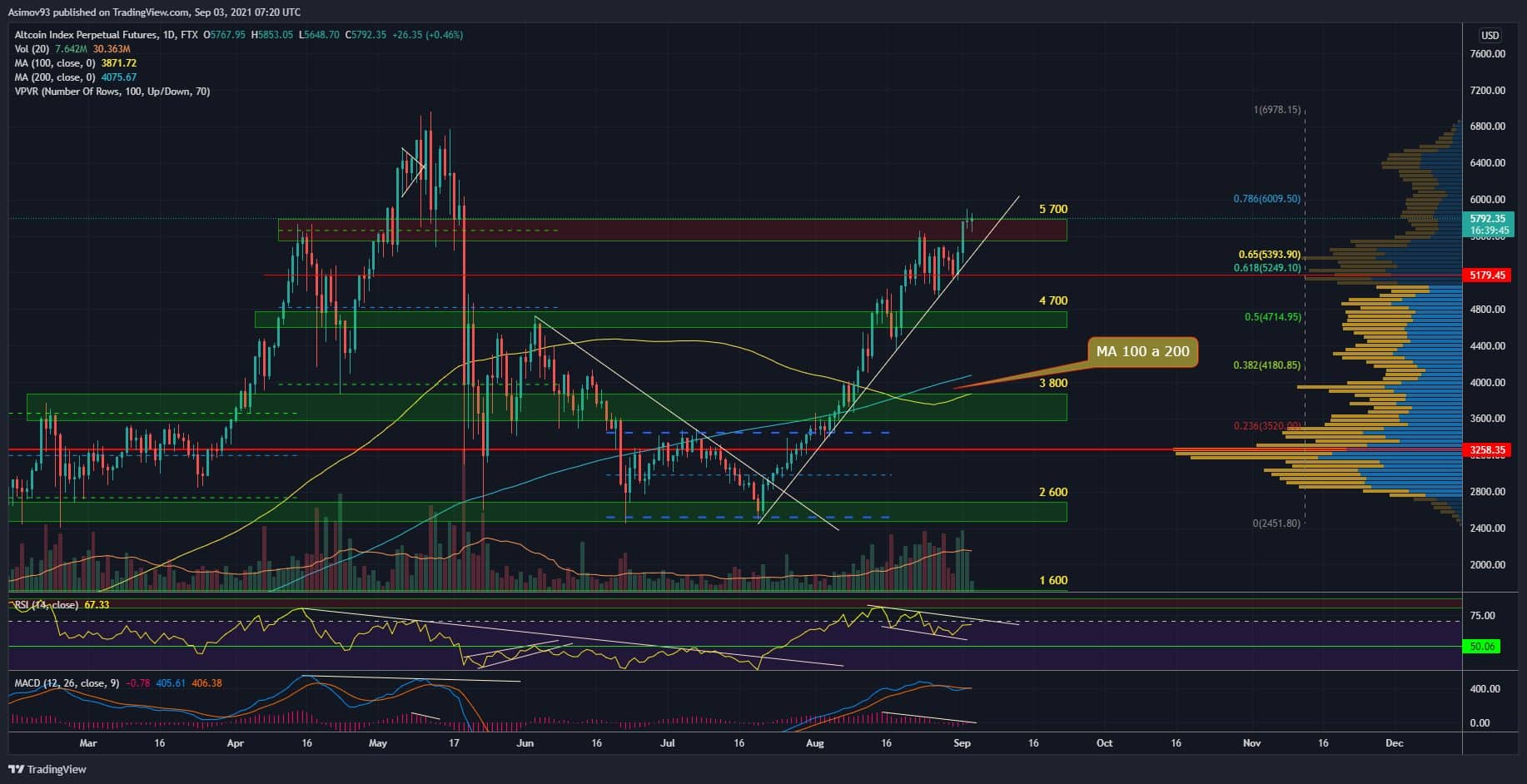 Currently, the exchange rate is consolidating at this level. Theoretically, no resistance to the new ATH stands in the way, but when we look at the volume profile, we look at depth market, we find that around 6,400 points is potential resistance. Otherwise, however, the price chart is fine, I don't see any problem with it.
Indicators
It's already a different song on the monitored indicators, because there is already a second bearish divergence on RSI and now it's really big. In order for divergences to be completely eliminated, the exchange rate would have to do at least 30-40% appreciation.
Maybe more, this probably can't be measured exactly, because we don't know the exact future price course. It's the same song on MACD. From the point of view of a clean price chart, therefore, everything is fine, but the indicators of technical analysis report problems. And quite serious. It doesn't guarantee us anything, but caution pays off.
In conclusion
The Altcoin Index suggests that there is a lot of interest in alts. In particular, the market for altcoins is driven by coins such as ETH and Cardano. But otherwise it can be stated that the altcoin market is trying to expand. 
Solana (SOL), Polkadot (DOT) and Cardano (ADA). Which one will win.