Crypto exchanges with the lowest fees 2023
5 min read
Do you like cryptocurrencies? Do you hate expensive transaction fees? We too! So here are the best crypto exchanges with the lowest fees.
If you want to buy or sell any cryptocurrency, exchanges are invaluable platforms that provide key cryptocurrency statistics, trading pairs, storage options and more. While you can buy or sell cryptocurrencies through a software wallet, having an account with a reputable exchange can open up a lot of doors for you when it comes to building your portfolio. But using crypto exchange can be expensive, so finding the most affordable but reputable options is crucial. So which crypto exchanges offer the lowest buying and selling fees?
Here we prepared list of crypto exchanges with the lowest fees
Poloniex
Kraken
Binance
eToro
Bybit
Cex.io
KuCoin
Crypto exchanges with the lowest fees
The maker / taker model is a way to distinguish between trading orders that provide liquidity ("Maker") and withdraw liquidity ("Taker"). Different fees are charged for the creator's and recipient's trading orders.
Poloniex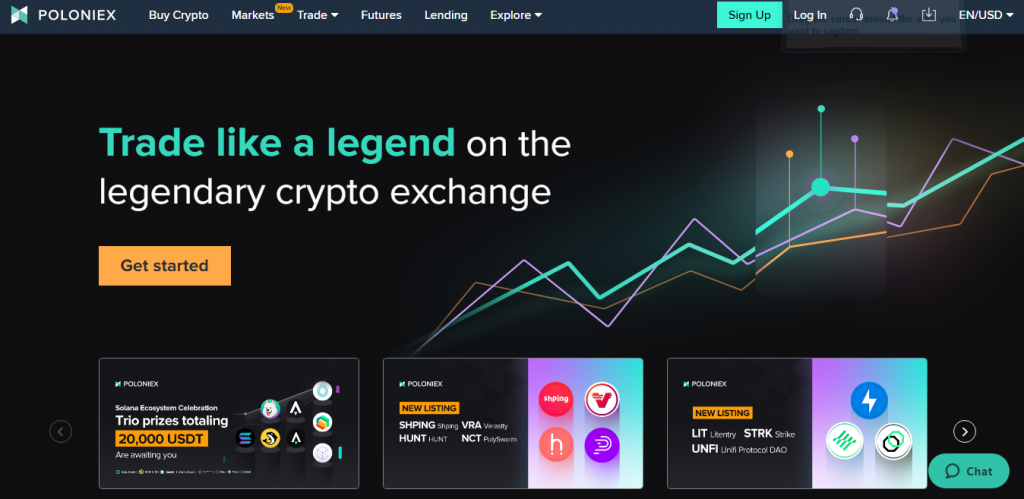 Poloniex founded in 2014 by Tristan D'Agosto, is an American exchange that has developed into one of the twenty most popular crypto exchanges in the world.
There are a lot of great things on Poloniex. Its diversity of supported coins, staking options and a reward center accompanies one of the platform's best attributes: low fees. Currently, Poloniex charges only a 0.125% creator or recipient fee and does not charge deposits. This means that you can buy and sell cryptocurrencies on the platform without losing much of your profits or paying significant purchase fees.
Kraken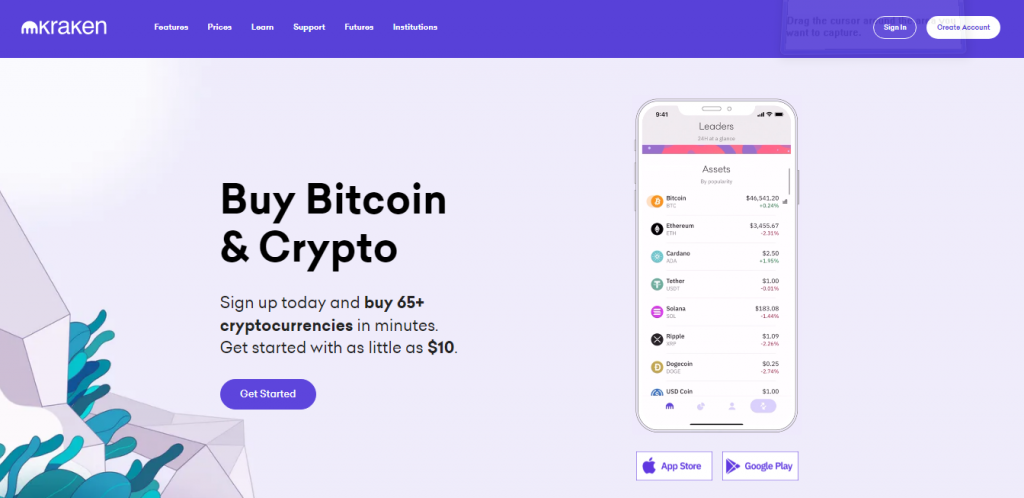 Kraken, which ranked fourth in trading volume worldwide, started as the US exchange for BTC and Litecoin (as well as a platform for trading in euros). Today it supports a huge list of different cryptocurrencies, from Ethereum to Aave. There are plenty of trading pairs, coins for staking, financing options and fees for buying and selling make this exchange the best choice.
Currently, Kraken charges only a 0.16% maker fee and a 0.26% taker fee. As mentioned above, recipient fees are often higher than creators' fees, given that the recipient takes liquidity from the exchange, which is the opposite of what the exchange wants to make a profit. However, this fee at the Kraken is still reasonable compared to other trading platforms.
Binance

Binance, probably the most popular crypto exchange in the world, is popular with millions of cryptocurrency buyers and sellers, and for good reason. Not only that Binance is available in more than 180 countries, but its fees are more than friendly.
With a maker and taker fee of just 0.1%, Binance makes the purchase and sale of cryptocurrencies available to everyone. In addition, Binance does not charge any staking fees and does not charge deposits or withdrawals! Overall, it's a solid choice for everyone and you don't have to deal with frustrating fees for your profits or rewards.
eToro
eToro, founded in 2007, is an Israeli brokerage company providing, among other things, a diverse and credible crypto exchange. eToro allows users to buy and sell a variety of cryptocurrencies. It also has some great staking options for those who want to earn some passive income using their cryptocurrencies.
So what does eToro look like in terms of fees? EToro does not charge any fees for creators and recipients. However, this does not mean that trading on eToro is completely free. The platform charges a spread fee of 0.75%, which is basically another way that exchanges can charge transactions. In addition, eToro does not charge any deposit or withdrawal fees, making transferring your money to or from the platform much more enjoyable.
Spread fees – instead of charging a separate trading fee when merchants place an order, costs are instead included in the purchase and sale price.
ByBit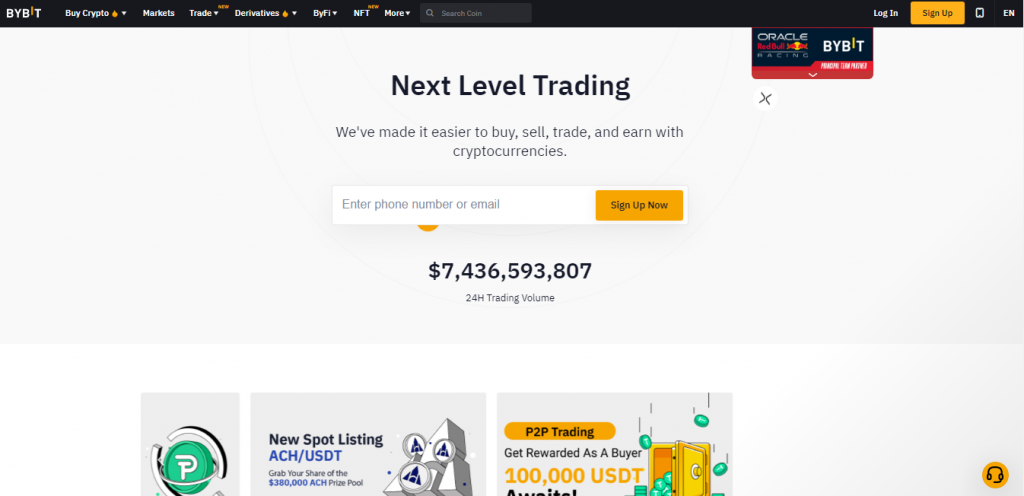 Bybit, founded by Ben Zhou in March 2018, is a Singapore crypto exchange that has become one of the fastest growing global markets. In just four years, Bybit has become a very popular platform on which huge volumes of cryptocurrencies are traded daily. So what makes Bybit a great choice in terms of fees?
With no maker fee and a taker fee of just 0.075%, Bybit ensures that you avoid all kinds of annoying fees, whether you buy or sell cryptocurrencies. What's more, withdrawals and deposits are free at Bybit. So if you are looking for a crypto exchange with super low fees, Bybit is the right one for you.
Cex.io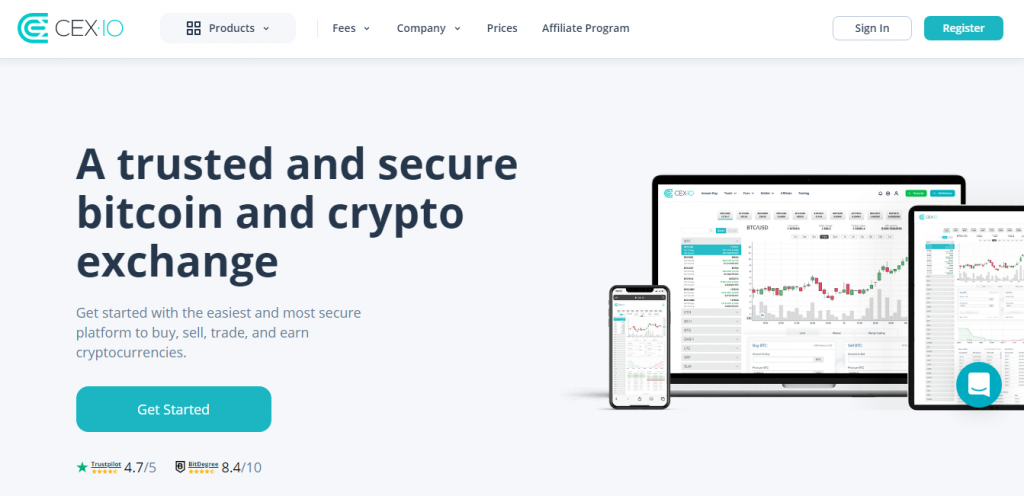 CEX.io is another widely used cryptocurrency exchange platform with a number of amazing features, including margin trading, staking and its own official debit card. This exchange is accessible to users in most countries of the world and currently has more than four million users. 
CEX.io charges a fee of 0.16% for creators and 0.25% for recipients. In addition, the platform charges a 2.99% fee for deposits from VISA or Mastercard accounts and charges a variable withdrawal fee depending on where the money is going.
KuCoin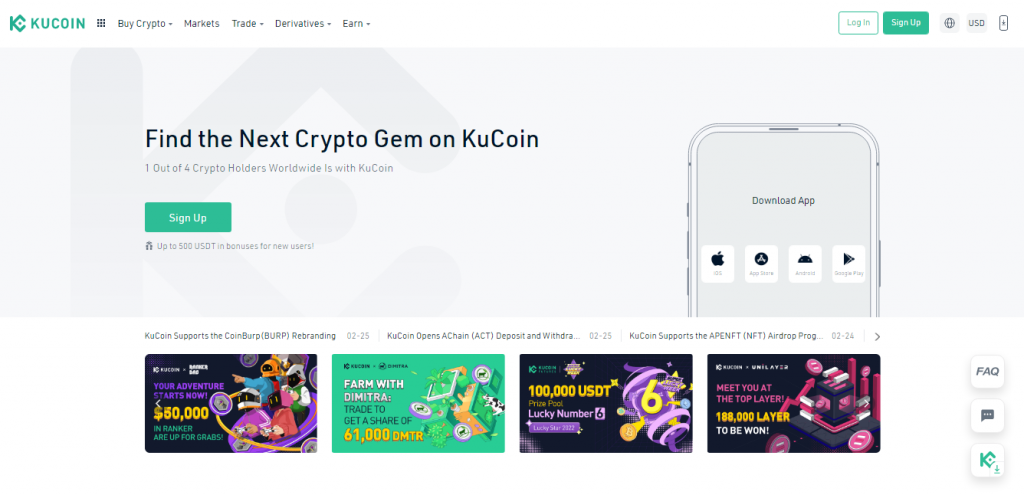 KuCoin is currently the fifth most popular crypto exchange in the world with a daily trading volume of over $ 4.2 billion and a list of more than 500 supported coins. In addition, KuCoin offers various features that you can use to strengthen your crypto portfolio, such as staking, margin trading, lending and more. And on top of that, the fees for KuCoin are also quite low.
At present, the fees for the creator and recipient of KuCoin are the same, at a nice 0.1%. In addition, KuCoin does not charge any deposits, but charges withdrawals. The fee you pay for withdrawals varies depending on the type of cryptocurrency you are moving. For example, selecting BTC will cost you 0.0005 BTC, while selecting Polkadot will cost you 0.1 DOT.
Conclusion
When buying, selling, transferring or performing any other type of action on crypto exchanges, unexpected fees can sometimes frustrate the whole process. So if you want to keep your fees to a minimum when using the crypto exchange, try one of the above platforms to keep them in check.
Metaverse will generate new professions by 2030, say experts