After upgrading whales save far more ETH to the Ethereum 2.0 staking contract
2 min read
On-chain data from the analytical platform CryptoQuant shows that whales have long been bullish on Ethereum (ETH) and are locking more ETH even after its price increase last week.
Whales are locking more ETH into the Ethereum 2.0 contract
According to data from the on-chain analytical platform CryptoQuant, more than 95,000 ETH was invested in the ETH 2.0 contract per day for more than $ 287 million. The number of new depositors seems to be smaller compared to the number of deposits, which is according to Ki Young Ju, CEO of CryptoQuant, a clear sign that whales are bullish on ETH and are storing more tokens in the contract.
"Further evidence that ETH has been bullish for a long time. Whales that put a lot of ETH into the ETH 2.0 contract before the price increase seem to have put a ton of ETH back into the contract. These whales think the fair price for ETH has long been higher than $ 3,000. "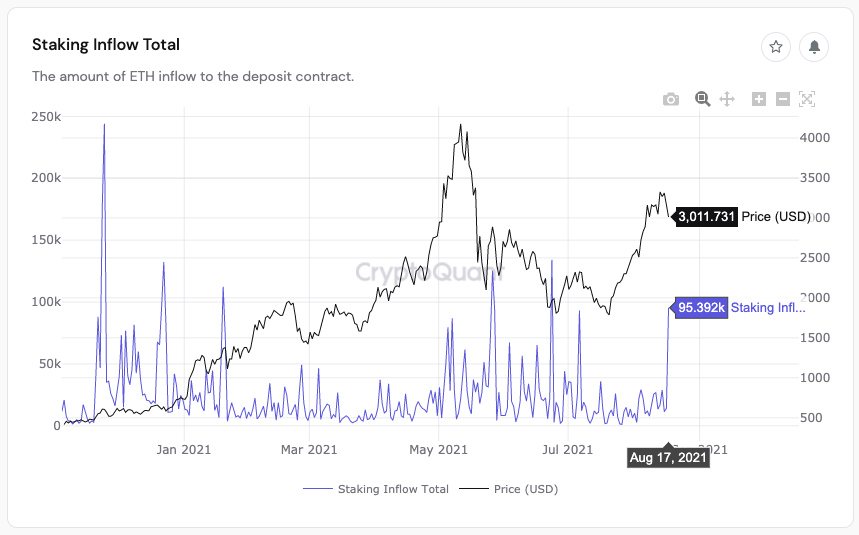 With the latest increase, a large part, approximately 5.7% of the entire ETH offer, has already found its way into the deposit agreement. Almost 7 million ETH, or about $ 21 billion, is now locked in the contract. After the protocol was updated, the number of validators in the network also increased rapidly with age to 200,000.
The upgrade to Ethereum attracted the attention not only of the cryptocommunity, but also of several institutions around the world. A few weeks ago, Swiss Sygnum Bank announced that its customers could use the institutional banking platform to stack ETH on Ethereum 2.0 from their existing wallets.
Hard Fork London has set up fundamental changes for Ethereum
Hard fork London, activated on August 4, restructured the charging mechanism by creating a base fee that is algorithmically designed to decide on transaction costs based on network flow. This means that the network chooses a single fee price, which should theoretically prevent large fluctuations in fee costs instead of relying on miners.
Network sharding has increased scalability, increasing the number of transactions it can handle as the load is distributed among validators on different shards. It reduces network congestion and ultimately reduces transaction fees.
These upgrades are a significant milestone for ETH and could potentially crown its blockchain as the undisputed leader in the DeFi sector. At least 3.25 ETH has been burned every minute since the new charging mechanism was announced, and more have been burned on several platforms, such as OpenSea – 428 ETH, UniSwap V2 – 326 ETH, Tether – 245 ETH and Axie Infinity – 227 ETH.
All content in this article is for informational purposes only and in no way serves as investment advice. Investing in cryptocurrencies, commodities and stocks is very risky and can lead to capital losses.