Analyst Indicates What Could Happen to BTC After US Interest Rate Rises
2 min read
The U.S. Federal Reserve raised the benchmark interest rate on Wednesday and the increase was the biggest rate hike in two decades. "Inflation is much too high," the central bank's chair Jerome Powell said after the Fed raised rates by 0.5%.
Direction of BTC after raised rate
According to the trader known as Pentoshi, the price of BTC is expected to face turmoil as interest rates rise in the United States. However, the market will digest this increase and soon BTC and tech stocks will recover and rise again.
Pentoshi is one of the most well-known and followed analysts in the market. In an analysis he indicated two paths for BTC. In the former, the rally would take the cryptocurrency back to $42,000. In the second, more negative, price should seek support at $35,000.
#SPX update:

Just took out this years lows and that might mark a temporary bottom for now$BTC will be monitoring 39.7k for the bias point

Above that = squeeze to 42k

Staying agile, less sidelines from my end pic.twitter.com/yhUB9Ydmi4

— Pentoshi 🟠🐧 (@Pentosh1) May 2, 2022
BTC in the wake of NASDAQ
As per Pentohi's analysis, BTC is still highly correlated with US tech stocks. That is, assets like Apple, Netflix, PayPal and others. This correlation has deepened in recent weeks.
This means that, in the market's view, BTC is not a hedge asset, but a risk asset. Therefore, its price tends to emulate the performance of other assets in this segment. In fact, data from the TradingView platform shows that the correlation between BTC and the Nasdaq 100 is increasing.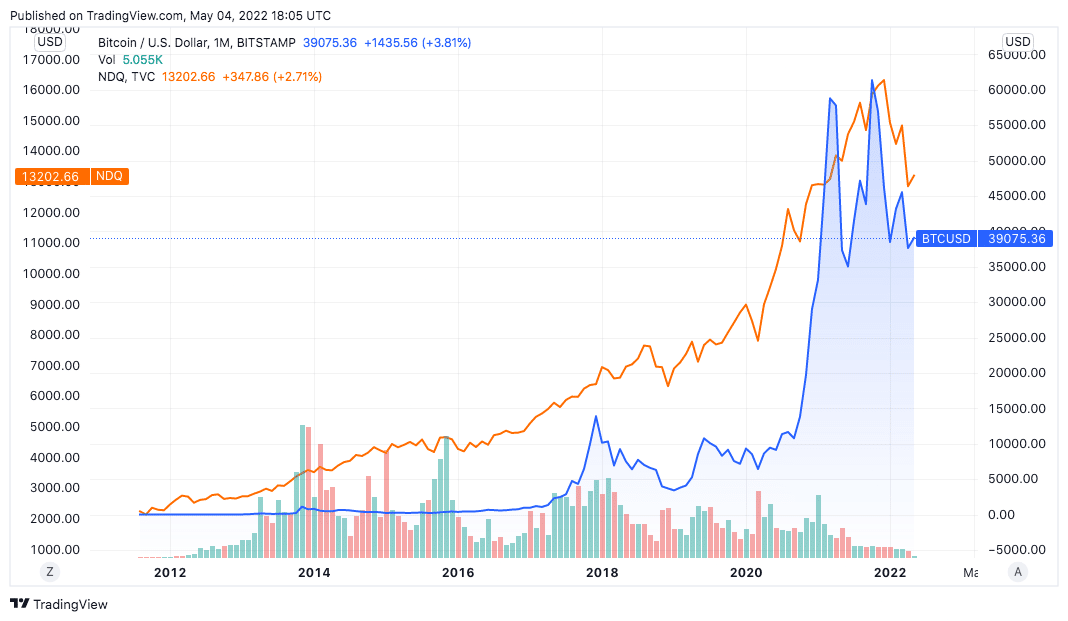 "Many stocks have been at their lows since March 2020 – after the coronacrash. Spotify, Netflix, Zoom, Paypal and more. It is possible that there will be a bullish rally in BTC and equities after the FOMC decision, at least in the short term. Many assets are at important points of articulation that want to establish themselves", says the analyst.
Another popular trader who goes by the name Light agrees with Pentohi's prediction. In his view, the timing of the interest rate announcement will generate an asset purchase effect. That tends to happen even if the Fed surprises and doesn't raise rates.
Movement expectations
Finally, Pentoshi looks at the key levels to watch for in BTC in the coming days. After the sharp dips in April, the BTC price is quoted at $39,075 at this point, with the next resistance at $39,700. If the price rises above this value, it will trigger a rally to $42,000.
"BTC will be tracking $39,700 for the point of bias. Above that = squeeze to $42,000."
But if the price fails to break the resistance solidly, the April correction is likely to continue this month. In case of a dip, the price is expected to drop another 9% and seek support in the $35,600 region.