Bitcoin is rising: Big profits on the crypto market
2 min read
After the Bitcoin price (BTC) fell below the 20,000 US dollar mark on March 10, hardly anyone would have guessed that things would pick up again a short time later. The general uncertainty on the financial markets had also gripped the crypto market and pulled most of the cryptocurrencies south.
But as it stands now, it was just a bear trap. Because the Bitcoin price passed the 24,000 US dollar mark in the afternoon of March 13th and can thus put a 24-hour plus of over 18 percent on the floor. The Bitcoin price also enjoyed a decent increase of over eight percent over the course of the week.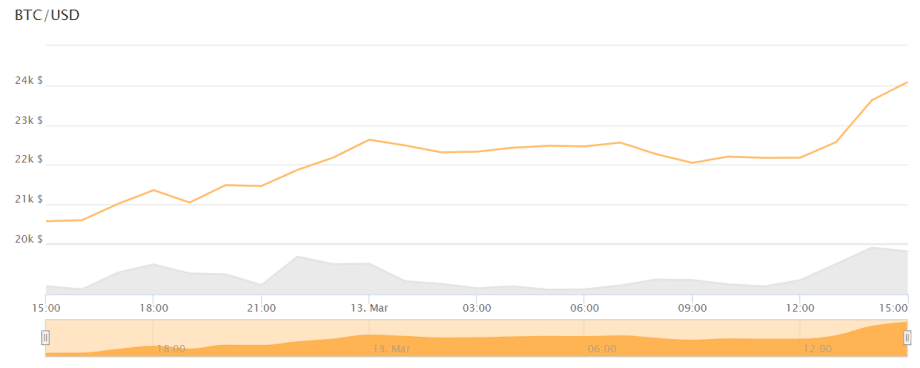 Meanwhile, the entire crypto market is benefiting from the Bitcoin rally. The Ethereum course (ETH) is also in good shape at 1,690 US dollars and a 24-hour plus of almost 8 percent. The entire crypto market was able to break the market capitalization of one trillion US dollars again.
Bitcoin price benefits from developments around Silicon Valley Bank
It looks like the current Bitcoin price recovery rally indicates that the brief panic caused by the banking crisis surrounding Silicon Valley Bank has subsided for the time being. By winding up Silicon Valley Bank, Signature and Silvergate, the USA has apparently been able to prevent worse from happening.
With that, as outlined in the current BTC ECHO market report, the crypto market is following the general tendency of the financial market to climb north. The problems surrounding the USDC stablecoin, which briefly lost its peg to the US dollar, also appear to have been resolved for the time being. This has leveled off again and is now on the verge of moving back into more stable realms.