BTC Fear & Greed Index rebounds to 2-month high
2 min read
After one of the worst quarters in its history, cryptocurrency prices are on the rise again. However, analysts are still not optimistic and point out that prices have not really risen. Instead, they just stopped falling.
Despite this, with a possible change in trend, retail investors are once again optimistic. The BTC Fear and Greed Index, for example, hit the 20 mark on July 8. This is the highest position ever recorded by the index in the last two months, according to Alternative.me.
Fear & Greed Index on 2-month high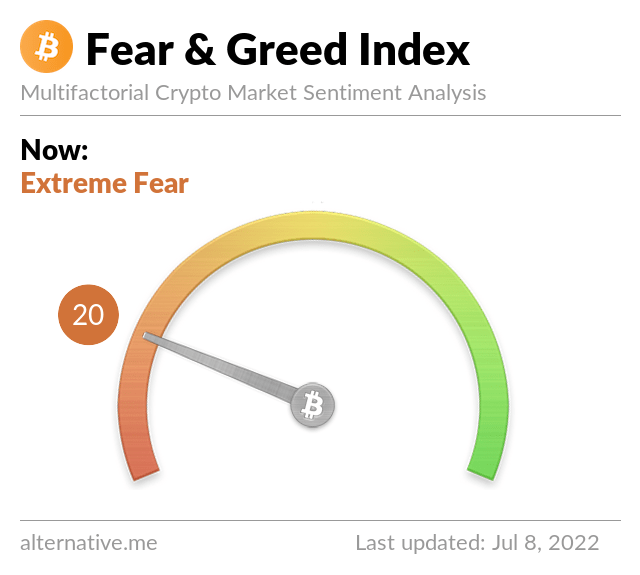 As Arcane Research reported, the indicator is approaching the "fear" level. This occurs after spending an extended period at the "extreme fear" level. In other words, it's progress.
"Sentiment in the cryptocurrency market has been depressed for several months, but we are seeing a slight improvement," Arcane Research said.
The Fear and Greed Index is a measure of investor "mood" that is used in conventional markets. The Index takes into account several elements, including volatility, momentum and demand.
In particular, it aims to determine whether traders are too bullish (represented by "greed") or bearish ("fear").
In addition, the index takes into account a number of other criteria, such as trends in social media and Google search data.
The index can range from zero (which stands for "extreme fear") to 100 ("extreme greed").
According to Arcane Research, seven-day volatility in Bitcoin reached its lowest level since early April. However, experts said they would not be surprised to see a relatively "still" July.
"No incidents after a heavy quarter in the cryptocurrency market and the start of summer," they stated.
This week, BTC crossed the $20,000 threshold and has not dropped below this level since. While some analysts are wary about the near-term future, expert WazirX is optimistic.
"BTC surpassed the $22,000 level last day for the first time in 3 weeks as recession concern is disproportionate," he said.
According to him, one cannot rule out the possibility that BTC will cost more than $25,000 again in the short term.
Cryptospace lost 25 cryptocurrency exchanges in 30 days, research reveals