BTC withdrawal from exchanges reaches historic milestone
2 min read
Analytics firm Glassnode released its new weekly report on Monday. According to the document, BTC (BTC) whales continue to accumulate large amounts. In contrast, the amount of BTC leaving exchanges has reached new all-time highs.
The report highlights the accumulation caused by the purchases of MacroStrategy and Luna Foundation Guard (LFG). Both entities bought 4,167 and 5,038 BTC, respectively, withdrawing nearly 10,000 cryptocurrencies from the market.
According to Glassnode, such movements often precede strong price increases. Furthermore, this week's BTC fundamentals have brought positive bullish signals.
Record withdrawals
The indicator of BTC outflows from exchanges is one of the main thermometers in the market. After all, if investors are withdrawing more BTC from exchanges, it means long-term accumulation. In this way, there will be fewer cryptocurrencies in circulation, which tends to increase the price.
In this regard, Glassnode identified that 96,200 BTC was withdrawn per month, an absolute record and a very unusual amount. The company has identified that withdrawals of this type have occurred in a few moments in the history of BTC.
"We can see that balances have also experienced a historically significant period of BTC outflows in response, reaching an outflow rate of 96.2k BTC/month. Outlets of this magnitude are unusual, having only happened on multiple occasions throughout history," he said.
With BTC price close to $43K at the time of writing, this corresponds to around $4.2 billion in outflows. The consequence is that the number of BTC on exchanges has dropped to 2.472 million, 13% of current circulating supply.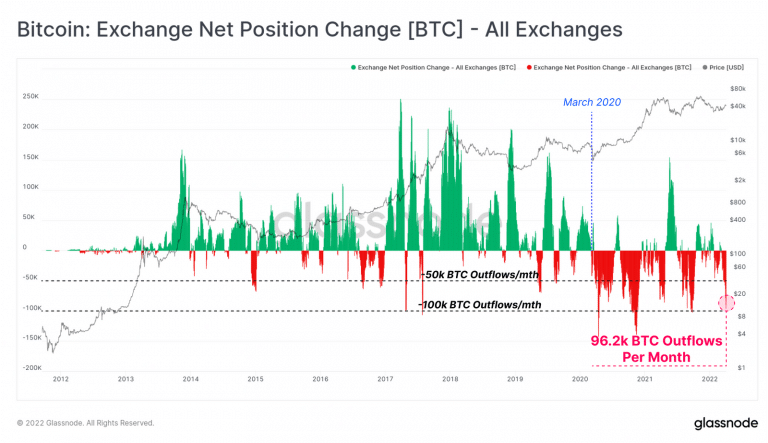 This is the lowest value recorded since the end of 2018, a year of strong price correction. At that time, BTC was coming off a strong correction after the all-time high of 2017 and starting a period of accumulation. About two years later, the price closed 2020 close to $40,000, up almost 900%.
Big investors accumulate
As exchange balances dwindle, big investors rush to buy what's left in the market. LFG came out ahead, which bought $140 million in BTC last week and another $230 million this Wednesday. The organization already has around 35,000 BTC in its reserves.
Soon after, it was the turn of MacroStrategy, a subsidiary of MicroStrategy, which took another $190 million in BTC on Monday (5). With that, the company finally used the $200 million loan it took out on March 30.
The Glassnode report points out that all addresses with more than 100 and 1000 BTC saw a sharp increase in accumulation. At the same time smaller wallets – under 1 BTC – are also accumulating satoshis.
From McDonald's Clerk to One of the Richest in the World, Binance's CZ Story