BTCD Gets Rejected, Could Offer Relief Altcoin Rally
2 min read
The BTC Dominance Rate (BTCD) has been moving upwards since reaching a low in May.
Despite the bounce, it is possible that a local high has been reached and BTCD will fall towards new lows.
Long-term descent
BTCD has been moving downwards since January 2021, when it reached a high of 73.63%. The downward movement continued until a low of 42.68% was reached in May. 
BTCD bounced afterwards, and has reached a high of 48.69% so far. The high was made very close to the 0.382 Fib retracement resistance area when measuring the most recent portion of the downward movement. 
Technical indicators are showing some bullish signs, such as the increasing RSI and MACD histogram. 
However, the RSI is still below 50 and the MACD is negative. In addition to this, the Stochastic oscillator has not made a bullish cross yet.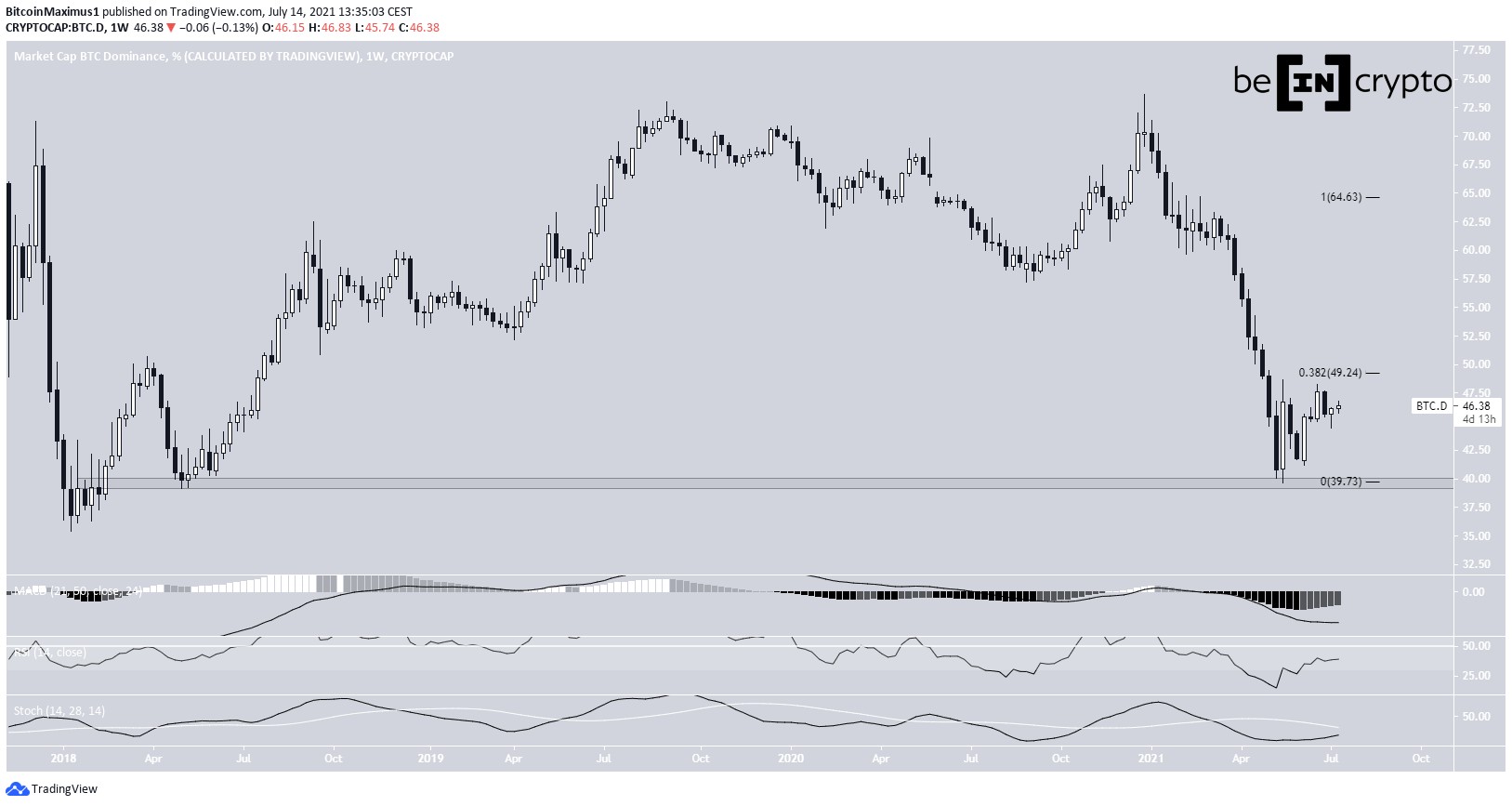 Cryptocurrency trader @Crediblecrypto stated that despite the ongoing increase, he expected BTCD to eventually fall and reach a new all-time low. However, he suggests that a move towards 50-55% is in the cards first. A look at a lower time-frame is required in order to determine if this will transpire.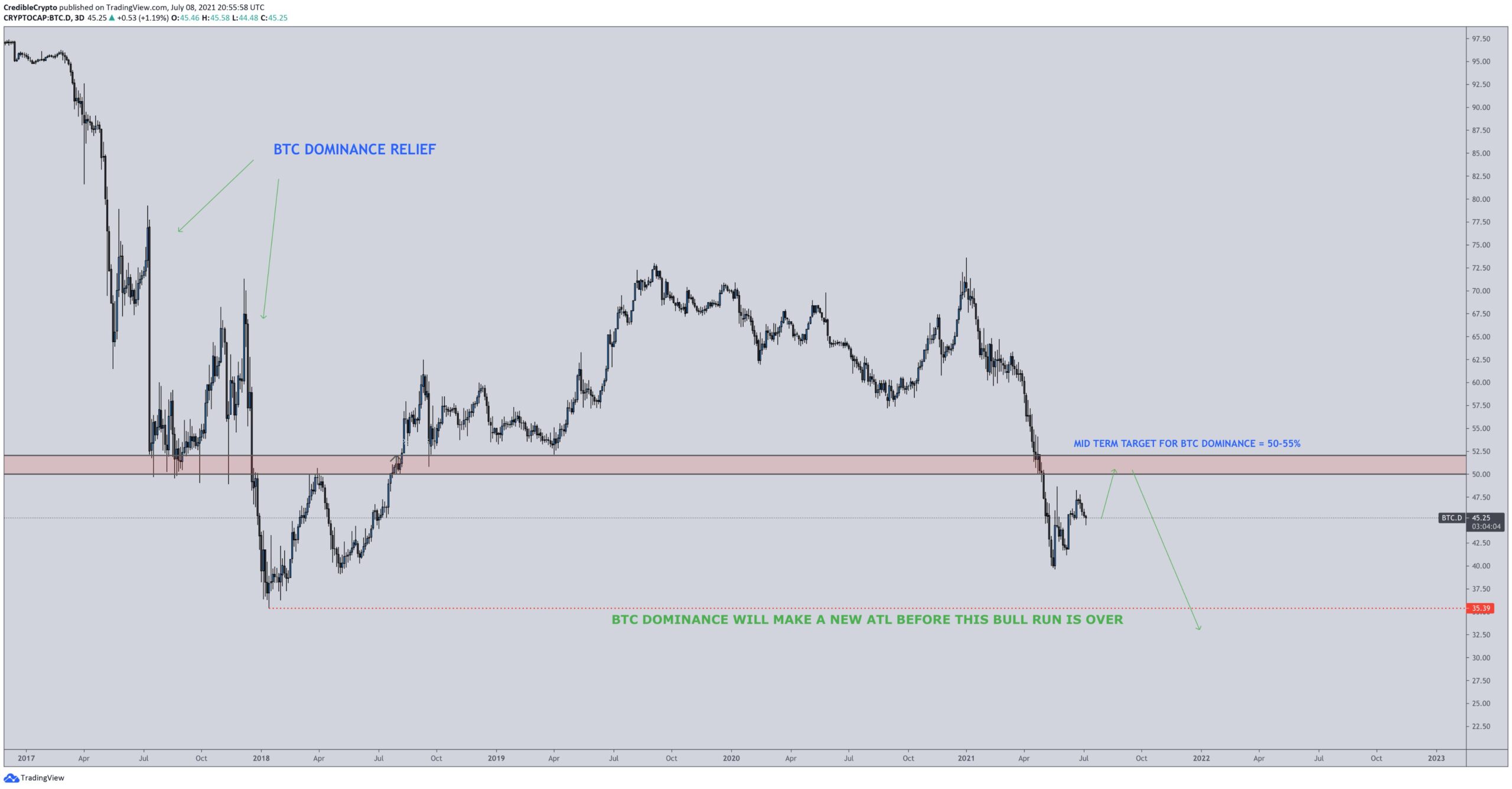 BTCD follows resistance
The daily chart shows that BTCD has been following a descending resistance line since the aforementioned January high. 
Currently, it is right at this resistance line, making its third breakout attempt. 
However, technical indicators are neutral, leaning on bearish. The MACD is showing decreased momentum and is right at the 0 line. The RSI is at the 50 line, while the Stochastic oscillator has already made a bearish cross.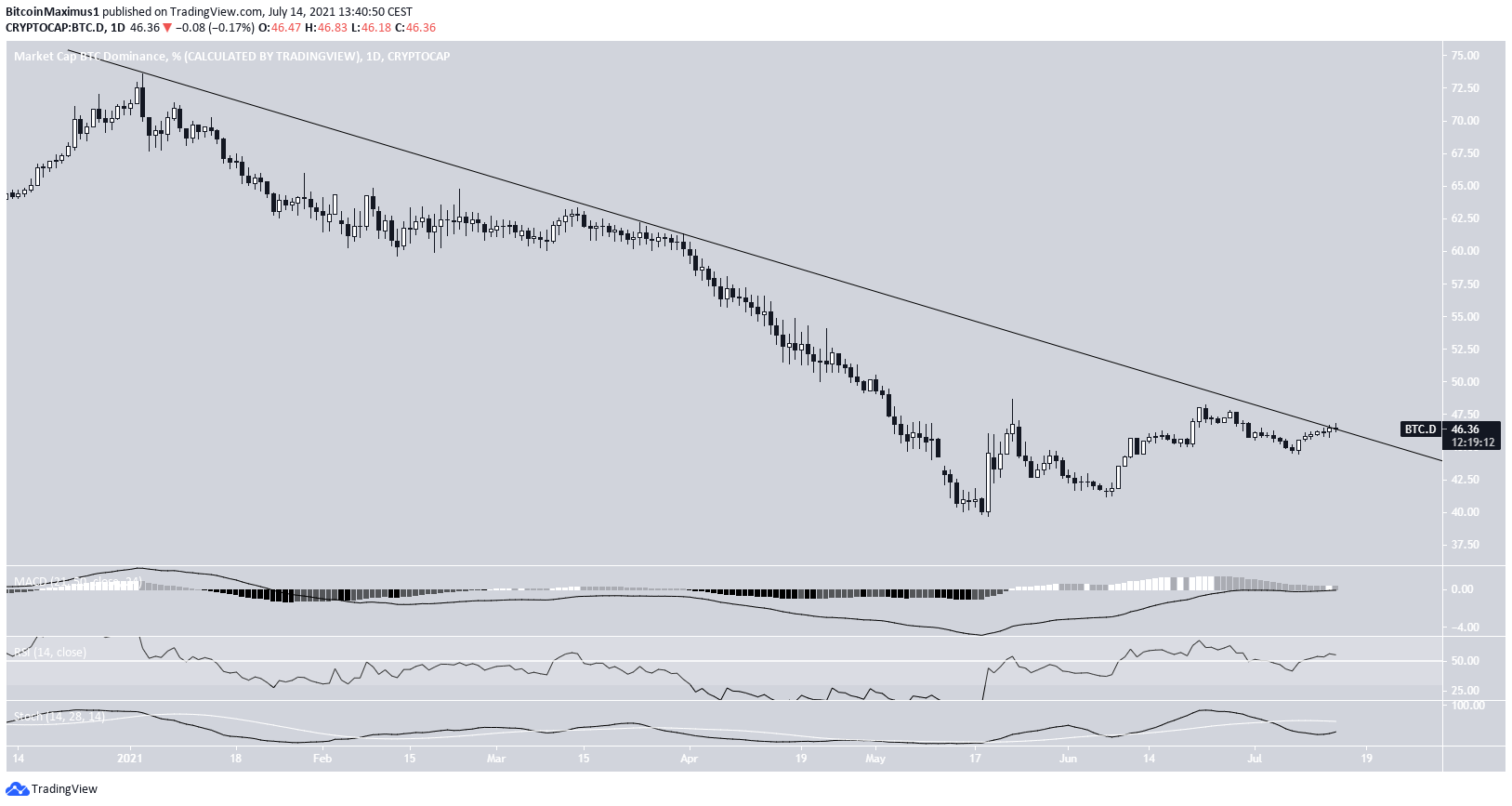 The most likely possibility suggests that BTCD is currently in wave four of a bearish impulse, which has taken the shape of a fourth wave triangle.
While it is possible that it develops into a different corrective pattern, the presence of the descending resistance line indicates that it is likely that a high has been reached. 
If so, potential targets for the end of the downward movement would be near 33-34%, found using a Fib projection on waves 1-3 (orange) and the length of wave 1 (black).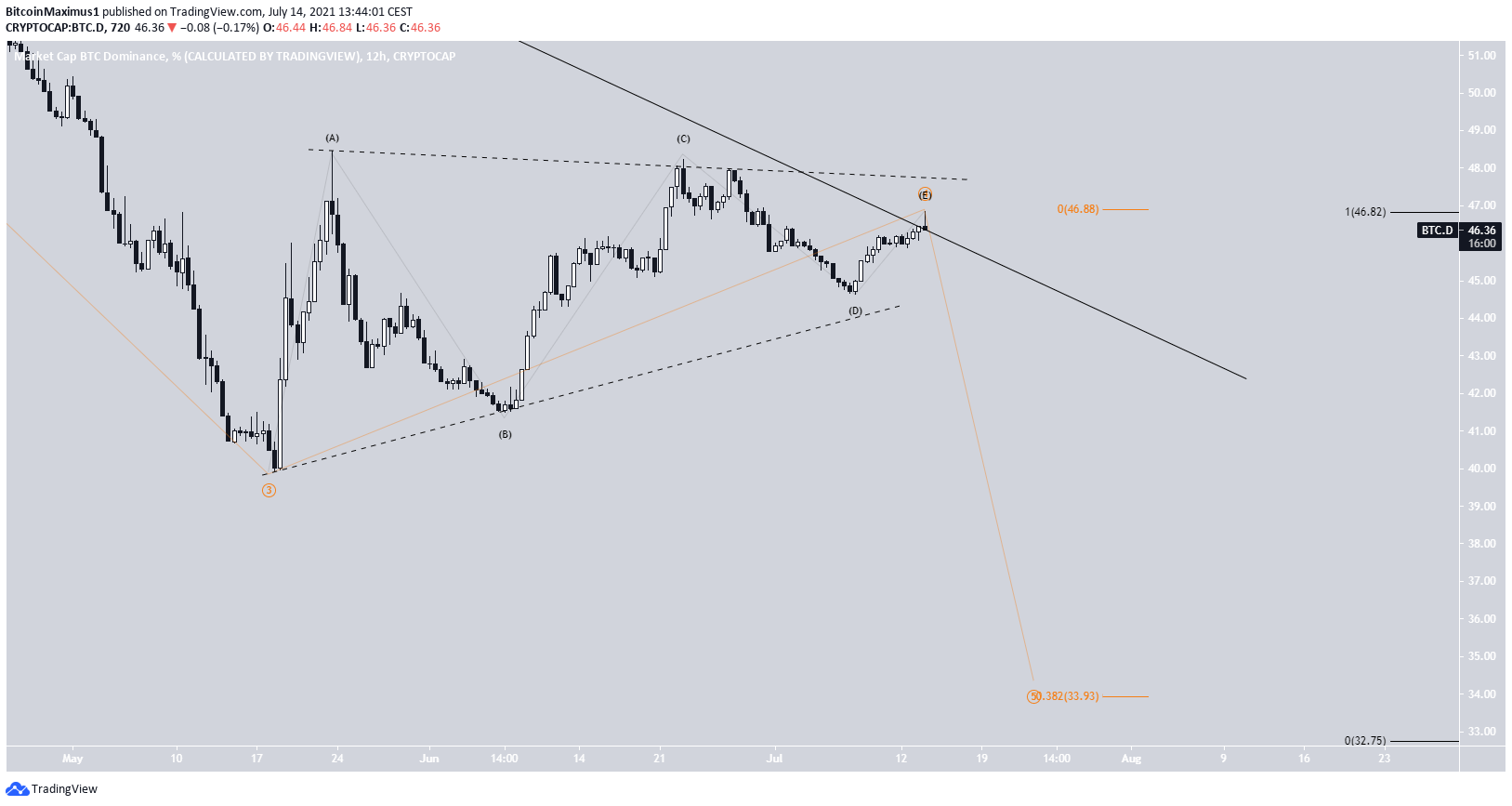 Relationship to BTC
The relationship between BTC (orange) and BTCD (green) was positive from July 9 to 12, meaning that an increase in the BTC price also caused an increase in BTCD. 
However, it seems to have turned negative since, indicating that an increase in the price of the former is causing a drop in the latter.
Therefore, in order for BTCD to hit the previously outlined target, BTC would have to continue moving upwards.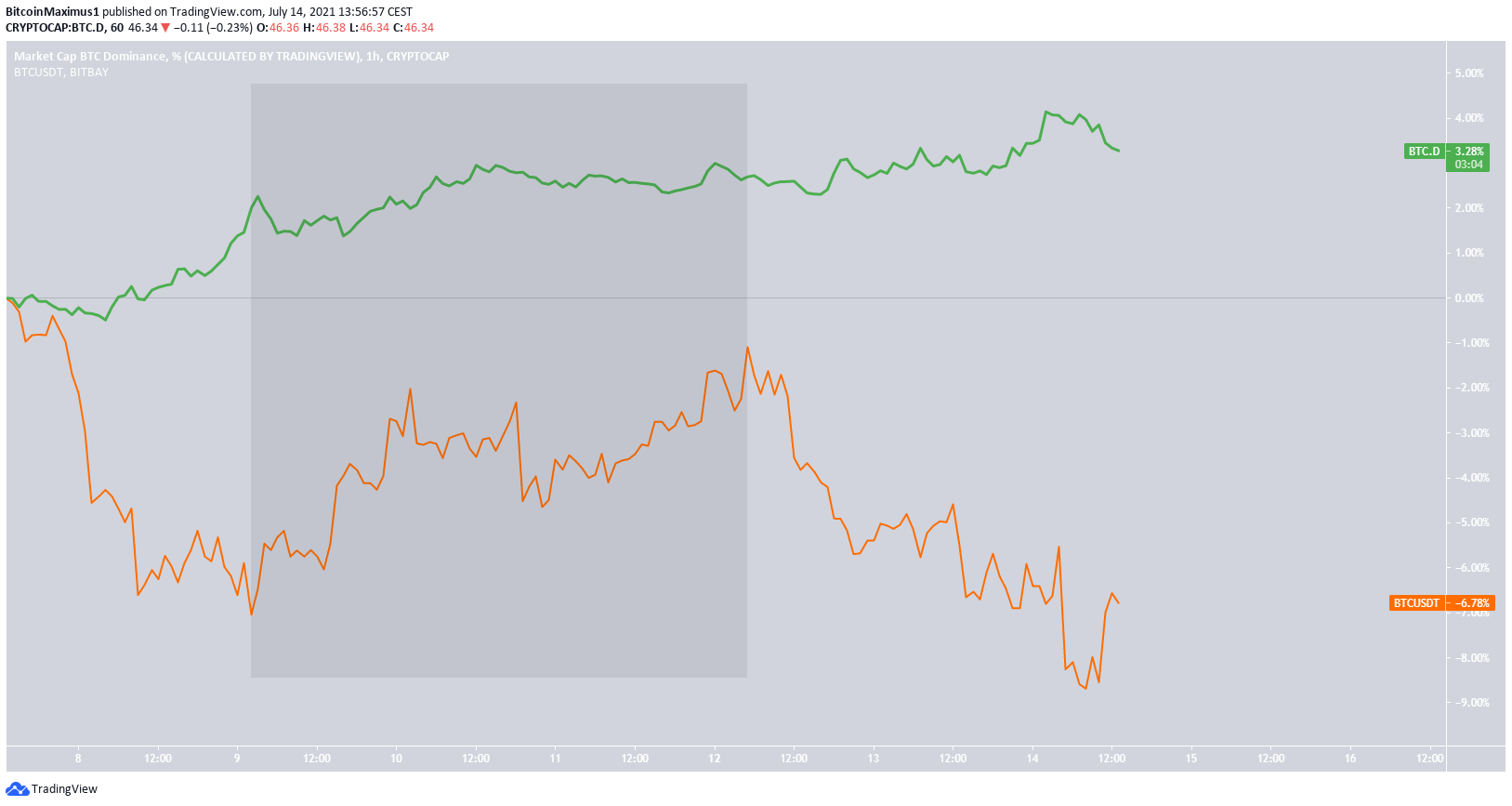 For BeInCrypto's latest BTC (BTC) analysis, click here.
The post BTCD Gets Rejected, Could Offer Relief Altcoin Rally appeared first on BeInCrypto.