Cardano has become the most discussed digital asset
2 min read
As the Cardano price skyrocketed to new historical highs, the asset gained the attention of the crypto community. On-chain data from social network platforms has confirmed that ADA has become the most discussed digital asset in recent days.
Mention of Cardano (ADA) on Twitter has skyrocketed since the beginning of the weekend, and the token surpassed the primary cryptocurrency in this regard, recording another all-time high and approaching $ 3.
ADA is the most discussed digital asset on Twitter
It can be said with certainty that the native cryptocurrency of Cardano blockchain has been in the course since the beginning of the year. Looking at the last month, the ADA outperforms most of its competitors.
On July 20, as the entire market corrected, the token dropped below $ 1. This happened after an explosion of more than 1,200% in the first months of 2021. After a massive decline, however, the ADA began to recover rapidly and has been growing ever since. The value has doubled in a few weeks, is still rising and has recently surpassed its previous all-time high.
However, Cardano did not end there and continued further north. Yesterday, the token set the latest record at $ 2.95. Thus, there was an increase of 194% since July 20, and a year-on-year increase of more than 1,500%, as expected, attracted the attention of the community.
Santiment announced that the number of mentions with the Cardano and ADA hashtag on Twitter since the weekend with the new ATH literally exploded. The analytics company said this growing awareness "will play a key role in whether prices continue toward $ 3 and beyond."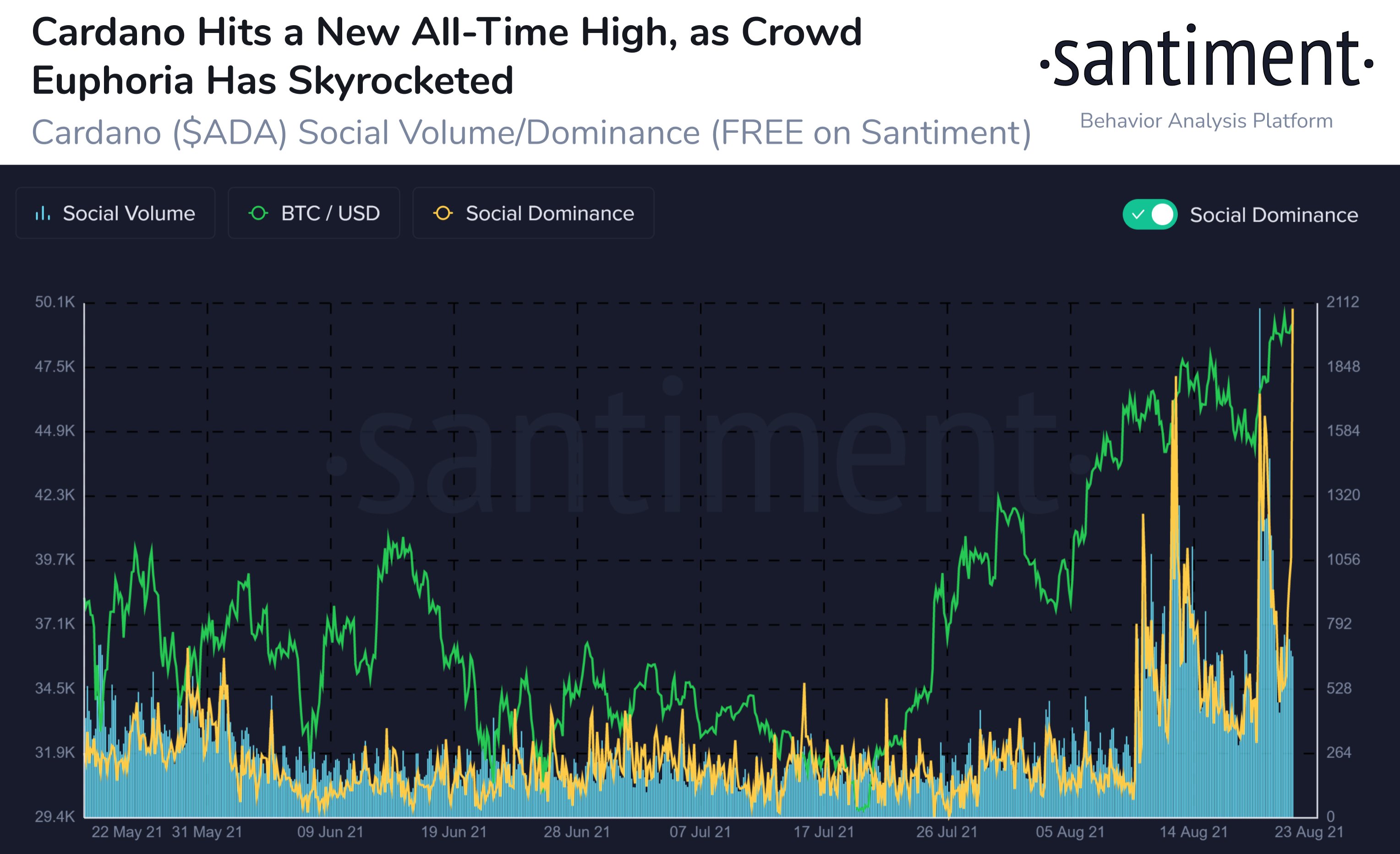 Santiment later updated that the number of Twitter mentions even exceeded BTC (BTC), although the primary digital asset at the weekend for the first time since May reached $ 50,000.
Room for further growth
While Twitter mentions on the weekend exploded, Google trend data suggests that the token could be given more attention. The number of Cardano queries in the world's largest search engine has definitely increased recently. However, it is still far from the May peak, when the ADA reached its ATH at that time.
Given that Google trends are usually a good indicator of retail investor behavior, it can be assumed that not everyone has noticed yet. With this in mind, the price of the ADA could indeed go higher if the previous hype returns, as Santiment said.
From ETH to Avalanche: Chainlink is conquering the NFT sector