Chainlink Boosted DeFi Industry to $203 Billion, Says BofA; see predictions
2 min read
Chainlink (LINK), a somewhat discredited cryptocurrency, may have been one of the main drivers of the DeFi industry to around $203 billion in total locked-in value (TVL).
The claim was made by Bank of America (BofA) in a recent research report led by analyst Alkesh Shah.
According to the report, the adoption and growth of DeFi over the past year has been driven by "the ability of hybrid smart contracts, or tamper-proof, self-executing digital agreements, to access real-world data in a verifiable and secure manner by through oracle nodes such as market prices, time of day, weather and GPS location".
Chainlink in the DeFi Industry
According to DeFi Llama, Chainlink is currently the largest oracle network on the market. There are 135 protected protocols, a TVL of US$ 51.98 billion and a share of 24.61%.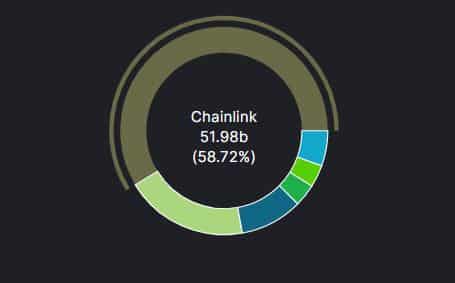 Founded in 2017, Chainlink enables blockchains to securely interact with external data feeds, events and payment methods through a decentralized oracle network.
As BofA highlighted, on February 15, Chainlink oracles secured more than $60 billion in smart contract deposits. The figure is considerably above $7 billion at the end of 2020.
In addition, the network has generated over 2.5 million verifiable random numbers for game distribution and NFTs. At the end of 2020, this number was close to zero, according to the report.
BofA further noted that more than 1,100 projects leverage Chainlink's network. And companies like Associated Press, AccuWeather, Sportmonks and 800 others have launched oracle nodes.
"Oracles also enable the next generation of blockchain use cases, which require real-world data and can disrupt mature industries," the bank's analysts said.
Finally, after conversations with Chainlink co-founder Sergey Nazarov, the bank stated that Chainlink can accelerate the adoption of next-generation blockchains in finance, insurance, supply chain, gaming and gambling.
Is it worth investing in Chainlink (LINK)?
The Chainlink network is powered by the native LINK token. With a market cap of $7.33 billion, the crypto asset is the 22nd largest by market cap.
The current market cycle is not favoring LINK in the short term. But for long-term investments, cryptocurrency can be a good diversification option. For analyst Kelvin Maina, the forecast for LINK in 2022 is optimistic:
"I expect prices to close the year above the $28 resistance level. My view is that by the end of the year prices will have broken the resistance," he said.
If the forecast is confirmed, it will be an increase of almost 80% in relation to the current price.