Digibyte Price Prediction 2021, 2023, 2025
13 min read
Digibyte prioritizes amplifying transaction speed, decentralization, and strengthening the security of DApps and digital payments. The cryptocurrency was created by Jared Tate back in 2013, who was the lead developer.
The crypto is being developed to enhance certain aspects of both BTC and Litecoin networks. BTC transactions are much slower compared to Digibyte cryptocurrency. Digibyte mainly focused on the hiked transaction fee, transaction speeds, and the massive volatility, making it a problem to utilize these digital assets as a payment method.
Moreover, the Digibyte blockchain pays attention to the downturn in blockchain performance related to some code troubles. Before exploring Digibyte price prediction, lets us find out what DigiByte is, and here is the whitepaper document. So, Digibyte (DGB) is the next one in our cryptocurrency price predictions.
What is Digibyte?
What is Digibyte?
DigiByte refers to an open-source blockchain and an asset creation platform. Digibyte blockchain argues that other blockchains like BTC and ETH are not secure or scalable enough.
However, it asserts that it has a tested and proven solution quicker and safer than the rivals. Digibyte refers to a blockchain network established on three separate layers. The covering layer is for smart contracts, DApps, and adjustable tokens DigiAssets protocol. The intermediate layer refers to the public ledger where DigiByte's native token, DGB, can flow across the entire blockchain and acts as the base asset. The lowermost layer is the DigiByte platform's heart, including decentralized nodes, client software, and communication.
The founder, Jared Tate, has been working on DigiByte from 2013 through 2020. However, genesis block was officially launched in 2014 as a BTC hardfork. Having been in operation for over five years now, DigiByte demonstrated that its protection as a blockchain technology network is authentic.
The unique feature of the global DigiByte blockchain is that it utilizes five DigiByte mining algorithms while most blockchains only use one. The five separate mining algorithms protect the network from mining centralization and enhance its security. These algorithms include SHA256, Scrypt, Groestl, Skein, and Qubi.
On top of the multi-algorithm mining, Digibyte blockchain asserts that it possesses the most advanced difficulty stability than any other modern blockchain. The progressive difficulty adjustment feature is for shielding the network from vicious attacks and reinforce its security. Thus Digibyte (DGB) has favorable future price predictions.
Digibyte Overview
Digibyte Overview
Coin
Symbol
Price
Marketcap
Change
Last 24h
Supply
Volume (24h)

DGB
$

0.038838

$

563.61 M

5.03%

14.52 B
$

14.77 M
Digibyte Network & Signals

GALAXY SCORE
The Galaxy Score indicates how healthy a coin is by looking at combined performance indicators across markets and social engagement. Display the real-time Galaxy Score of any coin.
History of DigiByte hard forks
History of DigiByte hard forks
DigiShield – block 67,200
DigiShield was activated back in Feb. 2014 after the DigiByte blockchain launch to enable the blockchain to safeguard multiple pools that mine massive amounts of DigiByte at minimal difficulty. DigiShield accomplishes this by recomputing the block difficulty across all blocks, allowing prompt correction if a multi-pool starts or stops providing to DigiByte, instead of recomputing once every two weeks like in the case of the world's leading cryptocurrency BTC. The DigiByte team helped Dogecoin successfully execute DigiShield in 2014, prompting more than 20 other blockchains like ETH, Zcash, BTC Gold, and BTC Cash, and others to add it.
MultiAlgo – Block 145,000
This hard fork was triggered back in Sept. 2014 to allow multialgo mining of DigiByte to fit in the different mining modes such as ASIC mining, GPU, and CPU mining.
MultiShield – Block 400,000
This hard fork was triggered back on December 10th, 2014. This hard fork had the task to activate DigiShield across the new MultiAlgo platform and accomplish the same goals on all five mining pools
DigiSpeed – Block 1,430,000
The hard fork was initiated back in December 2015 and aimed at increasing the speed of the DigiByte coin. The Digibyte block time for confirming transactions was by 50 percent to 15 seconds.
Odocrypt – Block 9,112,320
The hardfork was triggered in July 2019, giving birth to Odocrypt, a unique FPGA-friendly hashing algorithm. The algorithm is designed specifically for Digibyte and adjusts after every decade as an anti-ASIC approach.
Brief history/technical analysis of DGB over the years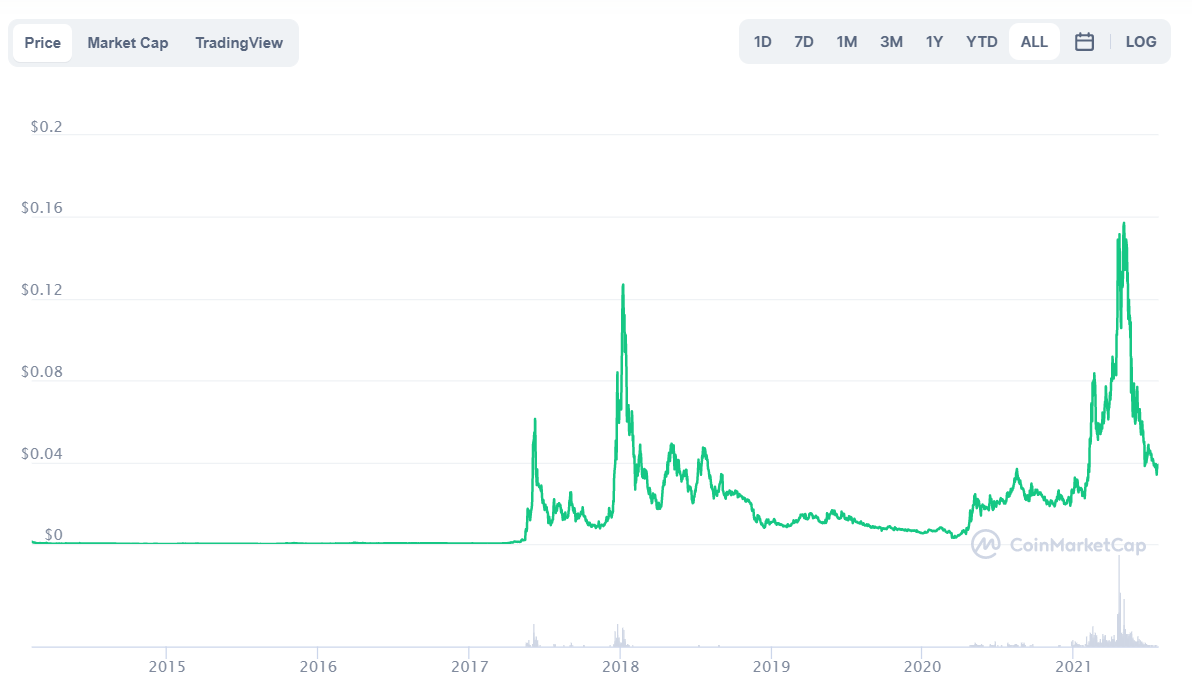 DigiByte's native token DGB was introduced into the market back in 2014. DigiByte price remained at $0.01 for a couple of days before dropping even further towards $0.0003. The altcoin did not excel during its early days, and most investors opted to acquire other more prominent digital assets. Nevertheless, the DigiByte cryptocurrency began to grow gradually and started amassing capital.
Digibyte (DGB) hovered within $0.0003 for about three years before spiking during the spring of 2017. Investors who acquired DGB early made a three-fold profit when the Digibyte price reached $0.001. For once, the DigiByte cryptocurrency market cap started to spell tens of millions of dollars.
During the fall of 2017, a well-known payment platform Paytomat added support for DGB. On top of that, popular crypto exchanges listed the cryptocurrency. As a result, the DGB price started growing more resolutely.
Early into 2018, the price of DGB reached a record high of 13 cents per DGB token and $1.2 billion in total market capitalization. Unfortunately, the pull-back phase knocked in and drove the cryptocurrency downwards. The sharp retracement transformed into a broad bearish trend, and indicators dropped.
Another notable pricing event took place when the price of DGB rose from $0.017 up to $0.049 within a month in April 2018, gaining more than 185 percent. Afterward, its price plummeted to reach a low of $0.004 in 2020. In January 2021, one DGB traded at $0.025 after a substantial rally. At the time of writing, one DigiByte token is retailing at $0.03852.
Current price/Technical Analysis of DGB at the moment?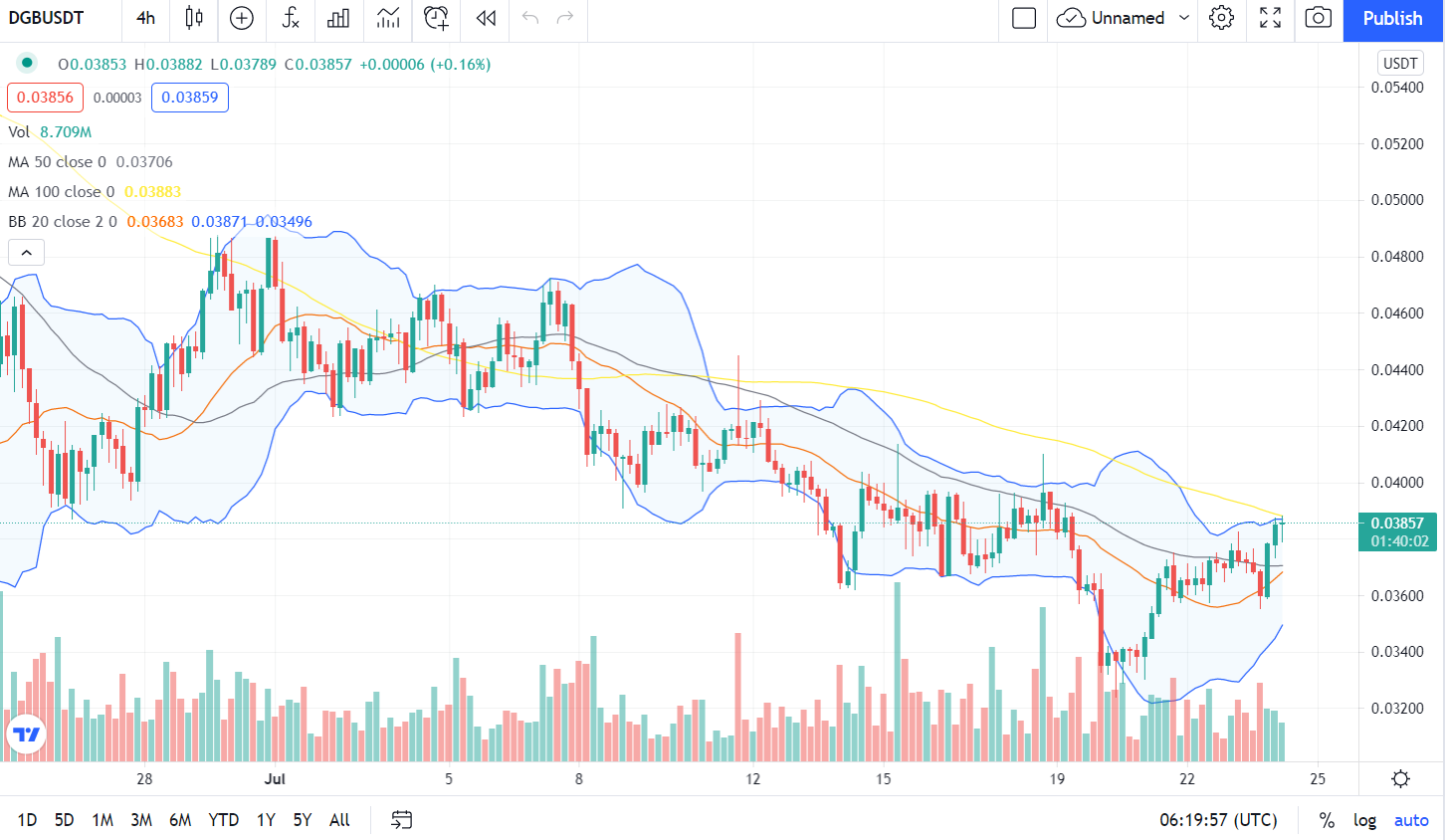 The current DigiByte price is $0.03854, with a 24-hour trading volume of $16,968,662.11. The cryptocurrency is currently ranked number 94 with a total capitalization of $561,886,019.11, as per data by ​Coinmarketcap.
As per the 4-hour chart above, the price of the DGB token is currently below 50-day and 100-day Moving Averages. The price is trying to break from the upper region of the Bollinger Bands. If a bullish momentum needs to be confirmed, we need to see the price reclaiming the key Moving Averages.
Digibyte has an estimated total circulation of 14,516,454,536 DGB tokens, from a total supply of 21,000,000,000 tokens. The price movement is currently following a downtrend on the whole but, there are bullish outcomes possible.
When did DGB reach its all-time high?
DigiByte cryptocurrency reached its all-time high back in May 2021 after hitting $0.1825 per DGB token. With the help of technical analysis, we will see what highs the coin will make in our Digibyte (DGB) price prediction.
Where to buy DGB?
Similar to BTC, DGB is mined using the proof-of-work mining algorithm. The blockchain makes mining decentralization possible through its five mining algorithms mentioned earlier than most ASIC-friendly digital assets.
Apart from mining DGB through a DigiByte mining pool, most people are probably wondering where to buy DigiByte tokens. DGB is a freely tradeable cryptocurrency, and it is available on a different cryptocurrency exchange. More importantly, the reality is that DGB crypto has great total market capitalization. Hence, it is necessary to look at the Digibyte price forecast.
Trading pairs are available for other cryptocurrencies, stablecoins, and fiat currencies. Some of these cryptocurrency exchanges include Binance, OKEx, and Bilaxy. These platforms allow short-term investment through fiat currency using a credit card and debit card, bank transfer, or digital payment methods such as PayPal and Skrill. Purchased tokens can be stored in a DigiByte wallet.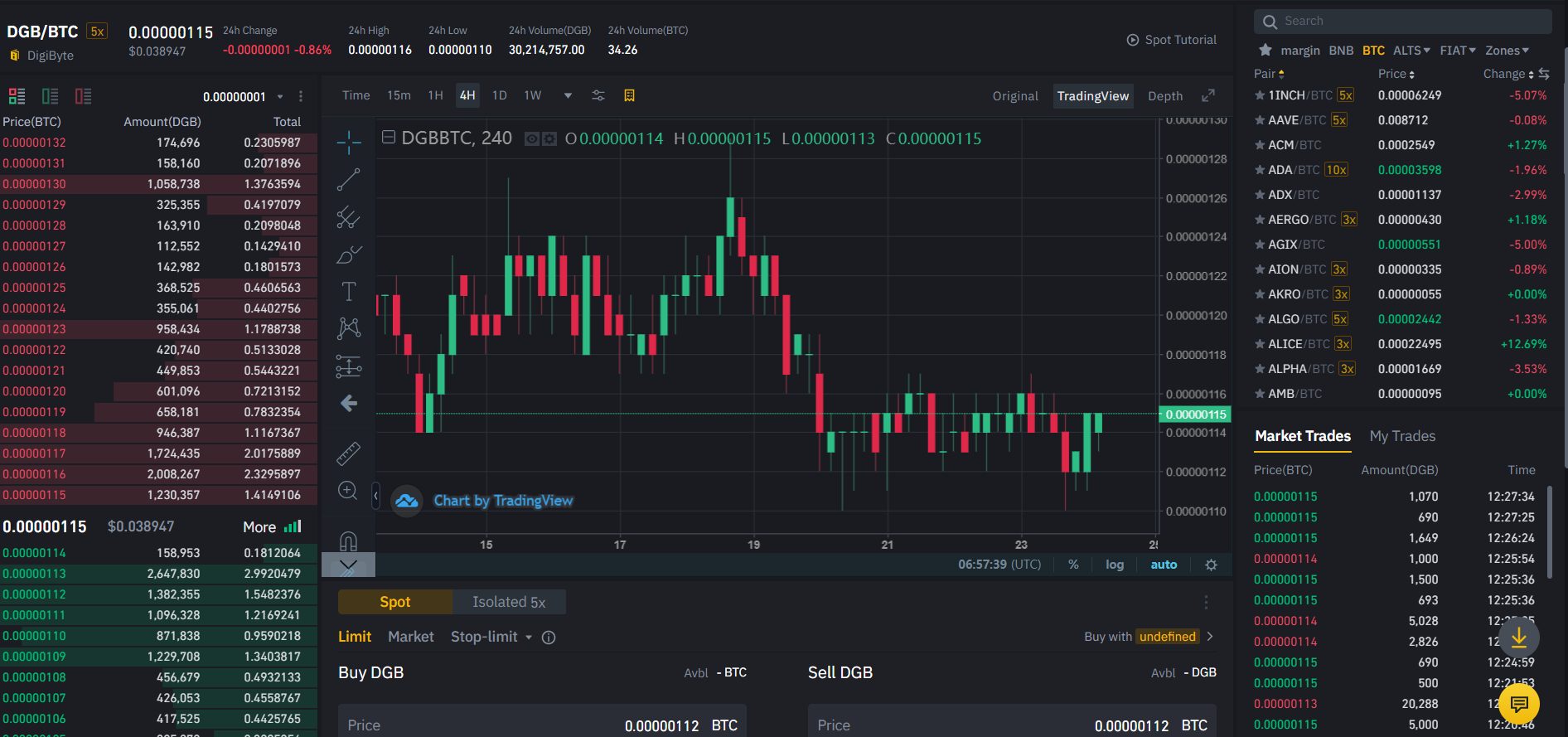 DGB price prediction 2021 – 2024
Digibyte price prediction 2021 – 2024
Making Digibyte price predictions in financial markets is not an easy task due to the massive volatility associated with the crypto market. Cryptocurrency prices tend to fluctuate unexpectedly without warning. A crypto enthusiast would be interested in some Digibyte price prediction 2021 given by some top of the top experts in the crypto market and online technical analysts:
Wallet Investor DGB price forecast
According to Wallet Investor, a top cryptocurrency prediction portal, DGB tokens' value will increase gradually through 2021 to end the year trading at a market price of $0.0793. Its prediction has a wide margin between the minimum and expected maximum price predictions making it hard to analyze. As such, it is advisable to use the minimum price prediction as a benchmark.
Also, owing to the current bearish trend, it is possible that the coin trades at levels lower than this. But in the long run, bullish outcomes might be possible.
Digital Coin Price DigiByte forecast
According to the data shared by Digital Coin Price, DGB price will rise throughout 2021 and will trade at an average price of $0.0562436690 in December this year. The cryptocurrency is expected to surge much higher; hence it will be a profitable venture through 2021.
Crypto Ground DGB forecast
Crypto Ground, a prominent price forecaster, claims that the price of coins will reach $0.0763 within one year.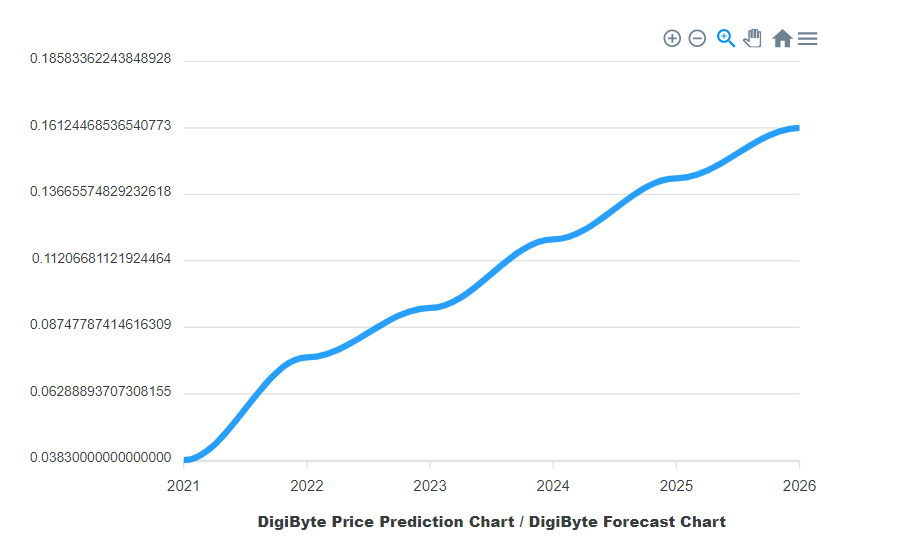 DigiByte price prediction 2025
Before moving further, this article is not investment advice. The DigiByte project is becoming more popular as days pass by. DigiByte is also known to participate in community initiatives actively. Suppose they continue making substantial strides in the market cap while stepping up their focus in their endeavors such as education, outreach, and innovation. In that case, DGB may rally past its current all-time high of $0.14 pretty soon.
The adoption growth rate is expected to grow over the next five years. Thus, in the long-term setting, DGB is anticipated to gather momentum alongside other digital assets and hit a price of $1.00. Its consistent performance over the last couple of years gives it a stable foundation for more future gains.
According to Wallet Investor, the DGB price will gain by and trade at $0.242 over the next five years. Crypto Ground, another coin price prediction firm, predicts that DGB price will reach $0.1612 over the next five years.
One of the chief reasons why the price of DGB is diminishing is its vast output. The circulating supply of the DGB token is over 14 billion, and the project is expected to release almost the same amount by 2035. Regardless of this, DigiByte boasts a very robust community and does not believe in its price's short-term increase. The DigiByte community firmly upholds the DigiByte project and thinks that substantial accomplishments back its future success. DigiByte boasts a robust technical foundation, and it is already supported by more than 500 global firms and merchants.
DGB future outlook: will DGB succeed?
DigiByte seems to be performing more amply compared to some other cryptocurrencies in the market. Although the digital currency suffered significant deficits during the March 2020 crash, it successfully recovered and has put it in a strong foothold as others struggle to get back to where they were before the crash. DGB token has been among the top performers since the COVID-19-instigated market crash, and its future outlook is encouraging.
Developments
Even though the team does not have a real roadmap, they have several development ideas under consideration. First of all, they are exploring a mining algorithm swap. The network currently utilizes five separate mining algorithms, and the developers are considering modifying one of them to decentralize mining even further.
The main development goal on the list of agendas is the DigiByte team term "Core 4.1.3".The protocol's successful development will allow users to create and run a smart contract on the DigiByte blockchain. This could be huge for DigiByte, and it will most probably drive the value of the virtual currency.
Partnerships
DigiByte asserts that it is actively looking to collaborate with corporate organizations. If large companies were to adopt the DGB token, it would massively influence the Digibyte price. In 2018, the blockchain firm employed a public relations agency's services to push its brand. This was a superb move and helped DigByte enter new partnerships.
In 2018, DigiByte partnered with Investa UK to integrate DGB tokens in its debit cards and ATMs worldwide.
In July 2020, DigiByte revealed that it collaborated with Three Fold, accelerating decentralized peer-to-peer internet plans. As per the official announcement, the partnership between the two aimed to accomplish their shared vision of a world that would empower humanity.
Exchange listing
The DGB token is now supported by multiple top exchanges such as Binance, Coinbase, Bittrex, OKex, etc. These platforms support the trading of DGB tokens in cryptocurrency or fiat currency pairs. Although DGB has not attained the exchange ubiquity of top cryptocurrencies such as BTC and ETH, the token is now supported by over 55 crypto exchanges, excluding the multiple platforms that have chosen to apply its technology.
Community
Community is perhaps DigiByte's biggest strength. Its myriad members are very vocal on social media networks and regularly vote for DGB to get listed on exchange platforms. A DigiByte Awareness Team was initiated to serve as a community-driven outreach drive to boost the network. The objective is to foster the DigiByte network's proliferation via education, meetings, holding events, and various other awareness-raising activities.
Will DigiByte succeed?
The system for evaluating the value of a digital asset is yet to be leached out by investors. In reality, the average conventional investor is not aware of the availability of these tokens. As such, DigiByte presents an excellent opportunity for investors who think laterally. From a technological point of view, DigiByte is a coding masterpiece.
The DGB token is arguably the quickest, safest, and most safe blockchain existing. For this reason, the network provides boundless opportunities for individuals seeking to develop on top of the DigiByte network. At the moment, several developers are employing DigiByte's technology, such as V-ID, Docusign, Digi-ID, and Digi-Assets, to develop decentralized applications with different applications.
Precisely, Digi Assets could probably deliver immense value to DGB holders and the entire ecosystem. Users are required to give up a portion of DGB coins to issue a Digi-Asset. This forms a different use-case for DGB tokens in addition to just speculating. In 2017, ETH price massively gained because it was required to invest in initial coin offering ICOs. This is because there was a real-world application that forced people to acquire ETH tokens.
Additionally, the DigiByte decentralized application is capable of running a smart contract similar to the ETH blockchain. Jared Tate has already expressed his desire to support solidity to attract more developers to build on the DGB blockchain. This will specifically play a vital role in the trajectory development of the network.
Just like thousands of other blockchain projects, DigiByte price could eventually end up failing. Currently, there is not enough developer activity on the DigiByte blockchain, which is a big concern. Influential DGB community members and the DigiByte Foundation should put more effort into recruiting more developers into the network.
Overall, DigiByte is a promising blockchain crypto project because it epitomizes the characteristics of true decentralization. Compared to other projects, DGB keeps a weather eye on blockchain development and advocates for adoption. Surprisingly, its native token has not performed better in the market and is, therefore, a good investment.
What value will DGB reach? (eg $1, $10, or $100)
DGB price forecasting is not straightforward. DGB has always been among the top 100 cryptocurrencies on the Coinmarket cap. The token is traded globally and boasts an international pool of investors. Altcoins within the top 100 usually attract a lot of investors, and DigiByte is not an exception. Its value is likely to be driven by both institutional and retail investors in the future. Taking into account the massive yearly inflation rate of over 11 percent and the colossal supply of 21 billion DGB tokens, it will be an extraordinary and groundbreaking rally for DigiByte coin price to hit $1. The crypto should add over 70 folds of its current market price, and to do this, it has to take out or match the BTC price movement.
DGB Digibyte price future forecast
The future looks bright for DigiByte if they can make new collaborations, incorporate smart contracts in decentralized apps and step up their marketing. For instance, in July 2020, the Republic Protocol revealed its plan to car wrap DigiByte's DGB token to renDGB to empower ETH and DeFi protocols Interoperability.
This would massively drive the DGB token price to new levels. On the contrary, expect the price to dwindle if DigiByte does not intensify this. Although, in all, it is a good buy with a decent crypto rating.
DigiByte price
DigiByte's primary goal is to provide the crypto community and even financial institutions with a new and more secure means of settlement. It seeks to promote decent transaction speed along with tight security protocols. Thus, it seeks to dominate the cryptocurrency markets.
DigiByte transactions are fast, and it is one of the safest cryptocurrencies. The DGB team will aid in linking these financial institutions with tech gurus digital asset users globally. DigiByte blocks were designed as a flexible, secure, and adaptable infrastructure that will introduce fresh features and services to the blockchain industry.
Similar to other altcoins like Dash coin, DGB cryptocurrency has seen a bullish change in its price action since last year. DGB underwent a bullish divergence ever since it reached a low of $0.003 back in March. With the onset of the bulls, the coin went to an all-time high of $0.1825 in May. The digital currency has since seen a bearish market, and at the time of writing, it is currently up by 2 percent at $0.03.
Although currently, the crypto asset rests at a 24-hour trading volume of $1,496,725,573. Dash's price is currently around $146.19. You can buy Digibyte at any of the major crypto exchanges as it is a profitable investment and might see a price rise in the near future.
It is advisable to study the market well before making an investment to avoid losses. There are many online coin price predictions like this DigiByte prediction to help you make informed decisions. Notably, remember to safely store your DGB tokens in a secure hardware wallet instead of crypto exchange wallets, and this article is not financial advice.
Wrap up/FAQ
Can DGB be mined using a CPU for a short-term investment?
Currently, DGB cannot be mined on a CPU nor a mobile phone, or a laptop. It can either be mined using a desktop GPU or first-generation ASICs.