ETH Prices Near $1,559 Before London Upgrade and EIP-1559 Rollout
2 min read
Many industry observers and analysts have jokingly commented about ETH prices dumping to $1,559 before the highly anticipated EIP-1559 upgrade is actually rolled out.
It seems that those who predicted the big price crash may actually see it come to pass. Today's massive market slump has wiped 9% off the price of ETH over the past 24 hours.
ETH prices have fallen from an intraday high of a little over $1,900 to bottom out at $1,730 during Tuesday's Asian time zone trading session. At the time of press, ETH was trading for $1,750.
EthHub founder Anthony Sassano gloomily declared that "$1,559 by 1559 may come true after all." From current prices, it's just another 11% drop down to that figure, which is entirely plausible considering that BTC has dropped below long-term support at $30,000.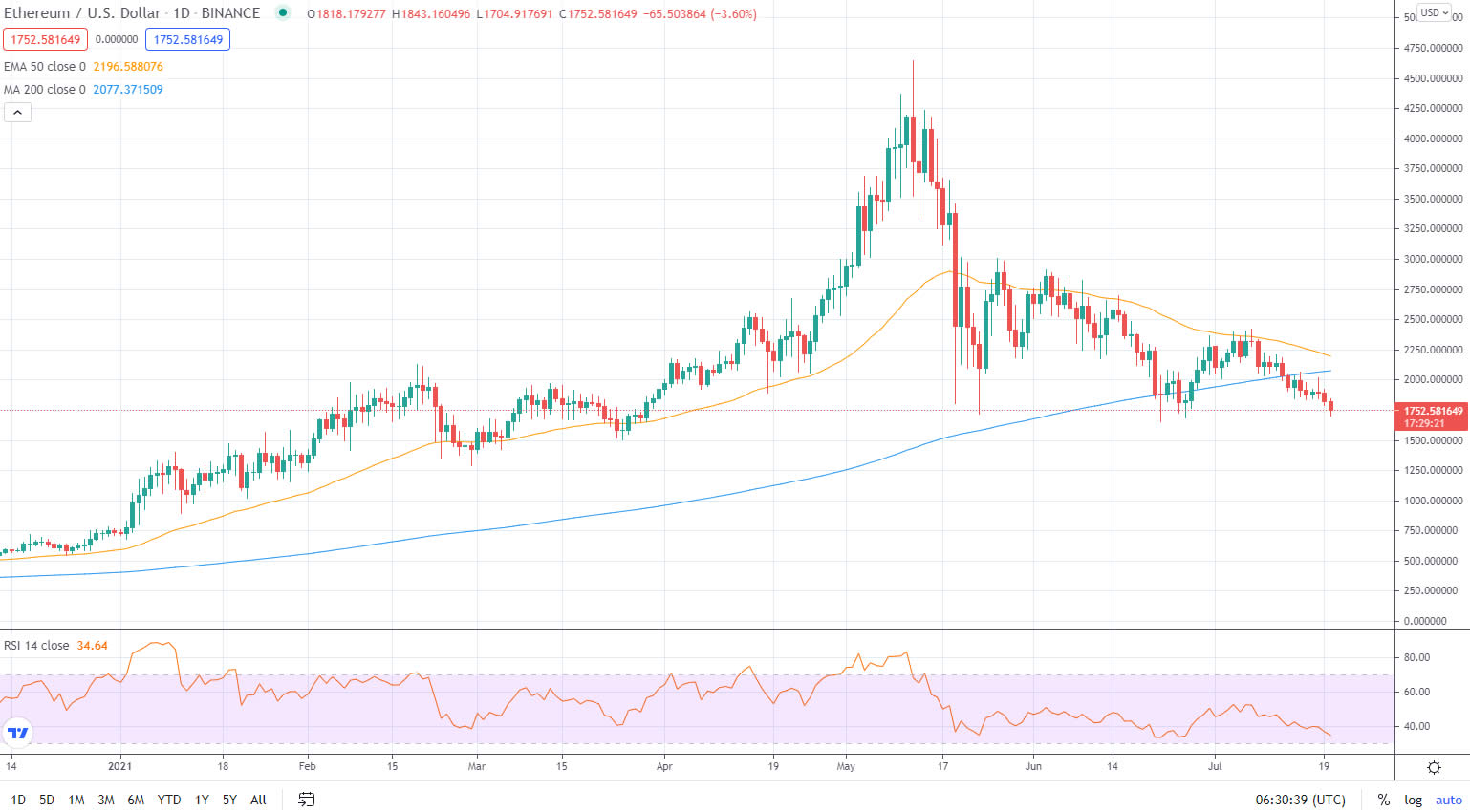 ETH is currently sitting at a long-term horizontal support level but a death cross is impending on the daily time frame. If markets do not recover, this could occur before the end of July, meaning that $1,559 or lower is looking likely.
London upgrade approaching
Just like with previous ETH hard forks, there has been very little in the way of positive market momentum. The London hard fork, which will usher in the deflationary EIP-1559 upgrade, is currently scheduled for Aug 4, just over two weeks away.  
Testing has gone well and the code is currently running on its final test phase on the Ropsten testnet. Over time, the impact on ETH supply may become deflationary as more network fees are burnt. This will naturally be very bullish for long-term prices, but the bears are in full control at the moment.
ETH is still fundamentally very solid in terms of transactions, adoption, and usage in DeFi. Therefore the strong hands will likely be holding and some even accumulating more at these lower prices.
ETH 2.0 Update
Many ETH investors have staked their assets into the ETH 2.0 Beacon Chain deposit contract, so selling now would not be an option anyway.
According to the Launchpad dashboard, there are 6.5 million ETH staked which equates to around 5.57% of the entire supply. In dollar terms, the locked ETH is worth around $11.4 billion and is currently yielding 6.1%.
Despite the market dump, ETH has still outperformed BTC this year and has gained 136% since the start of 2021. BTC on the other hand has now wiped out all 2021 gains, returning to almost the same price it was on new year's day.
The post ETH Prices Near $1,559 Before London Upgrade and EIP-1559 Rollout appeared first on BeInCrypto.