Even with the bear market, the number of wallets with more than 1 BTC reaches an all-time high
2 min read
The recent crisis in the cryptocurrency market has led to massive sales on all sides. As a result, the price of BTC even dropped below $25,000 last week. Even so, the number of wallets with more than one BTC reached its new all-time high.
According to data analysis firm Glassnode, addresses with more than one BTC reached the figure of 841,224. It was the first time in history that this data exceeded the mark of 800 thousand addresses.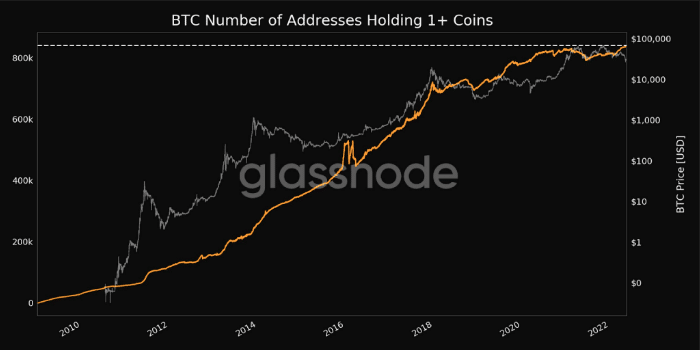 Number of addresses with more than one BTC. Source: Glassnode.
At the same time, the indicators show a small drop in the inflow of BTC on exchanges. According to the data, there were 2.54 million BTC on May 12; on the 16th, however, the number dropped to 2.5 million.
Part of this movement is due to a withdrawal of 32,000 BTC carried out on the Coinbase exchange over the weekend.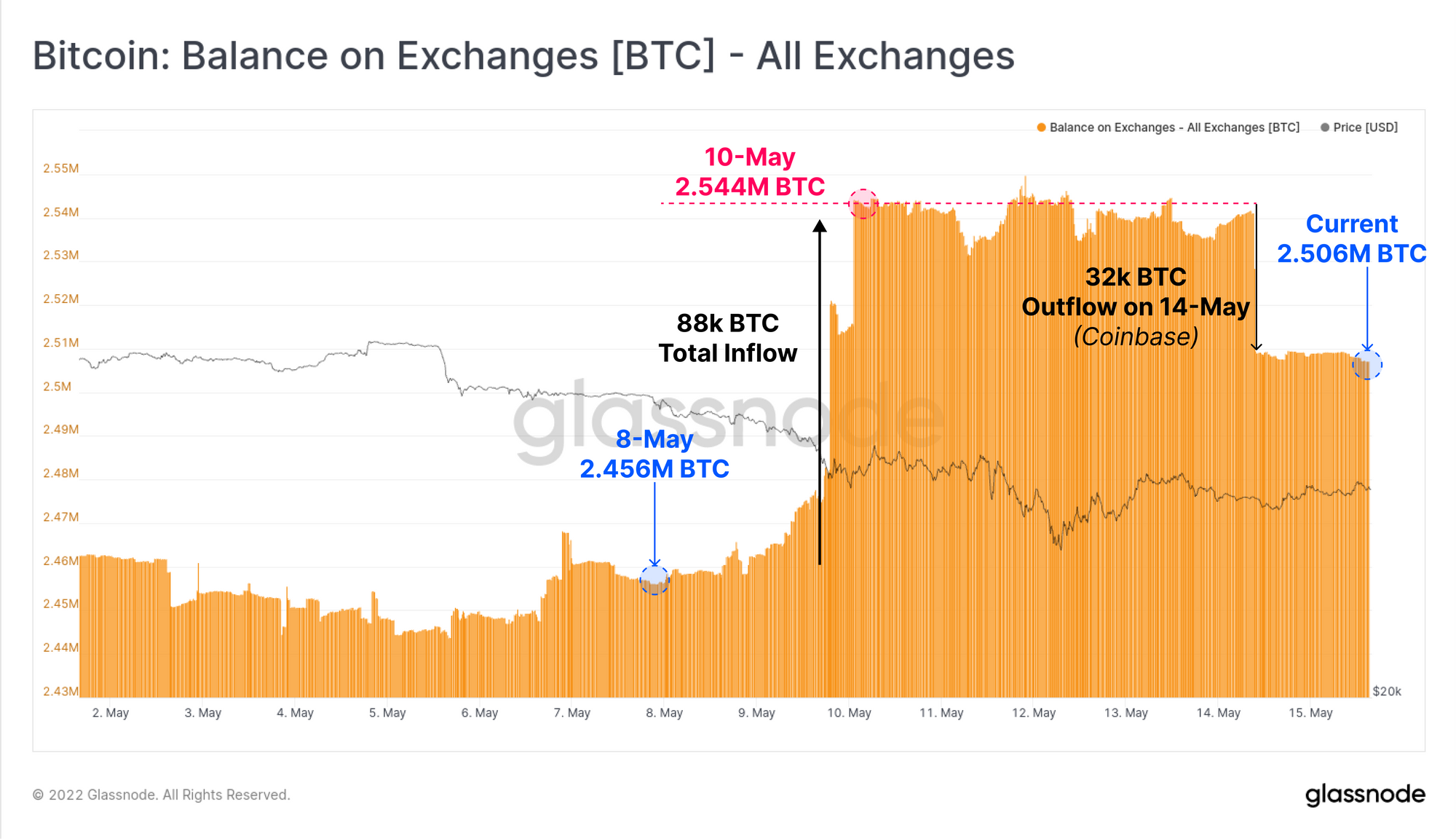 Drop in BTC flow to exchanges. Source: Glassnode.
Billionaire losses
However, investors who traded BTC during the period of high volatility suffered billions of dollars in losses. In this sense, losses reached the daily figure of US$ 2.5 billion in an interval of just two days.
In other words, the market suffered a net loss of US$ 5 billion in this period. And that's just among BTC investors.
For Glassnode, this was the biggest loss capitulation period in cryptocurrency history. In aggregate terms, it is in fact the period with the greatest losses. A month with two days of big realized losses was something that hadn't happened since June 2021.
"Net realized losses on all spend in the chain reached more than $2.5 billion for two consecutive days. This is on par with the biggest capitulation events in history (the biggest, if considered aggregated)," says Glassnode.
BTC recorded a sequence of seven consecutive weeks of devaluation, something unprecedented in its 13-year history. Therefore, the volume of losses is consistent with the large period in this current phase of the halving cycle.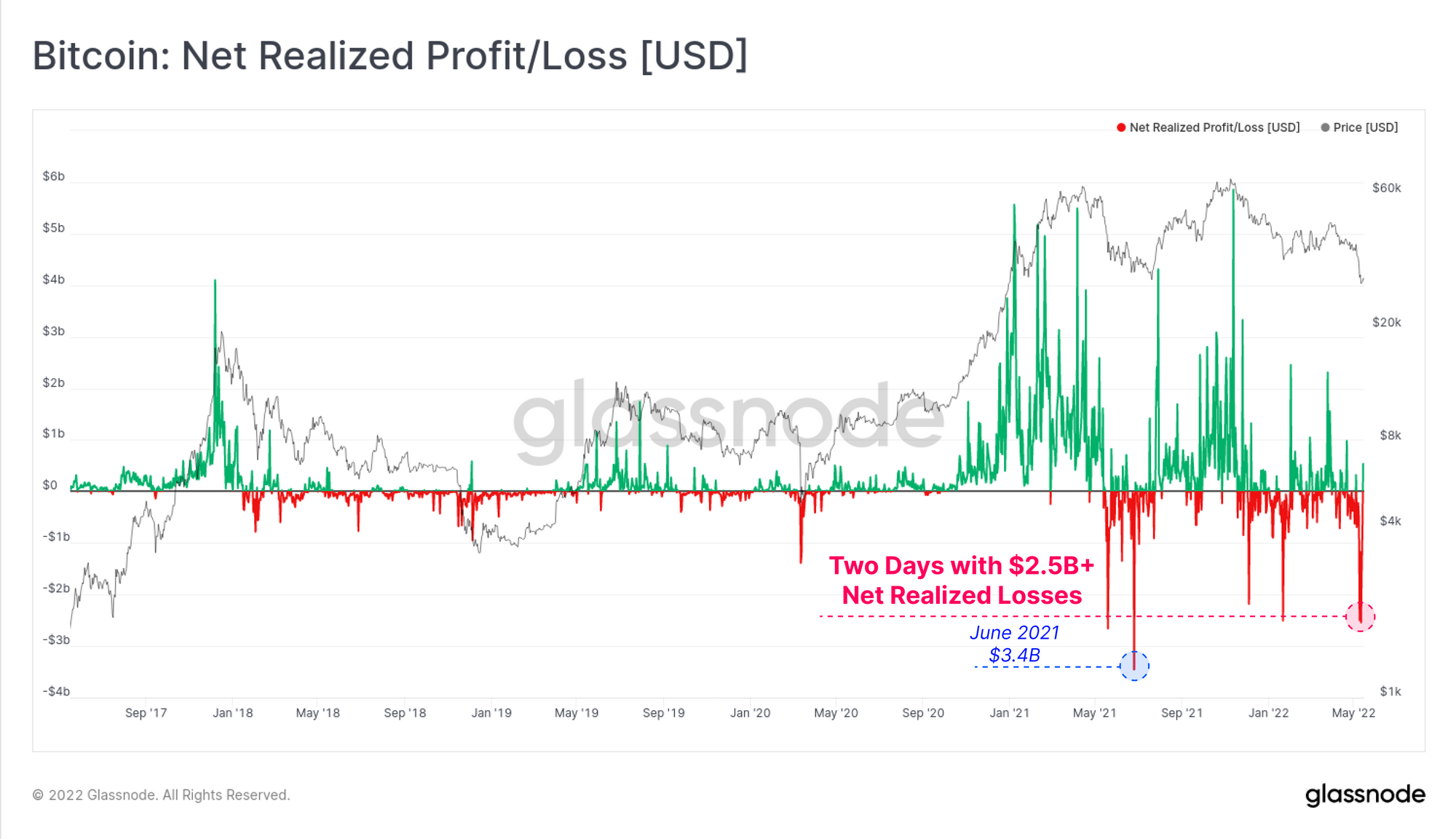 Amount of losses realized in BTC. Source: Glassnode.
Who is buying?
Even with such extreme volatility, buying a BTC remains prohibitively expensive for most retail investors. Therefore, investments larger than one BTC are usually made by large investors.
As a result, when the asset's value dropped, large investors known as whales may have increased their holdings in the asset. It's called "buying low", something that seems to have been done by many novice investors.
Another possibility is that investors with less than one BTC took advantage of the drop to increase their fractions. By accumulating the magic number of 100 million satoshis (1 BTC), their wallets became part of this new statistic.
It is worth noting that the number of people holding at least 1 BTC is not reflected in the statistics on addresses with at least 1 BTC. The number of wallet owners varies widely in various circumstances, and some people may have access to wallets with smaller holdings.