Expert points out where Shiba Inu and Polkadot go
2 min read
With the price of BTC  "undecided" which way will go, cryptocurrency analysts are turning their eyes to altcoins.
One of them is the analyst Akash Girimath, who sees potential in Polkadot (DOT) and Shiba Inu (SHIB). Crypto assets caught the attention of the market last year, but now they seem to lack the stamina to keep up the hype.
Polkadot (DOT)
Polkadot price, as highlighted by Girimath, has been hovering at a crucial support level since January 22nd. The DOT price is down 44% between Jan 16-24, resulting in a retest of the $16.89 support level.
"Since then, the DOT has marked this fulcrum several times and is currently consolidating above it," he said.
According to the analyst, this consolidation appears to be vital to trigger a possible DOT rally. Furthermore, Girimath pointed out that there doesn't seem to be any resistance barriers until $24.18.
So, this development suggests that the price of Polkadot could go up as much as 42%.
"Investors can open a long position at the retest of $16.89 or $15.05 and book profits at $24.18 or the 50-day SMA at $24.86," he said.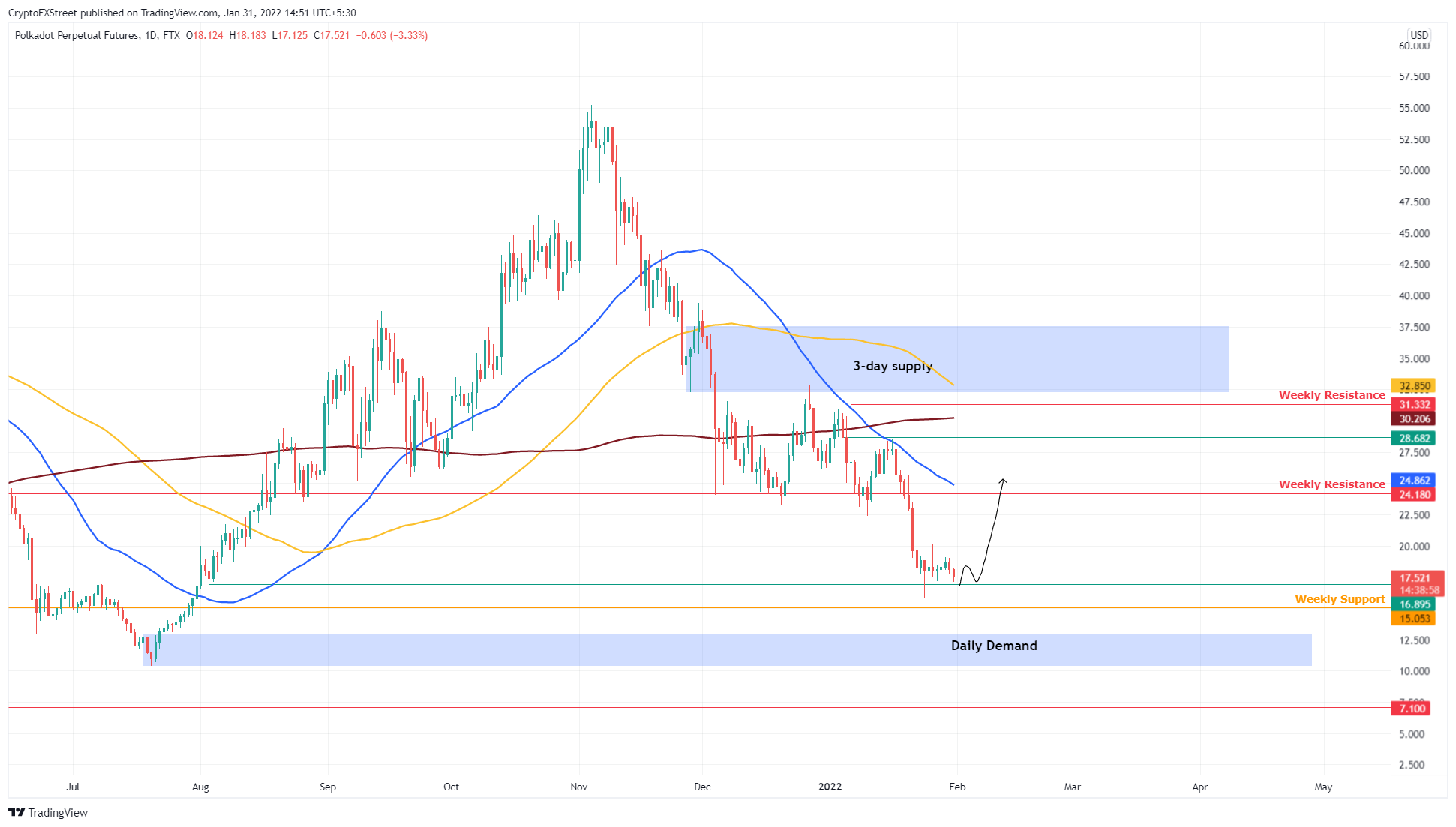 Shiba Inu
Meanwhile, in the case of Shiba Inu, the analyst highlighted that the token lost significant support levels during its crash and is currently consolidating.
According to Girimath, the SHIB price has been in an unbroken downtrend since its all-time high on Oct 28, 2021.
"The fall has broken several support levels. Token is currently testing the 9-hour demand zone, extending from $0.0000158 to $0.0000193," he says.
The analyst believes investors can expect the Shiba Inu price to move above that support point and see a break from the current consolidation, favoring the bulls.
"The resulting uptrend is likely to be capped at the 200-day simple moving average (SMA) at $0.0000251.
While unlikely, this 25% rally could extend to 38% if the asset retests the weekly resistance barrier at $0.0000283, coinciding with the 50-day SMA at $0.0000297."