Institutions have sold $5.5 billion in BTC since May
2 min read
This week Tesla, the electric car company owned by billionaire Elon Musk, has sold about 75% of all BTC it owns, worth $936 million. However, the company was not alone in doing so.
According to a recent survey by analyst firm Arcane Research, large institutions have sold a total of 236,237 BTC, equivalent to more than $5.5 billion, since May this year.
According to Arcane analyst Ventle Lunde, most of this figure refers to what he called "forced sales".
236,237 BTC.

That's the amount of known selling of BTC since May 10th by large institutions. Most of the selling is related to forced selling, and some is not."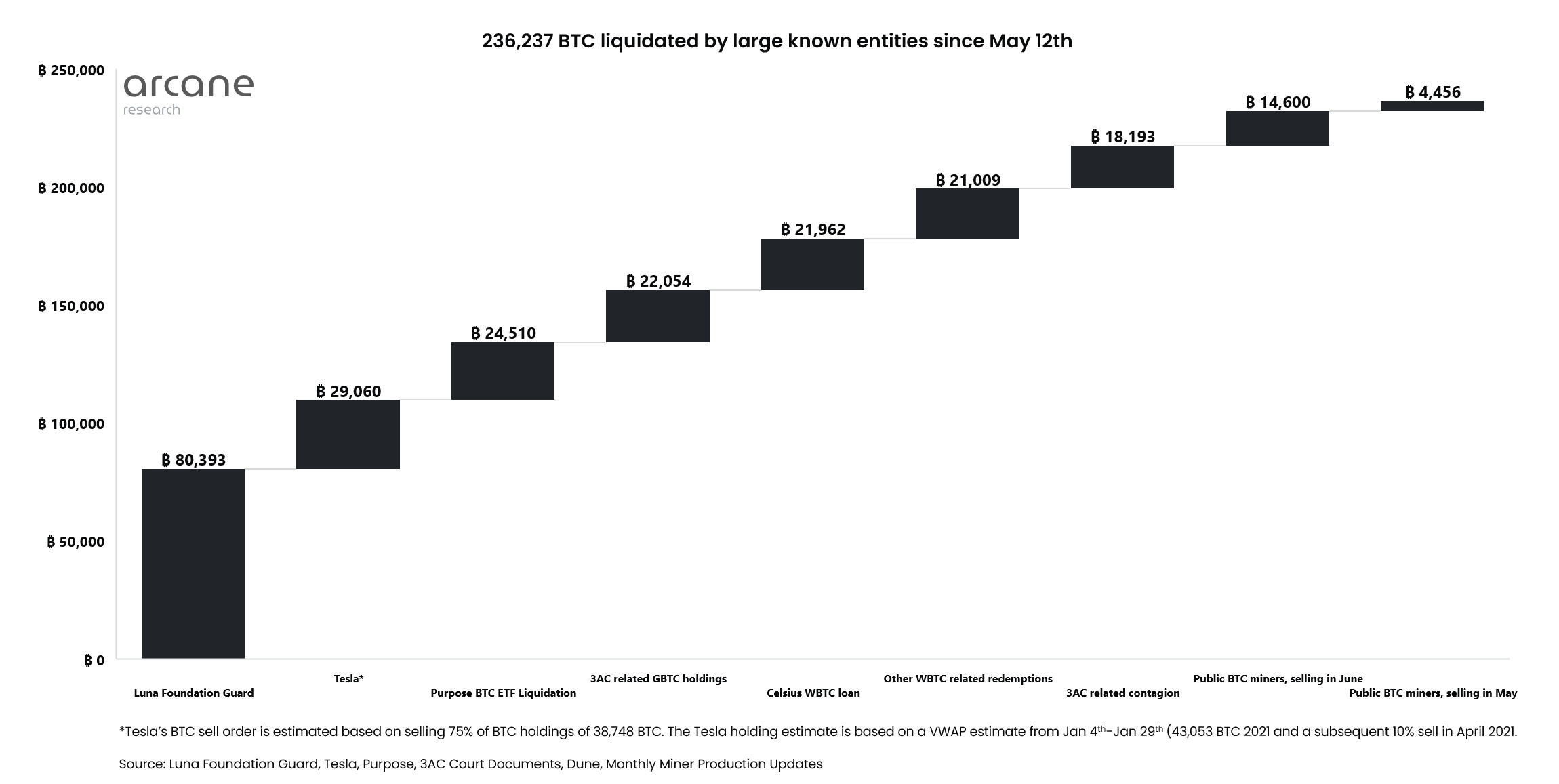 As you can see in the chart above, Luna Foundation Guard (LFG) was the company that sold the most Bitcoins: 80,393 BTC. Next comes Tela with 29,060 BTC sold.
As the analyst explained, the total number of 236,237 BTC is derived from large institutional explosions and other large known sell-offs seen in the last couple of months.
However, the number does not take into account other natural capitulation and hedging activities that generally occur during crypto bear markets.
It all started with Do Kwon from the Terra network
According to Ventle Lund, it all started with Do Kwon, co-founder of the Terra network.
"When the LFG reached its initial reserve target of $3 billion BTC, it took 5 days for the UST parity to be in shambles, and the reserve of 80,000 BTC was deployed in a desperate attempt to salvage the parity. LUNA has collapsed, leading to contagion and more pressure from the seller side," he explained.

Source: Arcane Research
After that, the markets "soured" and public miners had to start selling their BTC holdings in May. In all, they sold 4,456 BTC that month.
Around the same time, Tesla sold 75% of its BTC holdings at an average price of $32,209, at a small loss.
The following month, on June 12th, Celsius stopped looting and rumors about the 3AC collapse began to surface. As a result, new sales took place.
"Amidst the Luna → 3AC, and Celsius contagion, a massive rescue of 24,510 BTC in the Canadian Purpose ETF took place, creating even more selling pressure in the market."
Also in June, public BTC miners sold another 14,600 BTC.

Source: Arcane Research
Despite this, the analyst believes the worst is over:
"Chapters 11, the 3AC court documents, the stETH/ETH price normalization and the relief rally seen in recent weeks tell me the contagion is being resolved. Less uncertain times ahead," he concluded.
Similarities between the cryptocurrency liquidity crisis and the 2008 crisis