Is Solana ready for a comeback?
3 min read
Solana has suffered a number of setbacks over the past few months. From the FTX crypto exchange debacle to a lawsuit from the SEC, the past few months have been no picnic for SOL. But can the project already be written off or is there potential for a comeback for the "Ethereum killer" right now?
Challenges for Solana
Amid a wave of SEC lawsuits rocking the crypto sector, SOL found itself caught in a storm of uncertainty. The SEC alleges in its lawsuits against Binance and Coinbase that the SOL token constitutes a security along with a number of other tokens. This has caused SOL's price to fall nearly 30 percent in the two weeks after the lawsuits were announced.
The FTX crisis also continues to cast its shadow over the SOL ecosystem. The bankruptcy proceedings resulting from the crisis suggest that a significant amount of SOL tokens could be sold to cover the accruing losses and satisfy the claims of the creditors.
Hope for Solana
Despite the fog of uncertainty, new opportunities are opening up for the network thanks to ongoing projects and positive fundamental developments. These could allow SOL to rise like a phoenix from the ashes in the next bull market.
Solana's standout features, such as high transaction speeds, ultra-low fees, and a thriving ecosystem, set it apart from many self-proclaimed "Ethereum killers" who struggled with over-utilization during the last bull market. Solana has impressively proven that it is able to handle a massive amount of transactions while users pay minimal fees and transaction delays are kept to a minimum.
Therefore, with its adaptability to microtransactions, crypto gaming and other consumer applications that do not require high security standards but require fees below 0.01 USD, Solana could become the preferred smart contract platform of this sector.
A look at the on-chain data reveals this
The network has been registering one since early 2023 strong increase in transactions of gaming projects. This development has meant that Sol has been the world's most widely used blockchain for several months and was only recently overtaken by Sui.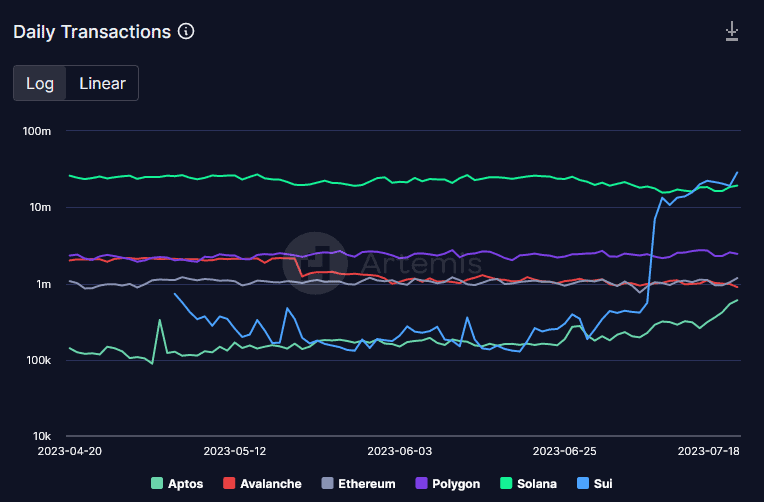 The Solana Foundation also plans to strengthen the stability of the blockchain by introducing validator-client diversity, a feature already found on Ethereum.
Despite a drop in DeFi and NFT trading volume, Solana has garnered significant response from the crypto Twitter community. Admittedly, opinions are divided. But there's no denying that Solana – despite a smaller TVL – has an active and engaged community.
Solana's NFT ecosystem remains a beacon of innovation for the network, despite an overall decline in NFT volume. Loud CryptoSlam has enabled Solana to generate $71.14 million in NFT trading volume over the past few months. After Ethereum and Bitcoin, Solana has the third largest NFT ecosystem in the entire crypto sector.
Additionally, while the number of active wallets on the Solana network has decreased, the no-choice transactions are gone up. In concrete terms, this means that more and more users with little capital are currently switching to Solana. Also, the capital (TVL) held in Solana's smart contracts is increasing again.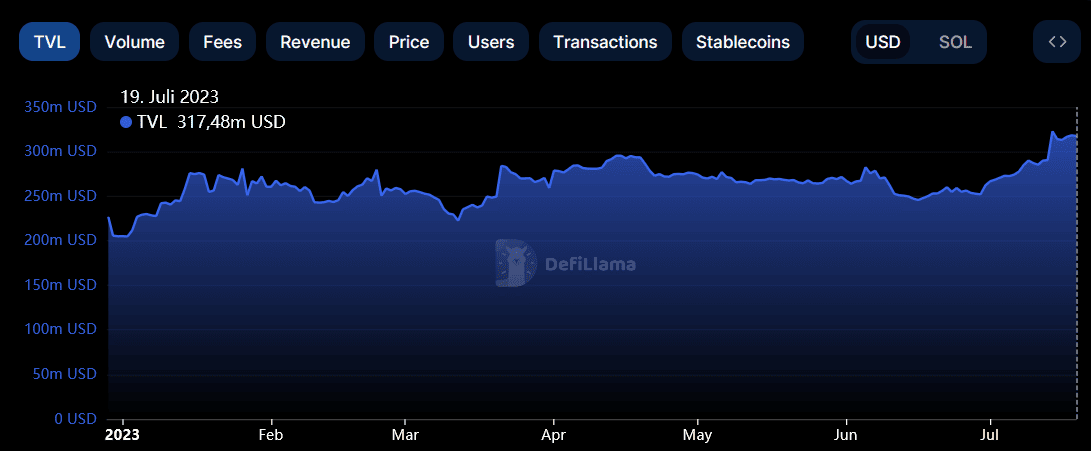 Since January 2023, the TVL has increased from around US$200 million to almost 320 million USD at present.
Solana's beacon of hope: Firedancer
Another hope is the upcoming launch of Firedancer, a client developed by Jump Crypto that promises tremendous scaling potential for Solana. In a recent demonstration, validators using Firedancer were able to process more than a million transactions per second, which is far in excess of the capacity of any blockchain in existence today (including Layer 2 solutions).
So there's still plenty of room for optimism regarding Solana. With its unique features and willingness to innovate, the project could well be poised to make a comeback and be among the winners in the next bull market.
Finally, Solana could also benefit from Ripple's recent win over the SEC. This could lead to a more favorable regulatory landscape for Solana and provide additional support for the comeback.