Kraken vs Bitstamp | Crypto Exchange Comparison in 2020
6 min read
In our Kraken vs Bitstamp article, we are going to compare, side by side, the different features of these two well-known crypto exchanges in order to determine which one is the best for you.
About Kraken
Founded by Jesse Powell in 2011, Kraken is one of the most reliable exchanges in the world. The San Francisco-based exchange has the largest Euro/Bitcoin trading volume worldwide
Kraken was created in response to Mt. Gox, as Powell used to work at Mt. Gox and noticed its poor security.
The exchange also had its proof of reserves audited by an external company in 2014, and Kraken passed the test with flying colors.
About Bitstamp
Bitstamp was founded by Nejc Kodric and Damian Merlak in 2011 in a garage in Slovenia. Later in 2013, they moved some of their operations to the UK. But as the UK lacked, at that time, any crypto regulation, they relocated to Luxembourg in 2016, a country that had laws for cryptocurrency selling and buying.
This made Bitstamp the world's first crypto exchange to be nationally licensed. Due to its Luxembourg licensing, Bitstamp has to comply like other financial institutions in the country.
Kraken vs Bitstamp: Supported Currencies
Beginner traders should look for an exchange that also supports depositing in the fiat currency of their native country, as they will not have to first use another trading service that accepts fiat before getting to buy crypto.
Both Bitstamp and Kraken support fiat funding options. Kraken has five major currencies: US Dollars (USD), Canadian Dollars (CAD), British Pounds (GBP), Japanese Yen (JPY), and Euros (EUR).
Bitstamp supports trading with US Dollars (USD) and Euros (EUR). Users can also make deposits in British Pounds and Swiss Francs, which will be converted into USD or EUR before trading.
In terms of cryptocurrency offerings, Kraken features a wider listing comprising of 33 digital assets:
Bitcoin (BTC)
Ethereum Classic (ETC)
Monero (XMR)
Basic Attention Token (BAT)
Bitcoin Cash (BCH)
Ethereum (ETH)
Ripple (XRP)
Waves(WAVES)
Dash (DASH)
Gnosis (GNO)
Zcash (ZEC)
Tezos (XTZ)
EOS (EOS)
Melon (MLN)
Stellar Lumens (XLM)
Qtum (QTUM)
Litecoin (LTC)
Tether (USDT)
Cosmos (ATOM)
Algorand(ALGO)
Augur (REP)
Dogecoin (XDG)
Cardano (ADA)
Chainlink(LINK)
DAI (DAI)
Icon (ICX)
LISK (LSK)
Nano (NANO)
OmiseGo (OMG)
Orchid
Pax Gold (PAXG)
Siacoin (SC)
USDCoin(USDC)
While Bitstamp has a more limited selection consisting of:
Bitcoin (BTC);
Bitcoin Cash (BCH);
Litecoin (LTC);
Ethereum (ETH);
Ripple (XRP).
It is clear that Kraken is at an advantage when it comes to the number of crypto pairs available.
Kraken vs Bitstamp: Payment Methods
On Kraken, users can make fiat and cryptocurrencies, or transfers through SEPA, SWIFT, and bank wire.
Bitstamp supports fiat and crypto funding, SEPA, and international wire, but it also has credit card purchases.
Kraken vs Bitstamp: Supported Countries
Kraken services can be accessed by traders from all countries and US states, except:
Afghanistan;
Cuba;
Iran;
Iraq;
Japan;
North Korea;
Tajikistan;
Washington and New York.
As Bitstamp is set in Luxembourg, it is licensed to offer its services to all 28 of the European Union countries. In April this year, the exchange received its BitLicense from the New York State Department of Financial Services. This allows Bitstamp to conduct and offer its trading services in the US legally.
Kraken vs Bitstamp: Fees
With both exchanges, fees vary depending on the user's residency, payment method, currency, and the size of the trade.
Kraken has very competitive fees. It charges between 0.16% and 0.00% for the buyer, and between 0.26% and 0.10% for the seller based on their 30-day volume. The higher the volume, the lower the fees. The dark pool fees are between 0.36% and 0.20%, the stablecoin fees are between 0.20% and 0.00%, and the margin fees from 0.01% to 0.02%.
There are no fees applied to Kraken for users that make crypto deposits. Some fiat deposits are free, but most of them have a small charge. SEPA deposits of Euros for Europe-based users are free, but USA-based users must pay a fee of 5 USD for US Dollars deposits. Withdrawals of fiat and cryptocurrencies also incur fees.
Bitstamp charges fees based on their 30-day volume, with 0.50% charged for trades under $10,000 and 0.25% for trades below $20,000. The fees go lower if the volume is higher.
Bitstamp also has fees on deposits and withdrawals made with fiat. It has no fees for Euro deposits via SEPA, but applies a minimum charge of 7.5 USD for US Dollar deposits. Bitstamp has a fee of 5% for its credit card purchases.
Kraken vs Bitstamp: Interface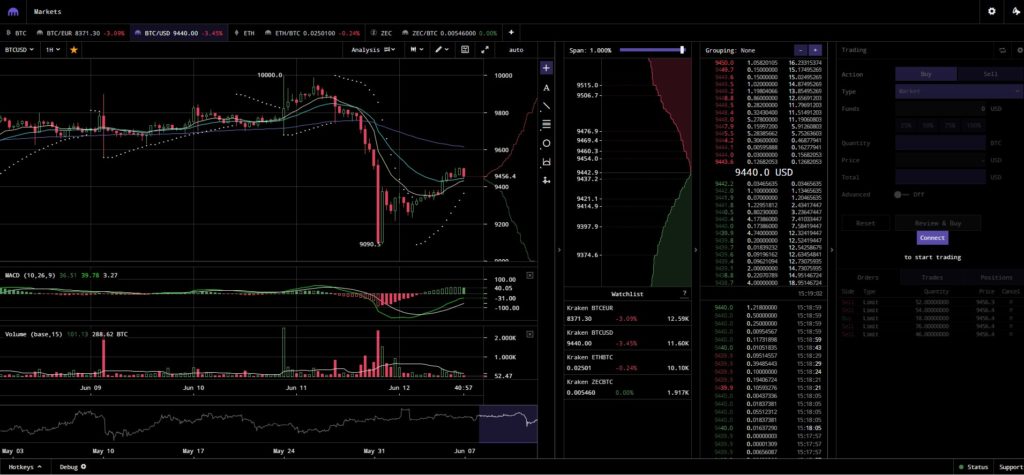 Although the designs are different, both Kraken and Bitstamp have interfaces that are not built for beginner users.
Kraken has three levels of trading: simple, intermediate, and advanced. Kraken also has a very comprehensive help section on its website.
Bitstamp is easier to use than Kraken, as it has fewer currency options and less trading options. It also provides a FAQ page. Kraken has margin trading, OTC trading, conditional closes, futures, and automated trading, which can be a bit overwhelming for a novice trader.
Bitstamp's design is well-thought, with a pretty clear trading page, but the page layout might not be that clear for beginners. Kraken is best for advanced traders, as it features complex charts, volumes, and statistical tools.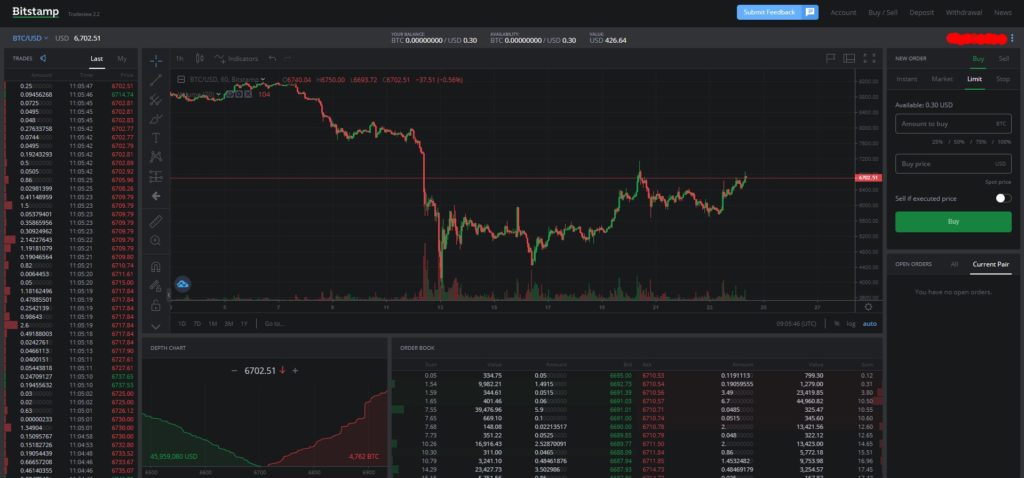 Kraken does not have any mobile app. It used to have an iOS app, but it was discontinued as it was commonly reported to have too many bugs. Bitstamp has apps that are supported for both iOS and Android devices. So, if you are a trader on the go, then Bitstamp is your exchange.
Kraken vs Bitstamp: Security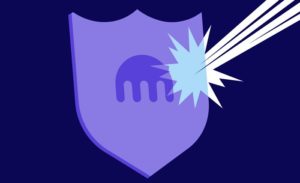 Kraken has so far never experienced a hack, and it stores a great majority of crypto funds in cold wallets. The user's account also benefits from two-factor authentication that offers an extra layer of security.
As a US-based exchange, Kraken is compliant with the country's "know-your-customer" laws and other crypto trading regulations.
Bitstamp also features strong security. All its crypto assets are stored offline, and their funds have been audited by the Ernst and Young accountant company. The exchange enforces two-factor authentication for its user account.
In January 2015, Bitstamp lost 19,000 BTC in a hacking incident. It worked quickly to update and strengthen its security system and no customer funds were lost in the hack.
Kraken vs Bitstamp: Customer Support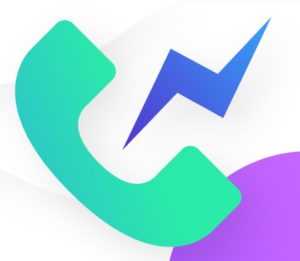 Bitstamp features an FAQ section that provides answers to the most common questions and instructions on how to execute trades. The support team can be reached via email, or users can call their nearest office for emergencies.
Kraken's support consists of a 24/7 chat and a ticketing system. Most users reported a quick response rate, but there have been complaints about slow verification times.
Both exchanges have been reported to have decent response times for their customer support service, with most users rating the experience positively.
Kraken vs Bitstamp: Verdict
From our Kraken vs Bitstamp comparison, we can conclude that both exchanges are respectable trading platforms that come with their advantages and disadvantages.
Kraken has very low fees and a wide variety of altcoins and pairs. It is also suited for advanced traders, as it offers many trading options, such as margin trading.
Bitstamp is great for Europe-based users, and its platform is more user-friendly than Kraken's.
In general, it all depends on what you are looking for in an exchange; for some users, Kraken might be the better option, while for others – Bitstamp.
You might also like: How much you might earn staking on Ethereum 2.0