Leaving the Russian market will result in Apple losing $ 3 million a day
1 min read
Despite the fact that Russia does not make up the largest part of Apple's revenue, the decision of the technology giant to leave the country has affected the growth of smartphone sales, which inevitably leads to losses.
Apple's losses are $ 3 million a day
According to Finbold, Russia's share of total Apple smartphone sales was 15%, ranking it third in the retailer rankings. In first place is the South Korean Samsung with З4% of the market, followed by Xiaomi, which is in second place with 26%. Realme has 8%, followed by Poco with a share of З%, other smaller companies make up the remaining 14%.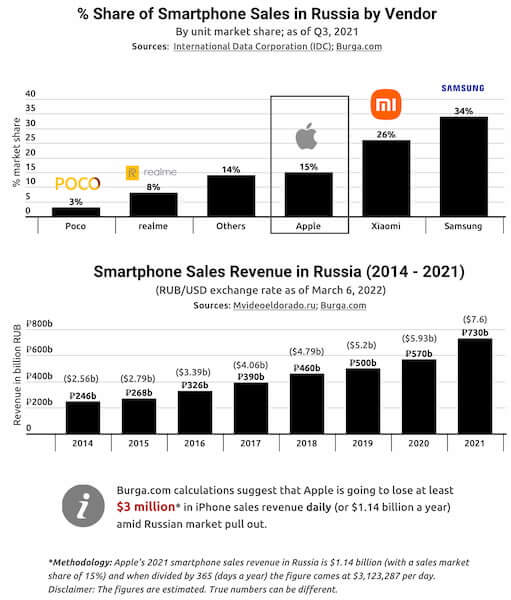 It is also worth noting that smartphone sales in Russia in 2021 were estimated at about 730 billion rubles ($ 7.6 billion). Without cooperation, Apple will lose about $ 3 million in iPhone sales every day, $ 1.14 billion a year.
As total smartphone revenue in Russia has grown significantly over the past few years, Apple's loss may be even greater.
Other companies, such as Samsung, may follow Apple's lead and stop shipping products to the country. The departure of these manufacturers can open up many opportunities for Chinese operators, which will fill the gaps in the current conditions.