Legendary "CryptoMother" NFT Signed By Vitalik Buterin To Be Sold On NFT STARS
1 min read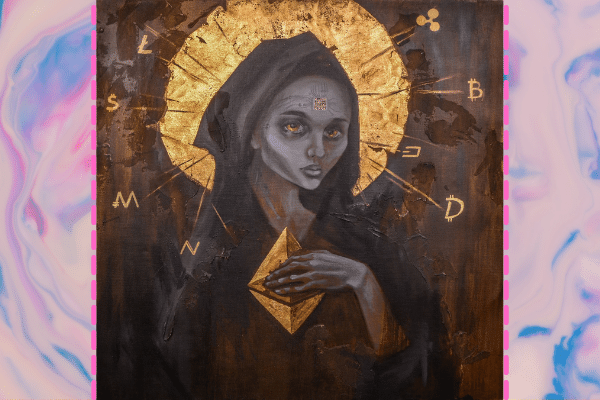 Emerging NFT (non-fungible token) marketplace NFT STARS will soon be hosting an auction of the iconic NFT and original painting CryptoMother — the first and only artwork signed by ETH creator Vitalik Buterin.
Also known as the Crypto Mona Lisa, the legendary CryptoMother is an artwork depicting a motherly figure protecting the network and providing guidance to crypto enthusiasts, which symbolizes the DeFi sector values.
CryptoMother' artwork, signed by Vitalik Buterin (Source: PRNewsfoto/NFT STARS)
Both the NFT and oil on canvas painting manifestations of CryptoMother will be up for bids on the marketplace on July 30 at the starting price of 400 Ether. The shipping costs will be covered by the seller.
The painting was first revealed to the public at a blockchain conference in 2017, gaining admirers from all over the world. Since then, the well-loved painting has been displayed at numerous crypto-themed events.
The current owner has received multiple offers for the painting from art collectors since 2017, with some even offering as high as $6 million. However, all of their offers were rejected.
Buterin saw the painting at a blockchain conference back in 2018 and decided to sign it as a tribute to its significance. This makes it the only artwork to be autographed by the creator of ETH himself.
A part of the sale proceeds will go to charitable causes.
The post Legendary "CryptoMother" NFT Signed By Vitalik Buterin To Be Sold On NFT STARS appeared first on SuperCryptoNews.