Bitcoin miners are selling an average of 3,300 BTC per month
2 min read
Various data on the blockchain are showing that Bitcoin (BTC) miners are selling their digital currencies. As analysts point out, miners are selling BTC in order to sustain their operations. On average, they are selling 3,300 BTC per month together.
The bearish trend continues – Bitcoin miners are selling
According to the latest weekly report by the company Glassnode, miners were accumulating during the low of 2022. However, the fall in BTC, caused by the failure of the stable digital currency UST on the Terra network, broke the trend of accumulation.
Glassnode data measures how much BTC left or entered the miners' wallets in a given time. So, when the value of this indicator is positive, it means that miners are accumulating BTC. On the other hand, a negative value suggests that they are selling their cryptocurrencies.
Typically, miners transfer coins from their reserve to sell them on exchanges. Therefore, this move could indicate a bearish price for the digital currency. Currently, data from Glassnode shows that this metric is negative.
BTC sale

Source: Glassnode
"The chart above shows the negative trend and indicates that miners are selling," said Houin Kyouma.
According to Kyouma, the chart points out that in recent weeks, miners have sold a lot of BTC.
"There are between 5,000 and 8,000 Bitcoins being sold by miners per month. This indicates more sales ahead," he added.
Still according to him, one of the main reasons behind this change is the "payment of bills". That is, miners are selling BTC to defray the costs of mining activity.
In addition, Kyouma cites another metric that favors the thesis that miners are selling their BTC: the Puell Multiple.
This metric measures how the current price of BTC compares to its 365-day average value. During the initial bullish stages, the indicator value remains between 0.6 and 1.5.
"The lower the metric value, the more the miner's revenues are under stress," he said.
Historically, values ​​lower than 0.6 have followed mining sales events.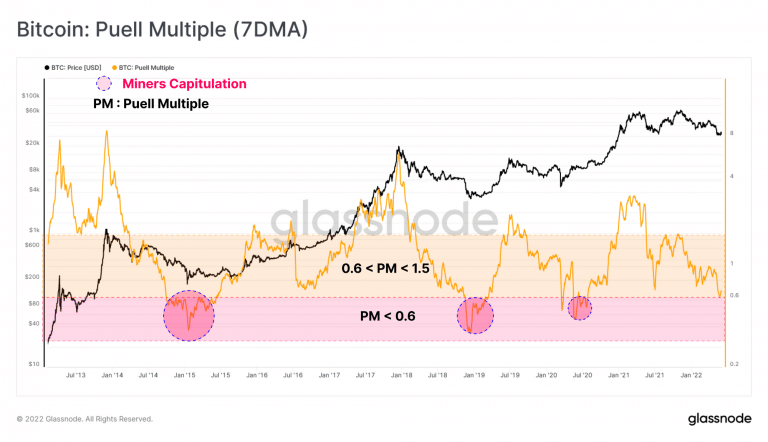 Can BTC be regulated and centralized? The answer will surprise you