NFT bubble? Random numbers on a black background for sale for 6.5 thousand. dollars apiece
2 min read
NFT random numbers on a black background sell for a starting price of around $ 6.5 thousand each. Hype continues and new projects come every day, each offering something seemingly new. This time it's The N Project – "randomly generated numbers in a string".
Random numbers on a black background
Only time will tell whether EtherRocks, Punks, Monkeys or any other promoted project will be a good bet for investors in the long run. But the fact is that we see new projects every day and their idea can be so abstract that it would be difficult for an ordinary person to justify spending 6.5 thousand. dollars per one NFT.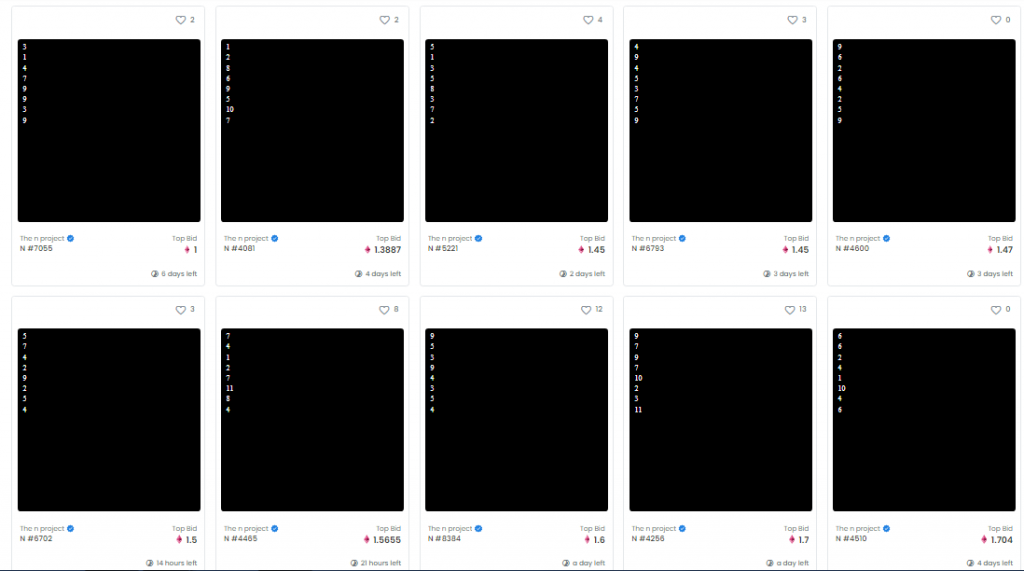 The project in question is called "The N Project" and generated 8888 NFTs, each containing 8 random numbers on a black background. Of course, that's not all. Each number has a random chance of being included in the sequence, and some numbers are "rarer" than others, with 0 being the rarest.
The whole collection is available on OpenSea and according to website currently the lower price is above 2 ETH. Although there are some NFTs that sell for about 1.75 ETH, which at the time of this writing is about 6.5 thousand. USD. To solve the mystery of why random numbers on a black background are sold at this price, let's take a closer look at Daniel's twitter thread – analyst from 0x.
First, this is what the probability of classifying each number looks like:
Obviously, zeros are the rarest and reportedly getting one NFT with 0 would shift the valuation a lot.
It compares this with another very popular NFT project – Loot, where instead of numbers, users generate random words or phrases, thematically created by creators, whose ultimate goal is to create an environment for digital roleplay, games, etc.
N Project – it's almost the same. As the project itself says – users can create anything from numbers that they want. Daniel therefore emphasizes that they can be used for DAO, games, digital passports and the like. Basically, they can be "an element of anything you create."
For most people, however, these are just numbers on a black background, nothing more, nothing less. Of course, it could be argued that every revolutionary idea is condemned at the beginning. But will these numbers turn into something more? Will we see use cases based on them? Only time will tell.
Gary Gensler: "Cryptocurrencies are as revolutionary as the Internet"