North Korean hackers stole $400 million worth of cryptocurrencies in 2021, report finds
2 min read
The rise of cryptocurrencies also brings with it many challenges, particularly with regard to cybersecurity. After all, rising prices attract the attention of malicious actors.
In 2021, for example, North Korean hackers stole $400 million worth of cryptocurrencies, according to a report by Chainalysis. There were at least seven attacks on cryptocurrency platforms in the past year.
By way of comparison, in 2020 there were four hacks linked to North Korea. From 2020 to 2021, the value extracted from these hacks grew by 40%.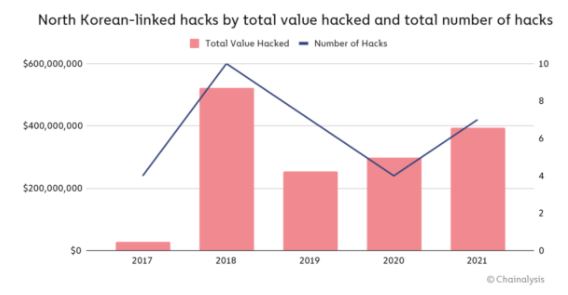 ETH was the most stolen cryptocurrency
Also according to the Chainalysis report, in terms of dollar value, BTC now accounts for less than a quarter of stolen cryptocurrencies.
In 2021, only 20% of stolen funds were in BTC, while 22% were ERC-20 tokens or altcoins. And for the first time, ETH accounted for the majority of stolen funds at 58%.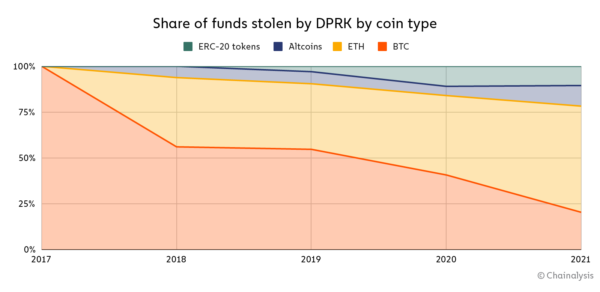 According to the data platform, the attacks mainly targeted investment firms and centralized exchanges.
Hackers primarily used phishing attacks, code exploits, malware and advanced social engineering to siphon funds from Internet-connected online wallets.
Then cybercriminals begin a careful process of laundering the illicitly obtained funds and withdrawing them.
"These complex tactics and techniques have led many security researchers to characterize the Democratic People's Republic of Korea (DPRK) cyber actors as advanced persistent threats (APTs). This is especially true for APT 38, also known as the "Lazarus Group", which is led by the DPRK's main intelligence agency, the US and UN-sanctioned Reconnaissance General Bureau.
As reported by Chainalysis, the Lazarus Group gained notoriety with its Sony Pictures and WannaCry cyberattacks. But since 2018, the group has focused on cryptocurrencies, something immensely more profitable.
One of the most prominent attacks was that of KuCoin, a Singapore-based exchange. Attack took place in September 2020 and the hackers drained more than $150 million.
According to the UN security council, the revenue generated by these hacks is intended to support North Korea's weapons of mass destruction and ballistic missile programs.