Phase 1 sGEG Presales Sold Out in Record 4 Minutes
2 min read
GeFi is a decentralized blockchain ecosystem built on the Binance blockchain protocol (Binance Smart Chain, BSC). GeFi introduces 2 tokens circulating in the entire ecosystem, GEG (GeGems) and GES (GeStones). With the Phase 1 availability of a total of 57,000 sGEG selling at $4 per sGEG, GeFi successfully raised $228,000 during the phase 1 ISO.
The early adopters participated by purchasing sGEG during the phase 1 presales and it marks another noted history in the DEFI market as the presales officially ended in under 4 minutes!
This exciting project is currently ongoing with phase 2 of the public sale which is expected to launch from July 12, 2021 UTC 1200 to July 22, 2021, UTC 1200, with total availability of 85,500 sGEG selling at the price of $5 for every sGEG.
New adopters and believers are welcomed to purchase this potential-next-hype by visiting their website.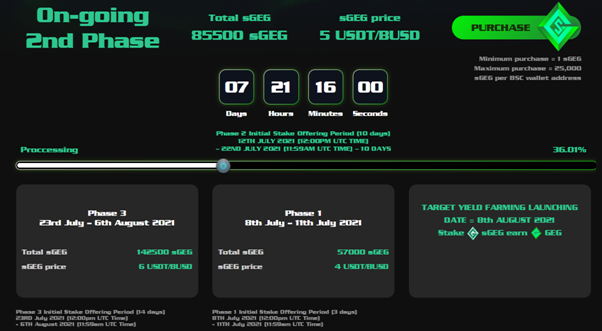 What's more
The GeFi Finance Vault focused on optimizing the yields for every participant. The auto-compounded yields mechanism is equipped with battle-tested smart contracts and best-in-class yield optimizing strategies. GeFi uses a proprietary dynamic harvesting optimizer to enable the highest APYs on our vaults to ensure quality gains for all participants.
The GeFi protocol automatically switches funds between a variety set of protocols in order to obtain the best rate of return. As a result, GeFi simplifies the yield farming process for participants.
The breakdown of the tokenomics for GEG is as follows:
GEG (GeGem):
Monetary incentives for the most committed and motivated users by decentralized finance vault.
Purchase privilege items on upcoming NFT marketplace & NFT Games
YES, there this project will be integrating both DEFI and NFT ecosystem as well as gamification.
Log on to their official channels to find out more.
Don't miss out on this new HYPE!!
The post Phase 1 sGEG Presales Sold Out in Record 4 Minutes appeared first on BeInCrypto.