Phemex Offers up to $2,000 in BTC on Deposits
3 min read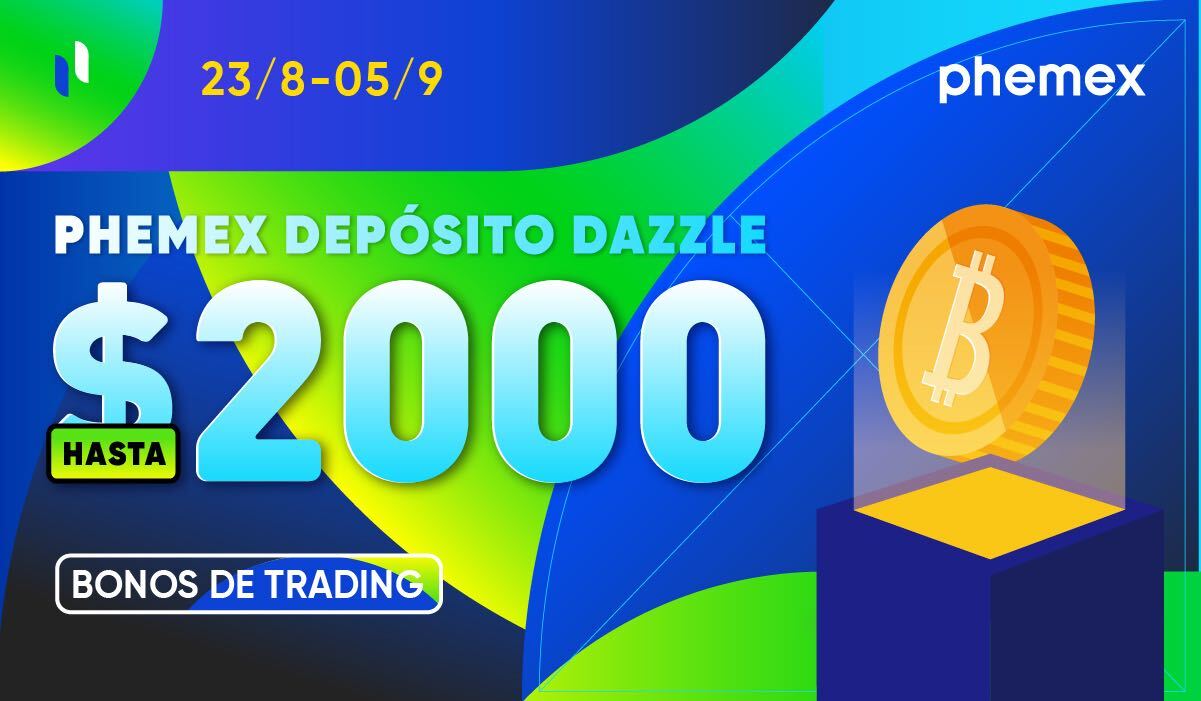 Cryptocurrencies have disrupted the mainstream finance and banking systems while also giving traders a promising asset to invest in. In essence, the crypto-economy has arrived and it has provided individuals with the opportunity to trade, mine, stake, and earn crypto through airdrops and exciting giveaways. But are just a few examples of ongoing activity in the crypto space
However, speaking of giveaways, as BTC continues its rise from its yearly low, Phemex is offering up to $2,000 in BTC for participants in its Deposit Dazzle event. Taking part in Phemex's BTC deposit promotion will allow investors to add more BTC to their portfolios.
Who is Phemex?
Phemex is one of the fastest crypto exchange and futures trading platforms out there. At its core, it wants to empower investors everywhere through simple trading and proper risk management.
The platform was founded by Jack Tao and other experienced Wall Street traders and investors in an attempt to tackle the lack of professionalism, trustworthiness, and customer support within the crypto industry.
Since 2017, Phemex has come a long way, surprising its platform's traders with lots of events and earning opportunities. The second Phemex Deposit Dazzle continues this trend. So go on over to the Phemex Deposit Dazzle event page to play your part.
Phemex Deposit Dazzle BTC Bonus
The Phemex Deposit Dazzle is the latest earning event held by the exchange. It is an event where users can deposit BTC and receive a crypto bonus in return. Depending on the amount of your deposit, participants can receive up to $2,000.
However, in order to enter the event and be eligible for the reward, you need to deposit 0.01 BTC. Other than that, you can sit back and relax, but bear in mind that the amount you deposit will decide the reward you receive.
For example, a minimum 0.01 BTC deposit when joining the event will give you a $20 bonus. For deposits of at least 2 BTC, you will receive a $2,000 trading reward. So up the ante.
The table below details the deposit and reward structure.
| | |
| --- | --- |
| Net DEPOSIT | BONUS |
| ≥0.01 BTC | $20 |
| ≥0.02 BTC | $30 |
| ≥0.05 BTC | $50 |
| ≥0.1 BTC | $100 |
| ≥0.2 BTC | $200 |
| ≥0.5 BTC | $500 |
| ≥1 BTC | $1,000 |
| ≥1.5 BTC | $1,500 |
| ≥2 BTC | $2,000 |
Having the deposits and rewards spread out like this will allow every attendee to get a bonus no matter their budget.
How does it work?
The Phemex Deposit Dazzle starts on August 23, but you can join until September 6. The bonuses will be distributed on September 20.
In order to join you need to log in to your Phemex account, sign up for the event here, deposit a minimum of 0.01 BTC into your Spot Wallet, and then transfer the new deposit into your BTC Trading Account.
Keep in mind that only the new deposits made within the event period will be counted. If you decide to withdraw before September 20, when the bonuses are distributed, your reward will diminish. To stay up to date with Phemex's Deposit Dazzle as well as other events, follow them on Facebook, Twitter, or Telegram.
The post Phemex Offers up to $2,000 in BTC on Deposits appeared first on BeInCrypto.