Salvadorans support BTC despite IMF criticism
2 min read
This week, as reported by Cryptheory, the executive board of the International Monetary Fund (IMF) recommended that El Salvador abandon the use of BTC as legal tender, due to the alleged risks that cryptocurrency entails.
Despite this, many Salvadorans are supporting the implementation of BTC as legal tender.
As reported by Agence France-Presse (AFP), one such person is Karen Hernandez. The Salvadoran sells cellphone accessories in the historic center of the capital, San Salvador, where many handmade signs announce "we accept BTC".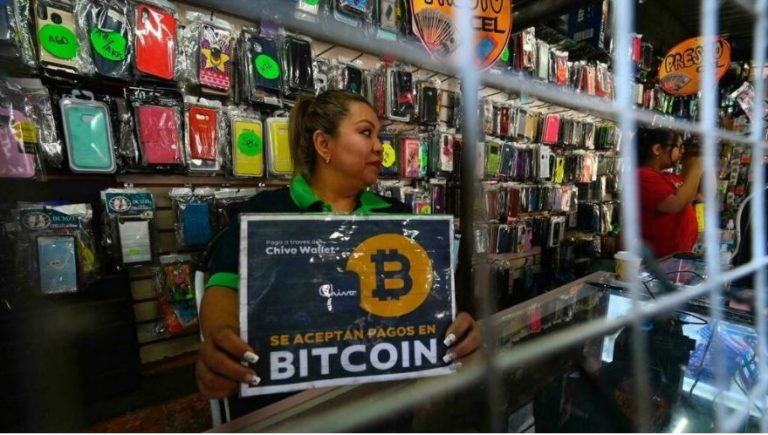 BTC Supporters
According to the Salvadoran, business has been booming since the country started using BTC as legal tender in September.
Hence, Hernandez expects President Nayib Bukele to ignore IMF calls to abandon the use of cryptocurrency.
"It was a very, very good experience and it increased. It took us to another level of business," the shopkeeper told AFP.
To allow Salvadorans to receive and make payments with BTC (as well as the dollar), the government created the Chivo digital wallet.
Chivo wallet
The wallet, which has already created several controversies, allows restaurants, hardware stores, pharmacies and even street vendors to accept payment in cryptocurrency.
Some Salvadorans still have difficulties handling the wallet, but that doesn't stop the business.
After all, there are people like Elizabeth Arevalo, who works at a computer store and teaches customers how to use Chivo to buy with BTC at her establishment.
"We give customers a little guidance on how to use the wallet… Once they learn to use it, they buy something from us. It's a win-win situation," Arevalo said.
Another merchant supporting BTC is Juan Carlos Perez. He runs a tech and perfume store in San Salvador and says he uses BTC in his personal and professional life.
"There are risks, I know that… volatility in the exchange rate, lack of financial market control. But it's practical," Perez said as he checked the Chivo app on his phone.
El Salvador, BTC and the IMF
Apparently, for these traders, Bukele should not listen to the IMF.
On Tuesday, when the entity asked El Salvador to stop using BTC as legal tender, they claimed that "there are great risks associated with the use of BTC in financial stability, financial integrity and consumer protection", as well as in the issuance of BTC-backed securities.
In response, cryptocurrency enthusiast Bukele responded on Twitter with a meme from The Simpsons:
https://t.co/s1F5kwOBEn pic.twitter.com/LD0I2dBHha

— Nayib Bukele 🇸🇻 (@nayibbukele) January 26, 2022
El Salvador's stance on BTC is causing an impasse with the IMF. That's because the government of El Salvador is trying to negotiate a $1.3 billion loan with the IMF.
According to economist Luis Membreno, "it would be logical for the government of El Salvador to understand the fragility of its situation".
Finally, he stated that El Salvador's financial health "revolves around this agreement" with the IMF.