Shiba Inu (SHIB): shitcoin or is it worth investing?
4 min read
Memecoin Shiba Inu (SHIB) is a controversial crypto asset in the crypto market. While some investors believe that the token has the potential to "go to the moon", in terms of appreciation, others see the digital asset as a "shitcoin", that is, a cryptocurrency without foundations and without good prospects.
To find out if it's worth investing in Shiba Inu or not, we talked with some market experts.
Among other things, they highlighted that it is even possible to profit from Shiba Inu, although the token is not necessarily the best choice in the long term. There are also those who believe that SHIB and other meme-based tokens only serve to make developers profit.
About Shiba Inu
Created in August 2020, Shiba Inu was born inspired by the first memecoin Dogecoin (DOGE). SHIB actually describes himself as a "Dogecoin Killer".
The project's name refers to the Japanese dog breed of the same name, which comes from the Chubu region.
The initial supply of SHIB was 1 quadrillion. But half of that amount was given to ETH co-founder Vitalik Buterin, who ended up donating it all to charity. On a regular basis, hundreds of millions of these tokens are burned to maintain their stability.
As explained by the cryptocurrency expert and channel host BitNothing Felipe Escudero Shiba Inu was yet another meme coin that came from the Dogecoin hype.
"In January 2021 the crypto market exploded, and with it many Doge-based altcoins and memecoins appreciated. Shiba was the one that received the most attention."
In fact, SHIB performed impressively in 2021 at the height of memecoins.
Shiba Inu Appreciation
In January of last year, the token cost $0.000008541. After a dizzying rally, the crypto asset reached its all-time high of $0.00008845 at the end of October, thus registering a 935% appreciation in about 9 months.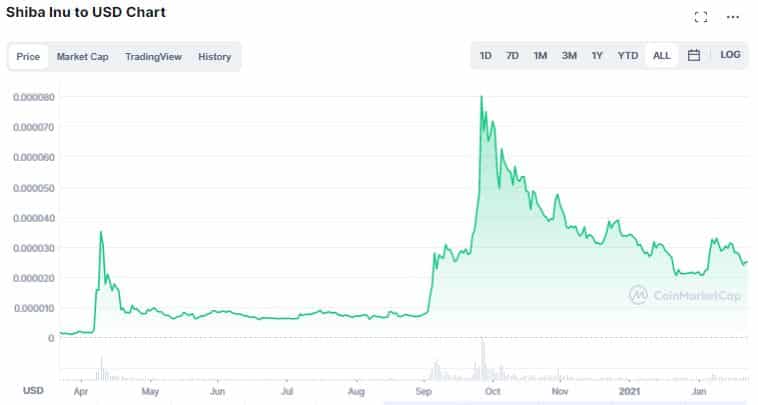 According to Escudero, in the process of valorization in 2021, the community around SHIB has grown significantly:
"The community grew very fast, hoping for a coin that was worth fractions of a cent and could gain prominence and grow to a dollar."
However, after registering ATH, the community was not enough to hold the token price, which plummeted:
"Obviously, SHIB never made it to $1 and the hype 'failed'. Many people who bought Shiba Inu at the top today are suffering a loss of more than 70%. Remembering that from the historic peak to the minimum value of 2022, the devaluation exceeded 80%", observed the expert.
Shiba Inu is no longer memecoin?
Despite being born as a memecoin, Shiba Inu has been striving to be more than that. In December 2021, the team behind the project implemented a community governance system known as Doggy DAO.
It is a decentralized autonomous organization controlled by the Shiba Inu community, which is powered by the BONE token. Doggy DAO members use the token to vote on proposals
Another development of the Shiba Inu platform is the Shibarium, a layer 2 upgrade of the Shiba Inu that will allow users to transact at lower Gas rates than those currently available on the ETH network.
Still, keeping an eye on the metaverse hype, Shiba Inu launched recently his own project.
Shiba Inu's Metaverse is known as Shiberse. First project in this dog-themed space is Shiba Lands. This project aims to allow the possession of virtual lands in Shiberse.
So, is it worth investing in Shiba Inu?
For some cryptocurrency experts, SHIB does not have strong fundamentals, but it can be an option for short-term trading, with speculation:
"Shiba Inu, in my opinion, is a memecoin, that is, a meme-based crypto asset, and without any foundation in the medium and long term. So, I don't believe in the project thinking in the medium or long term. However, it is clear that, for those who simply want to speculate with the asset, it is a possibility", highlighted Aragão.
The expert explained that SHIB's lack of fundamentals is even more pronounced when the market is falling.
"When BTC falls, it is natural for these memecoins to fall by an even more expressive percentage, as was the case with SHIB. I, in particular, do not expose myself to memecoin due to my investor profile. I prefer to expose myself in medium to long-term projects, in which I can hold more easily", he concluded.
Edilson Lauro, from the channel Digital Investments believes that SHIB is not exactly a good investment option:
"Basically, memecoins are a way for developers to make big money and don't solve real problems. Because there are trillions or quadrillions of coins, there is the impression that one is buying cheap currency. However, just as it can go up a lot, it can go down a lot too."
As Edilson pointed out, even the burn system implemented by SHIB to make tokens deflationary is not effective due to the huge amount of tokens on the market.
"This only serves to impress newcomers who have become a partner-supporter of cheap coins," said Edilson. "Anyone who wants to invest a negligible amount in SHIB, fine. But I do not recommend investing a very high amount because then, in the long term, the project does not sustain itself", he concluded.