Singapore Grapples with Hong Kong for Asia's Cryptocurrency Crown
3 min read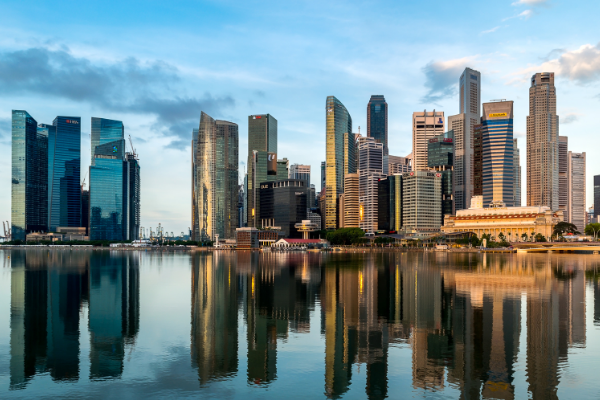 Proposed regulations in Hong Kong look to limit cryptocurrency trading to professional investors only

Hong Kong's freewheeling dalliance with cryptocurrencies may be over as Beijing continues to crackdown on the sector and large cryptocurrency firms may seek to relocate to Singapore
Visitors to both Hong Kong and Singapore can often be taken aback by the similarities between these two rival cities.
With bustling harbors and gleaming skylines, Hong Kong and Singapore, both former British colonies, stand as shining beacons to capitalism, but their rivalry is not far from the surface.
Hong Kong has played a pivotal role in the short history of cryptocurrencies, being the birthplace of some of the world's biggest cryptocurrency firms and the industry's most pioneering inventions.
Tether, the world's favorite dollar-backed stablecoin was launched in the Chinese territory, while FTX Trading (for full disclosure, Novum Alpha trades on FTX), a cryptocurrency exchange valued recently at US$18 billion calls the fragrant harbor home.
A potent mix of financial expertise and entrepreneurial spirit has seen the rise of Hong Kong as a key port of call for the cryptocurrency industry, with some of the worlds largest exchanges started by those who had left high-flying careers at the many international banks with Asian headquarters there.
Chinese money, often in pursuit of ever-new options to facilitate capital flight from the Middle Kingdom, poured into Hong Kong's burgeoning cryptocurrency industry, providing both a ready source of investment and significant over-the-counter or OTC flows for cryptocurrency trades.
However, that proximity to China, once seen as a boon for the cryptocurrency sector in Hong Kong, may now become a burden, as Beijing flexes its muscles in the territory and made it patently clear it has no tolerance for a challenge to its own sovereign currency the renminbi.
An ongoing crackdown by China of its own cryptocurrency industry, is forcing some soul searching among Hong Kong's cryptocurrency companies.
Although Hong Kong outlined a framework to regulate cryptocurrencies as far back as 2018, that framework, as well as further licensing requirements for exchanges rolled out last year, have yet to become law.
New proposals would toughen Hong Kong's stance against cryptocurrencies, potentially stamping out the entrepreneurial zeal that has buoyed the industry and risking the city being unseated from its cryptocurrency pedestal by its rival down south, Singapore.
Under proposed new rules in Hong Kong, cryptocurrency trading would be curtailed to so-called professional investors, those with US$1 million of liquid assets, excluding cryptocurrencies and exchanges would need to be licensed the same way as existing asset management companies deal in securities.
The new rules, if adopted, would significantly raise the compliance costs of cryptocurrency companies headquartered in Hong Kong, at a time when Singapore is opening the doors for cryptocurrency firms.
Two weekends ago, Singapore issued a slew of in-principle licenses to digital asset companies, under its shiny new Payment Services Act, which covers digital asset and cryptocurrency firms, as the city markets itself as a viable alternative for international cryptocurrency firms to access Asian markets.
Some of the biggest names in cryptocurrency already call Singapore home, from Binance's founder Changpeng Zhao to ETH co-founder Vitalik Buterin
Cameron and Tyler Winklevoss have set up the Asian base for their Gemini exchange in Singapore and even OSL, a large Hong Kong-based cryptocurrency group is rapidly expanding operations in the city-state.

The post Singapore Grapples with Hong Kong for Asia's Cryptocurrency Crown appeared first on SuperCryptoNews.