Social Knockout – Historic Cryptocurrency Event
3 min read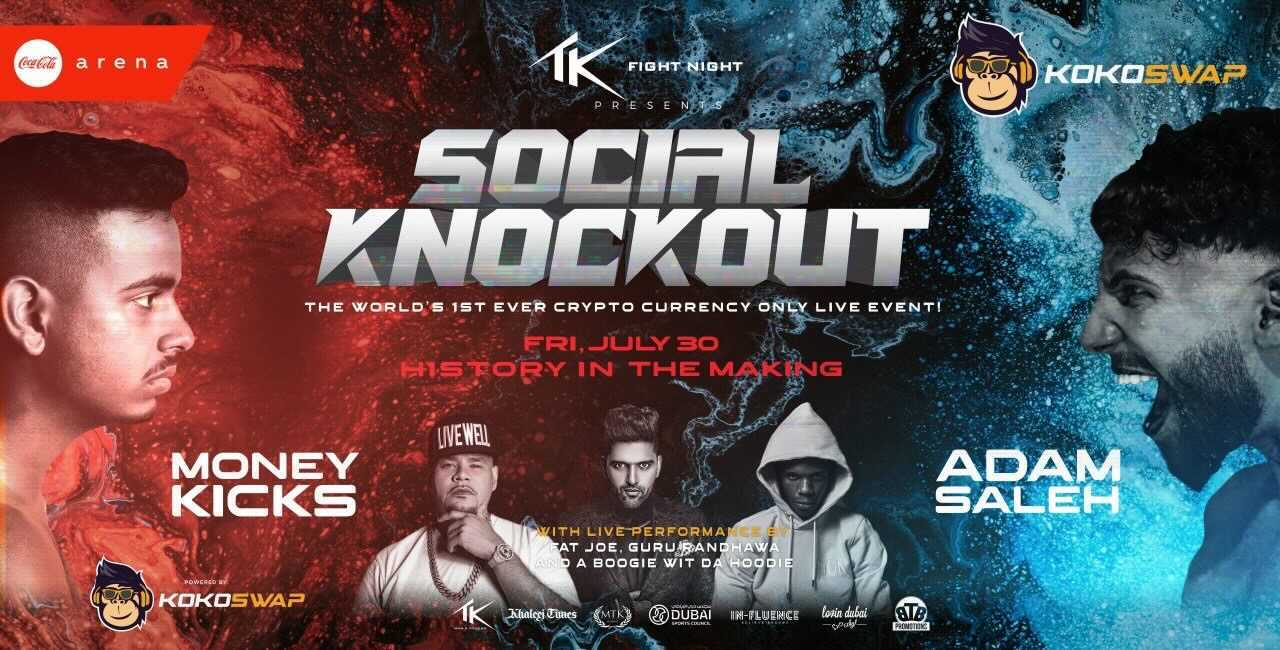 History was made in Dubai's iconic Coca-Cola Arena as Social Knockout – the world's first cryptocurrency event.
An unforgettable evening was enjoyed by thousands of fans, including boxing fans, followers of social media influencers, and the royal family.
In attendance, there were also popular local and international celebrities, such as UFC Heavyweight Tai "Bam Bam" Tuivasa, and boxing icons Badou Jack, Prince Naseem Hamed, and additional fascinating performances by musicians from all over the world.
Social Knockout was the first-ever event to be sponsored by a cryptocurrency as a partner for the event. KokoSwap, the official cryptocurrency used to purchase the event tickets, live stream access, as well as other giveaways and NFTs, is the world's first cryptocurrency with this utility.
This distinguished event brought light to the world of crypto and blockchain, specifically KokoSwap. It merged the worlds of crypto, social media influencers, and boxing, by increasing the audience's knowledge of KokoSwap, and what it holds; an exceptional platform which merges NFT and blockchain trading features.
Tam Khan, the pioneer of MMA in the UAE, and the brainchild behind TK Fight Night, which brought the Social Knockout to life, is confident that this is the future of entertainment.
"I think what we did last night was not only historic with the world's first crypto event, but also we showed the world that Dubai and the UAE don't need permission to put on world-class events. This country has always been so great to me and my family, and it has been my mission to make this city the hub for combat sports and entertainment in the region since I first landed here in 2008." stated Tam Khan. 
Social Knockout's main event was the long-awaited fight between the two rivals, Rashed "Money Kicks" Belhasa and Anas Al Shayib.
During the match, Rashed's first ever NFT titled 'The King of the Jungle' was sold on the KokoSwap NFT platform for 79,000 $KOKO tokens, which is the equivalent to $310,000. This marked a significant victory for Rashed, as the night ended with a win, and a sale of his first ever NFT.
About Social Knockout:
Social Knockout is the first ever combat event which took place in the Middle East through cryptocurrency transactions ($KOKO tokens), as well as holding NFT auctions.
This event will be held by TK Fight Night, in collaboration with the Dubai Sports Council. For more information about the event, please contact AC Del Rama at ac@tkmmafit.com or +971 56 825 6693 and/or visit www.tkfightnight.com 
About KokoSwap:
KokoSwap is a unique product that combines the excitement and thrill of NFT gaming with the magic and wonders of decentralized finance.
KoKoSwap is a publicly owned and self-sufficient ecosystem that aims to synergize the DeFi and NFT spaces, with the inclusion of games, rare in-game NFTs, and staking capabilities.
KoKoSwap provides a comprehensive ecosystem for the modern user to leverage the core features of the platform, experiencing higher yields in an entertaining and interactive way.
KokoSwap's goal is to be a trustless, completely decentralized protocol. For a truly decentralized experience, KokoSwap shares community ownership and a robust governance system. For more information about KokoSwap, visit Kokoswap.org.
Instagram| Telegram | Twitter | Medium | Website 
The post Social Knockout – Historic Cryptocurrency Event appeared first on BeInCrypto.