SOL analysis – Solana has after a deep decline
2 min read
Solana (SOL) has repeatedly encountered some technical problems, so this crypto has recently been washed into a rather negative context. Most importantly, the token is currently 86% down from its all-time high. In other words, solana has suffered terribly, and many of those who bought at about the turn of the year must be quite restless.
I have such a typical anecdote for you when I saw a friend in October last year who had always entered the cryptocurrencies near its peak. And then he sold literally near the bottom. I haven't seen him in a long time and he told me he's just loaded in SOL. For me, it was one of those many red flags announcing that the bear market is really close.
Current situation at 1W SOL / USD
So solana has fallen by about 86% from its all-time high. This is, of course, a huge loss, but it also implies something positive. Theoretically, we are close to the market minimum. Respectively at least the local market minimum. The market is more or less going down all the time. The exception is just the March retracement, which meant more than 80% price growth. Something similar could happen in the near future.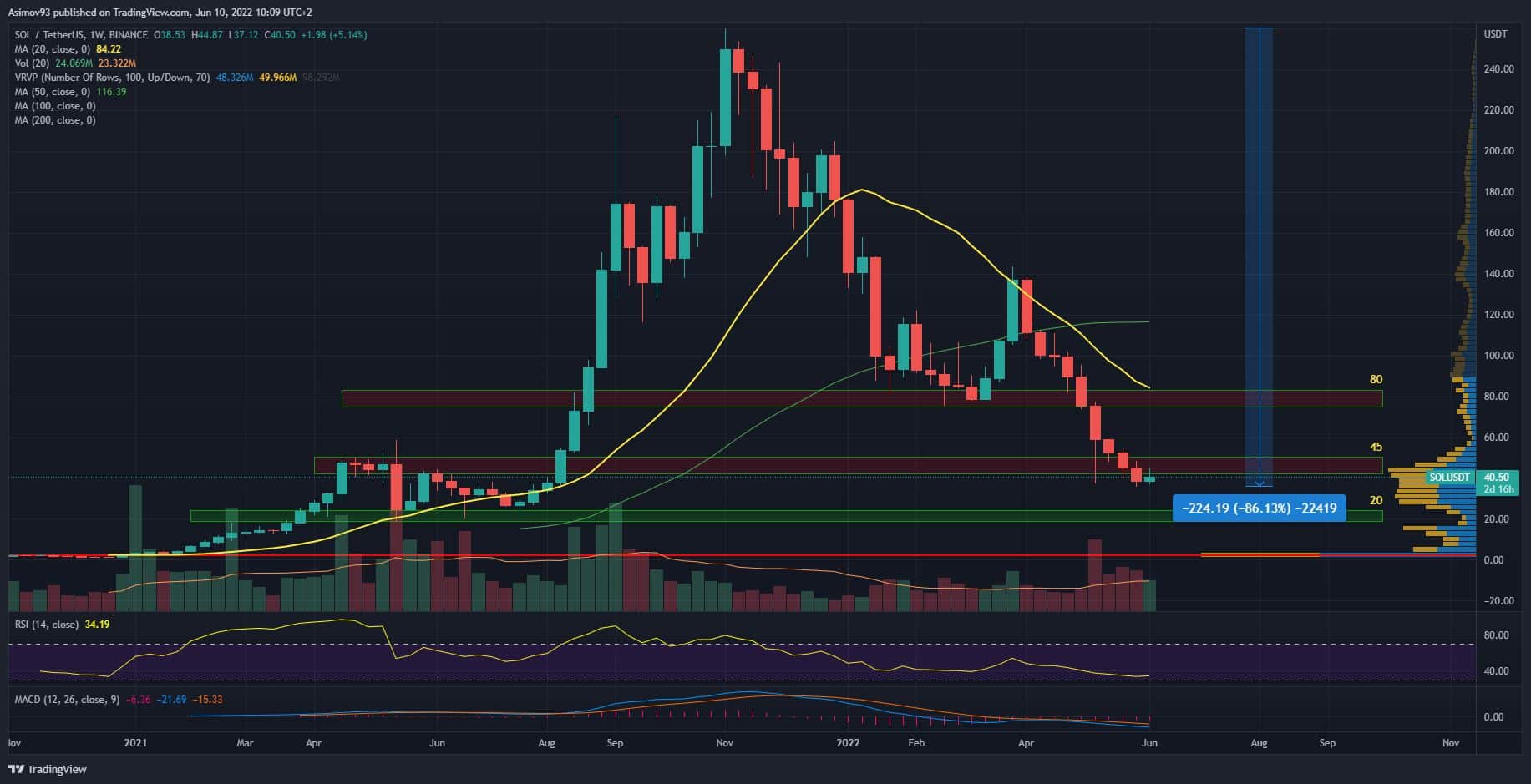 Unfortunately, SOL quite possibly lost the S / R level of 45 USD, which was reliable according to historical price action. However, there was a nice response last month. But as the norm is on the market now, the bulls have not made much use of it. More specifically, they did not continue the price growth that began. However, since that May, we can see that traders are around the $ 45 active.
How do we know? After all, volumes. Volumes they are very robust factor. Therefore, it is necessary to monitor it. Once the exchange rate has tested current price levels, volumes remain elevated. While the last three closed candles are not exactly large. Respectively, a lot of SOL is traded, but the price doesn't go too far. In other words, the seller has to make quite a bit of effort, but it still doesn't lower the price. Because traders buy it.
Among other things, according to the volume profile, there is one large one in the price range of 45-20 USD liquid cluster. Therefore, de facto the whole band is one support. Certainly SOL will remain within that range for some time. Half-putically speaking, we won't just look below the S / R level of $ 20.
Solana dropped significantly in half a year, but there were not many more solid upward corrections. We are currently at levels where decent retracement could happen. But keep in mind that the bandwidth is quite wide.