Why studies about people who own BTC might be inaccurate
3 min read
Studies of owners BTC and other cryptocurrencies focus on activities on each crypto platform so that they can be broken down by country.
Although it is extremely difficult, if not impossible, to determine from which countries and to which transactions transactions take place, by measuring volumes and activities on crypto exchanges and allocating them by country, it is possible to estimate different activities geographically.
According to Chainalysis, out of 154 countries analyzed, only 12 countries reached zero.
The first 10 countries with the highest scores in the global cryptocurrency acceptance index were:
Ukraine
Mask
Venezuela
China
Kenya
USA
South Africa
Nigeria
Colombia
Vietnam
In Venezuela, for example, BTCs are used as protection against economic shocks, as in other developing countries. In these cases, the existence of P2P platforms for the purchase and sale of BTC is crucial.
Another studies on people who own BTC
According to the Gemini study, approximately 14% of the American population owns cryptocurrencies, or approximately 21.2 million Americans, of whom 84% own BTC for an average of $ 8,512, while 27% own ETH for an average of $ 10,022.
If we look at the Bank of Canada's comprehensive survey, cryptocurrency ownership among high school students fell from 3.7% to 2.3%, while that of Canadian college students rose from 6.7% to 9.1%.
Cryptocurrencies were owned by 7.3% of Canadians with low literacy levels, while only 4.1% of those with high levels of financial literacy invested in cryptocurrencies. The bottom line would be that people with more financial knowledge know about BTC but accept it less.
Another study by Panos, GA and Karkkainen also suggests that financially literate people are less willing to buy BTC and may be in the future.
Another study by Copper.Co found that most cryptocurrency owners are long-term investors, especially in BTC. According to their calculations, 56% of all existing BTCs belong to long-term investors, while 18% have been lost, 15% belong to traders and the rest have yet to be mined.

According to a survey by Helmut Stix, intentions of ownership and purchase are strongly linked to the expectation of a return on these investments and also correlate with distrust in traditional banking institutions.
In addition, BTC owners are more risk tolerant and do not take short-term volatility into account.
Ownership Stocks vs cryptocurrencies in developed economies
Although the concept of cryptocurrency is heard more than ever, research has shown that it still has a long way to go to compare with more traditional forms of investment, such as stocks. Here is a comparison in advanced economies.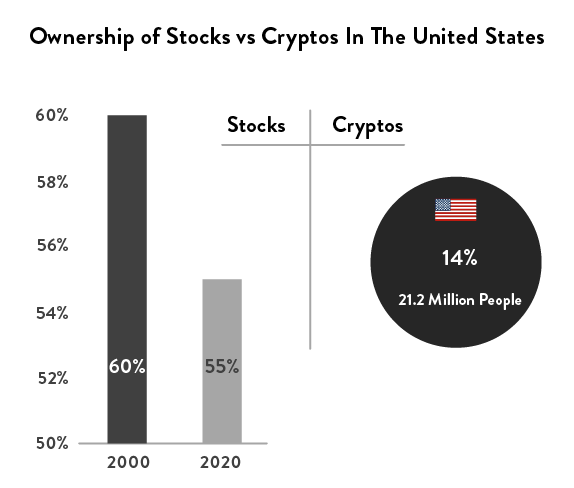 Research has shown that stock ownership in the United States has declined over the past two decades. And how is it in Canada?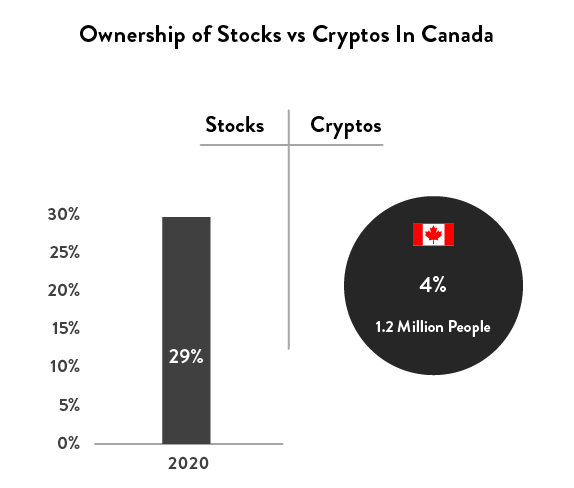 And finally a comparison in the UK.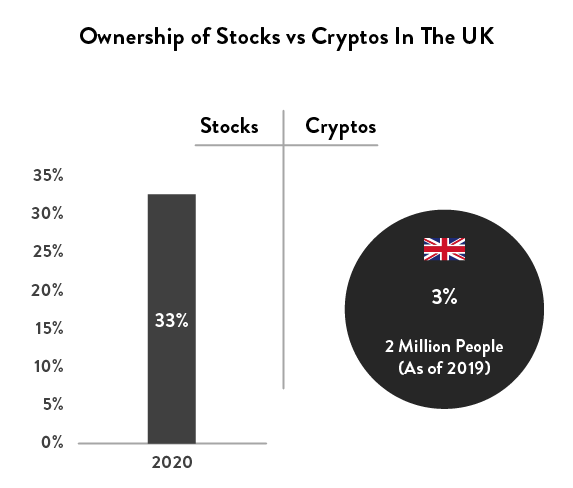 In short, speculation is one of the most important factors that persuades people to acquire and hold cryptocurrencies. However, in less developed countries, other factors also play a role, such as fears of economic instability and rising inflation rates.
Are holders of cryptocurrencies afraid to admit ownership?
This is a question that comes to my mind after looking at the statistics in these studies and comparing them with the growing number of crypto wallets. The number of these crypto wallets generated each year and the volume of traded / held amounts has increased rapidly. There is a famous quote from Benjamin Franklin that reads: "There is nothing certain in this world except death and taxes." However, several cryptocurrency investors might interpret this differently.
Unless published by exchanges, companies and other third parties, tax authorities may not be able to track cryptocurrency income or transactions.
Looking at the data, it can be seen that many young people have liked cryptocurrencies and we can expect everyone to know the standards of the tax authorities. These young adults and teenagers may have decided not to report their cryptocurrencies to skip this lengthy process. The same could be true for adults who just want to save more and do so by not reporting their cryptocurrencies.
It has also been found that people are reluctant to divulge these earnings, especially to the elderly population, because they fear hackers and the loss of all their money.