Technical analysis ETH – back to key support
2 min read
ETH was able to partially recover after a relatively large decline, but it is still quite problematic what to expect from further exchange rate developments. It is not at all certain whether the market has reached the expected local bottom.
Current situation at 1D ETH / USD
ETH has lost about 40% of its all-time high value since the beginning of November, which is also a significant loss in relative numbers. Nevertheless, ETH holds the position of one of the strongest altcoins. In fact, ETH is slightly stronger than BTC. BTC smeared a little more of its value.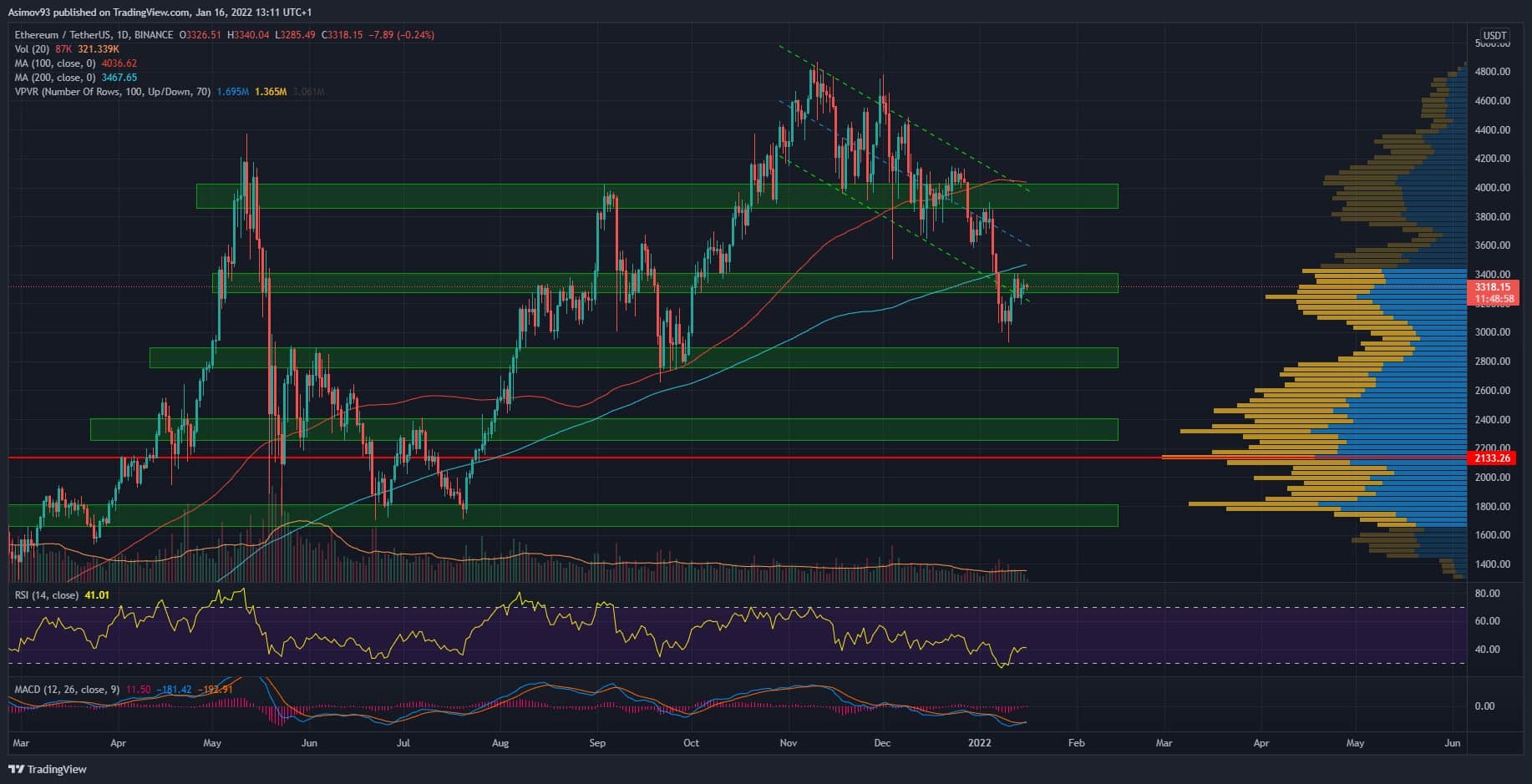 Around the S / R level of $ 2,840 there was a rebound that brought the exchange rate back to the S / R level of $ 3,340. It was quite a key level because it is close by high volume node volume profile.
Unfortunately 200-day moving average acted as a resistance that stopped the course. Since then, the exchange rate has consolidated at the S / R level of $ 3,340. Therefore, there is still a threat that ETH will lose its current support. Therefore, it is necessary that price expansion continues soon. In this case, the first major obstacle is the S / R level of $ 3,950. The 100-day moving average is also close by.
Otherwise, we will return to $ 2,840. This support is almost like concrete. I simply start from the volume profile, because you can see that the big one starts at the mentioned level cluster. And that ends at $ 1,740.
Indicators
I repeat that the daily RSI values ​​have fallen below the 30-point threshold for the first time since March 2020. Although "only" about 27 points, but it is still a significant manifestation of weakness. Currently, the values ​​are around 41 points.