Technical analysis XMR / USD – will the way open for further price expansion?
3 min read
In today's analysis, we will focus on Monero (XMR), which is just altcoin, which I have not focused on for a very long time. So I think many of you will appreciate it, because what I'm watching, Monero has quite a few fans. 
It is increasingly expected that the Fed will start reducing quantitative easing purchases. Together with this, there will certainly be an increase in rates. The available liquidity on the market will decrease significantly, which is naturally nothing friendly for the markets. I don't dare say how BTC will react, but we can be sure that when the panic starts to panic, it will spill over to everything else.
Current situation at 1D TF XMR / USD
Given that we have not been working on this altocin for a long time, it would like to give a brief history of the development. During that fall in May, Monero lost 70% of its all-time high. Such a drop is very painful, but on the other hand it can be a pretty good opportunity for a medium-term hold.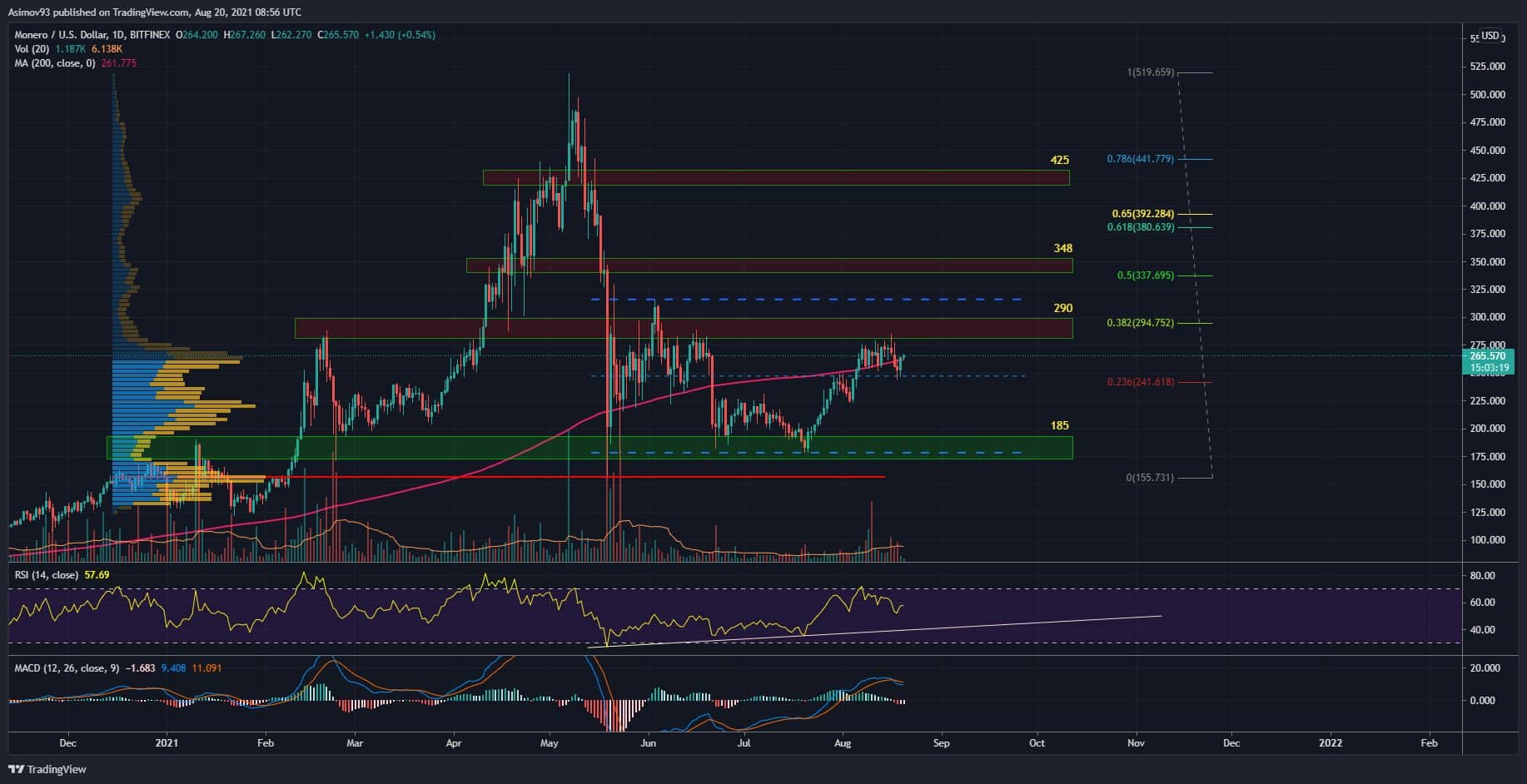 In any case, the decline stopped at the S / R level of USD 185 and the local high was created at about USD 316. This was followed by a few retests of the said S / R level, thanks to which we have parties business zone, from which it is possible to start. In addition, the $ 185 level worked quite reliably, so the effort to defend the level was definitely not small.
Since the beginning of August, Monero has been attacking the S / R level of USD 290, which it has not yet managed to surpass. You can see for yourself that there are more than enough of those rejections near the surface. A few days ago there was a smaller decline, which was to some extent confirmed by volumes. But it wasn't exactly a monstrous wash.
Due to the fact that BTC holds its position, it naturally draws other coins as well. So the bulls are now taking advantage of this, trying to get closer to $ 290 again and try to break through. So far, however, the buying pressure is quite weak, which is of course considerable. However, the reaction to resistance itself will be decisive.
Subsequent hurdles include good trade mark boundaries, an S / R level of $ 348 and then $ 425. But when you look at volume profile, you will find that from the S / R level of $ 290 there is no practical resistance. If Monero is strong enough to break the $ 290, then the imaginary gate will open almost wide.
But as I keep saying, the state of BTC is crucial. If rinsing takes place here, XMR can also be swept away. And the situation on BTC is quite schizophrenic. In any case, if the XMR rate stays above $ 290, it's very positive.
Indicators
The RSI values ​​have a local peak at about 71 points, so the market did not get high. Currently, the values ​​are at 58 points, so there is more than enough room for expansion. There was a fresh bearish cross on the MACD, but the negative momentum didn't do much.
In conclusion
At first glance, I like the XMR market, because when the nearest resistance is broken, there is the potential for further price expansion. There are obstacles in the way, but they are not very strong. Therefore, if BTC provides a favorable environment in the crypto market, we can look forward to further price growth in XMR.