Terra (LUNA) could appreciate more than 250% in 2022, analysts predicts
2 min read
Decentralized finance (DeFi) platform Terra (LUNA) has seen exponential growth in 2021 and 2022 could be even better. Analysts predicts that cryptocurrency could appreciate more than 250% this year, reaching the $200 mark.
Pantera Capital CEO Dan Morehead, for example, recently stated that LUNA is growing rapidly and has a promising future:
"We think it is one of the most promising coins for next year. So a lot of people are just starting to discover it and are starting to trade it," said.
Price projection for Earth (LUNA)
As FX Leaders analysts highlighted, LUNA reached the expressive mark of US$ 100 in December 2021. Since then, it has retreated – like the entire market – to its current price of US$ 56.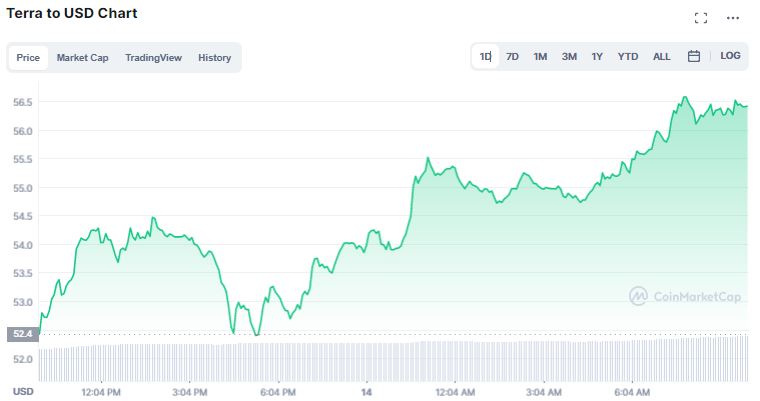 Despite this, the long-term projection is optimistic, with analysts estimating that the altcoin will reach $200 in 2022. Meanwhile, for the next two years, the outlook is even more encouraging, with analysts predicting LUNA at $300:
"Our price forecast for the next three years puts LUNA/USD at no less than $300, supported by technical and fundamental analysis," they pointed out.
Factors driving adoption
According to analysts, one of the factors driving the adoption of Terra (LUNA) was the importance of stablecoins, which have been increasingly vital in the crypto ecosystem.
The Terra platform offers stablecoins that can facilitate payments for global transactions, with the solution being used at an institutional level.
Furthermore, Terra's Columbus-5 update, which was released in 2021, has strengthened confidence among cryptocurrency investors.
The update supports an Inter-Blockchain Communication standard, allowing users to transfer assets like LUNA, UST Terra to other protocols and vice versa.
The update also introduced a deflationary measure. Thus, whenever UST tokens are minted, LUNA is burned.
"2022 presents an interesting year for LUNA/USD, given the strong increases the token has seen in 2021. While there is no clear immediate support, the price zone at $80 remains the potential area where LUNA/USD can move. establish," they said. "It is the level where the token has shown some indecision and buyers should keep an eye on it for a possible reversal."