These Are The High-Profile BTC ETF Applications Currently In Play
11 min read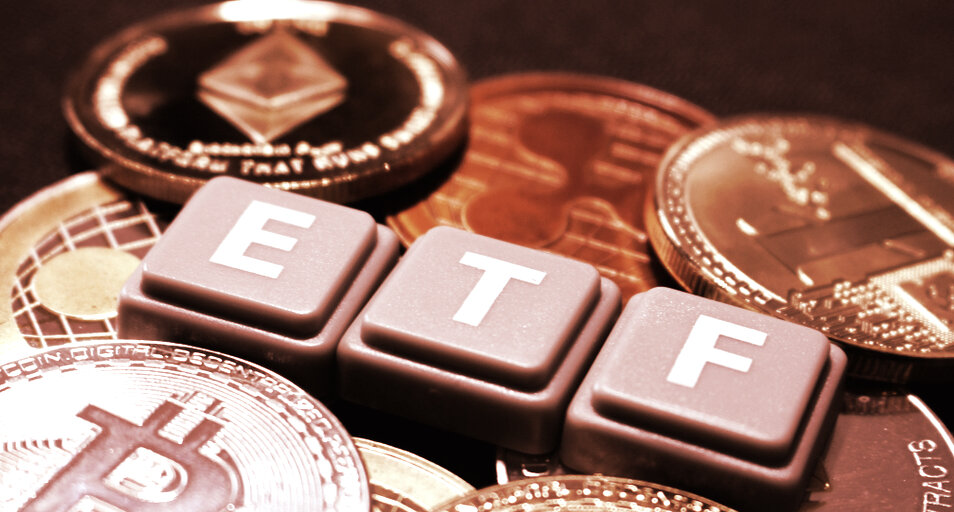 Since the first application for a U.S. BTC exchange-traded fund was filed in 2013, a BTC ETF has become something of a holy grail for the crypto community.
An ETF is a publicly traded investment vehicle that tracks the value of an underlying asset; in the case of a BTC ETF, that asset is BTC. Advocates for a BTC ETF argue that the complexities of exchanges, crypto wallets, and private keys still present a daunting barrier to entry into the crypto space for newcomers. A BTC ETF would enable these investors to gain exposure to BTC without actually having to hold their own cryptocurrency.
BTC ETFs have sprung up around the world, in Canada, Brazil and Dubai. But to date, the U.S. Securities and Exchange Commission (SEC) has rejected every BTC ETF application to cross its desk, citing the potential for market manipulation among cryptocurrency traders.
Here are all the applications currently in play:
1.

VanEck

VanEck is one of the earliest BTC ETF applicants still in play. Its first stab at a BTC ETF—the VanEck SolidX BTC Trust, in partnership with SolidX—came all the way back in 2018.

While that application was withdrawn in September 2019, VanEck made a second attempt at getting a BTC ETF off the ground, filing its application for the VanEck BTC Trust with the SEC in December 2020, with shares of the trust set to trade on the Cboe BZX Exchange.

Notably, VanEck filed its second application mere days after former SEC chair Jay Clayton left his position. In a 2019 interview with CNBC, Clayton had been dismissive of the prospects of a BTC ETF, noting that while there had been "progress" on concerns around custody, that crypto is still vulnerable to price manipulation, and that overseas exchanges "do not provide the same level of protection as our U.S. equity market."

However, if VanEck thought that new blood at the SEC would mean a change in its position, they were in for a disappointment. The SEC has repeatedly pushed back its decision on VanEck's second BTC ETF filing, with the most recent delay putting the deadline back as late as August. On this occasion, the SEC invited the public to comment on whether the filing would be vulnerable to manipulation, whether the crypto industry has changed since 2016, and if BTC is transparent.
2.

Valkyrie Investments

A relatively recent entrant to the race, asset manager Valkyrie filed its application for a BTC ETF in January 2021. The ETF would refer to the Chicago Mercantile Exchange's reference price for BTC and trade on NYSE Arca, "providing investors with an efficient means to implement various investment strategies," the firm wrote in its proposal. Crypto custodian Xapo would secure the fund's BTC, holding it in cold storage.

In its filing, Valkyrie tacitly acknowledged the cryptocurrency's volatility—one of the SEC's key concerns regarding a BTC ETF. "These potential consequences of such a BTC Exchange's failure could adversely affect the value of the Shares," it said in a risk assessment.
3.

NYDIG/Stone Ridge

The New York Digital Investment Group and advisory firm Stone Ridge were quick to seize on the opportunity presented by the change of leadership at the SEC, becoming the second prospective ETF to file an application with the regulator in 2021. The filing, on February 16, came on an auspicious day for BTC, with the cryptocurrency hitting $50,000 for the first time ever. Since then, it's been radio silence from the SEC; while it's announced delays to other applications, it has yet to announce its review of NYDIG's application.
4.

WisdomTree

New York-based asset manager WisdomTree already has experience of running a BTC ETF; it launched one on Switzerland's SIX stock exchange back in 2019. It joined the ranks of US BTC ETF hopefuls in March 2021, filing an S-1 with the SEC that proposed listing shares in the WisdomTree BTC Trust on the Cboe bZx Exchange under the ticker BTCW.

Since then, the SEC has delayed and delayed again, with the regulator inviting feedback from members of the public on the proposal. Interested persons are invited to provide "written data, views, and arguments regarding whether the proposal should be approved or disapproved."
5.

First Trust/SkyBridge

In March 2021, hedge fund SkyBridge Capital submitted its filing for a BTC ETF with the SEC. The firm, run by former White House communications director Anthony Scaramucci, already runs a BTC Fund open to accredited investors with a minimum investment of $50,000; within weeks of its opening in January 2021 it grew to over $370 million.

That same month, Scaramucci was optimistic that a BTC ETF could be approved by the end of 2021, telling Decrypt that, "I'm hoping that with the introduction of Gary Gensler now into the regulatory rubric, and my understanding of where he's coming from, although I don't know it personally, is that possibly we can get an ETF in place by the end of the year."

In May, NYSE Arca submitted an application for a proposed rule change that would see SkyBridge Capital's BTC ETF listed on the exchange. In early July, the SEC pushed back the review period for the Skybridge BTC ETF until August 25.
6.

Fidelity/Wise Origin

March 2021 saw a rush of applications for BTC ETFs, among them Fidelity's Wise Origin BTC Trust—perhaps unsurprisingly, given that mere weeks earlier its Director of Global Macro, Jurrien Timmer, said that BTC has a "unique advantage" over gold. The Wise Origin BTC Trust's application would see Fidelity Service Company Inc serving as the administrator, and Fidelity Digital Assets holding custody of the BTC underlying the ETF.

In May 2021, Cboe Global Markets filed a proposal to list Fidelity's BTC ETF, arguing that the SEC's concerns about market manipulation have been "sufficiently mitigated" thanks to increasing investor participation and institutional adoption of the cryptocurrency, which have "facilitated the maturation of the BTC trading ecosystem." In the same month, the SEC began its review of Fidelity's application.
7.

Kryptoin

Delaware-based Kryptoin made its first attempt at filing for a BTC ETF in October 2019, with the proposed Kryptoin BTC ETF Trust to be listed on NYSE Arca. The financial services company made a second stab at a BTC ETF in April 2021, with the revised proposal for the Trust to be listed on Cboe's BZX Exchange. Its amended filing listed the service providers that would assist in launching its ETF, including crypto exchange Gemini, which would provide custody for the Trust's BTC holdings.

By the end of that month, the application was officially under review by the SEC, which subsequently delayed its decision on the filing to July 27, 2021. "The Commission finds that it is appropriate to designate a longer period within which to take action on the proposed rule change so that it has sufficient time to consider the proposed rule change and the comments received," reads the June 9 announcement from the Securities and Exchange Commission (SEC).
8.

Galaxy Digital

In April 2021, crypto investment firm Galaxy Digital filed for a BTC ETF; at the time, the eighth such application to land on the SEC's desk. The proposed Galaxy BTC ETF would be listed on the NYSE Arca. Galaxy Digital, which manages over $400 million in assets, is also one of the largest institutional holders of BTC, with 16,400 BTC in its treasury (worth over $680 million at current prices).

Billionaire Galaxy Digital founder Mike Novogratz weighed in on the SEC's reluctance to approve a BTC ETF at the 2021 Ethereal Summit, arguing that under the Trump administration the SEC had instead allowed the Grayscale BTC Trust (GBTC) to flourish, which was "not as good for the consumer." GBTC, Novogratz argued, saw the consumer "buying BTC at a 20-30% premium being arbitraged by hedge funds into a closed-end fund—where an ETF would have been a much more elegant solution."
9.

Ark Invest

Ark Invest, the investment firm led by Cathie Wood, filed its application for the Ark21Shares ETF in June 2021. ARK Invest has partnered with Swiss-based ETF provider 21Shares AG to offer the ARK 21Shares BTC ETF; if approved it would trade on Cboe's BZX Exchange under the ticker symbol ARKB.

The firm is also the first to reveal the fees for its BTC ETF, with the filing indicating a planned fee of 0.95% payable to 21Shares, which would use the money to cover operating expenses.
Here are ARK Invest CEO Cathie Wood's expectations for BTC

Wood spoke at today's @crypto Summit https://t.co/ctkGtISeOp pic.twitter.com/KCeku7GrTn

— Bloomberg TV (@BloombergTV) February 25, 2021
Ark Invest already has exposure to BTC at one remove, having invested in crypto exchange Coinbase, the Grayscale BTC Trust and payments processor Square, which holds over 8,000 BTC on its balance sheet. CEO Cathie Wood is, unsurprisingly, an enthusiastic advocate of BTC, arguing that the cryptocurrency represents "a new asset class" and that it could become a reserve currency.
10.

Global X

The most recent entrant to the BTC ETF race is Global X Digital Assets, a fund manager with $31 billion in assets under management, which filed its application with the SEC in July 2021. If approved, the proposed Global X BTC Trust would trade on the Cboe BZX exchange, with the Bank of New York Mellon appointed the trust's administrator.

GlobalX's portfolio spans 84 ETFs covering disruptive tech, equity income, commodities, and emerging markets. Its proposed trust has yet to reveal its ticker symbol or the identity of the custodian responsible for safekeeping its BTC, though it has disclosed that the custodian is a limited purpose trust company authorized to provide digital asset custody services in the State of New York.
11.

One River

One River Asset Management launched its bid for a BTC ETF in May 2021, with its application for a carbon-neutral BTC exchange-traded fund. With BTC's energy consumption and carbon footprint coming under increasing scrutiny, One River has committed to offsetting its carbon footprint by "purchasing and retiring carbon credits necessary to account for the estimated carbon emissions associated with the bitcoins held by the Trust" through environmental platform Moss Earth.

One River has also wheeled out the big guns in its bid to win over the SEC, bringing on former SEC Chair Jay Clayton as an adviser. Clayton, who joined the firm prior to its BTC ETF application, headed the SEC during a period when it rejected every application for a BTC ETF.
Grayscale
Crypto investment fund manager Grayscale has yet to make a formal application for a BTC ETF, but it's made no secret of its desire to. The US investment firm already operates the closed-end GBTC BTC trust, which manages over 650,000 BTC (worth $25 billion at today's prices). It has announced that "We are 100% committed to converting GBTC into an ETF."
Were it to do so, Grayscale would be able to charge lower management fees, and it would be easier to move money in and out. Grayscale filed an application to launch a BTC ETF in 2016, but withdrew it a year later, stating that, "we believed the regulatory environment for digital assets had not advanced to the point where such a product could successfully be brought to market."
The lack of a BTC ETF has caused problems for Grayscale, and the wider BTC market. In lieu of such a product, GBTC has picked up the majority of the U.S. institutional demand for BTC. However, its shares sometimes trade at a negative premium, lower than the value of the underlying BTC per share—but the fund isn't allowed to redeem the shares for the BTC itself, so the market can't organically fix it.
If a BTC ETF were approved, it would allow investors to redeem shares at any time. This would likely prevent a negative premium from appearing and help to keep the shares matching the value of the underlying coins.
It's no surprise, then, that Grayscale has been hiring ETF experts and laying the groundwork for a BTC ETF; in July 2021, it inked a deal with BNY Mellon that would see the global investments company act as the service provider for GBTC. Were it to be converted into an ETF, BNY Mellon would provide transfer agency and ETF services.
A long and winding road
The road toward a BTC ETF has been a long one. Since the Winklevoss twins first filed for a BTC ETF-like trust in 2013, the SEC has repeatedly dragged its feet over the idea. It has repeatedly delayed making decisions on multiple BTC ETFs over the last few years, causing firms like VanEck to pull their applications over fears the SEC would reject them.
The SEC's main concerns about approving a BTC ETF relate to the lack of transparency of trading information, market manipulation, and the notion that BTC is fundamentally different from other assets it regularly deals with (for example, what happens in the case of a hard fork?). It is also worried about a lack of liquidity in the markets.
In conversation with Decrypt, Sui Chung, CEO of crypto indices provider CF Benchmarks, pointed out that in the early days, those filing for BTC ETFs—such as the Winklevoss twins—were doing so from startups, albeit well-funded ones. But now the filings are coming from a new breed of applicants that are ready to meet these challenges.
"I think a lot of the areas that the SEC has previously voiced concerns around, filers [didn't have] a lot of experience in the ETF market, particularly with the vagaries of the crypto markets and how they would sync up with equity markets through the ETF structure," he said. He added that if constructed in the right way, a BTC ETF need not be different from any other ETF listed on the stock exchange.
In August 2021, SEC chair Gary Gensler weighed in, noting that he "particularly looked forward to" the SEC's review of "ETFs limited to these CME-traded BTC futures." His hint that the SEC is more favorably inclined towards BTC futures ETFs than ETFs with physical exposure to BTC sparked a rush of applications for BTC futures ETFs, with the likes of Galaxy Digital and VanEck filing proposals.
While the U.S. has dragged its heels, other countries have pressed ahead. There are now multiple BTC ETFs operating in countries such as Canada and Brazil. And there are a number of exchange-traded notes (ETNs) in Europe, which are very similar financial instruments.
Still, despite numerous rejections and delays, the crypto industry remains optimistic. In July 2021, crypto exchange Coinbase reiterated that a BTC ETF is "only a matter of time."
Editor's Note: This article was revised and updated in August 2021 to expand the list of ETF applicants.