Token inspired by Will Smith's slap on Chris Rock goes up 13,000%
2 min read
The crypto community wastes no time. Shortly after actor Will Smith's slap in the face of comedian Chris Rock at the 2022 Oscars ceremony went viral, a token was created inspired by the historic moment.
In a few hours, the price of the crypto asset "Will Smith Inu (WSI)", already available on cryptocurrency data aggregator CoinMarketCap, jumped more than 10,000%.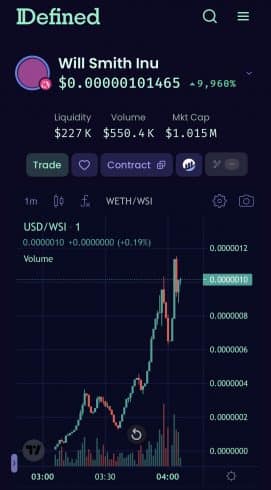 As per the WSI price chart, the price at launch time was around $0.00000007724. A few hours later, the token reached its maximum price at $0.00001014. Therefore, an appreciation of more than 13,000%.
At the time of writing, the price of the crypto asset has retreated from its maximum value and is trading at $0.0000009991, a price 1,190% above its launch price. The token is currently available on some decentralized exchanges (DEX) such as Uniswap
Will Smith's slap on Chris Rock – understand the case
During the Oscar ceremony that, among others, awarded Will Smith as best actor in "King Richard: Raising Champions" (2021), Chris Rock made a "joke" with the shaved head of Smith's wife, Jada Pinkett Smith, who suffers from an autoimmune disorder that causes hair loss.
Apparently, the actor didn't like what he heard and slapped Rock. The case made headlines all over the news and generated countless memes on social media.
The crypto community, which is also a big fan of memes, created a token inspired by the case. As is common in the case of hypes, the price of the asset skyrocketed.
Rug pull in sight?
However, it is worth noting that, in cases like these, it is not advisable to invest in the asset. After all, what happened to the digital currency inspired by the popular Netflix series "Squid game" could happen.
After the success, the Squid Game (SQUID) token was created, inspired by the series. The asset also registered strong appreciation, attracting the attention of many investors. In just three hours, the price of the token has skyrocketed by over 7,800%.
Shortly thereafter, there was the so-called "rug pull", and the price dropped to$0.01. Rug pull is a scam in which developers abruptly abandon a project – taking investor funds with them.
Maybe WSI is next. So it is better to be cautious.es to US$ 0.01
4 standout play-to-earn games to earn tokens