True correction will cause ETH price to drop 40%
2 min read
Despite the successful implementation of The Merge on Ethereum, the event did not have a material impact on the price. According to CoinMarketCap, ETH is relatively stable.
Such stability, however, does not mean that the correction period has come to an end. On the contrary, as analyst Capo explained, the ETH price could drop another 40% if it loses the $1,700 support.
The analyst said this support is the only thing that separates ETH from a "true correction". In other words, losing support could push the ETH price closer to $1,000.
Taps in a row on support
In Capo's view, the $1,700 region has turned into an important psychological level. After all, the price of ETH hasn't dropped below this value since March 27, 2021.
Therefore, it is a very relevant region that still maintains positive sentiment in the market. If this strong support is broken, the correction will be even bigger than the recent dips.
In his review, Capo highlights that support has been touched five times since May 2021, but buyers managed to resist. However, if a breakout occurs, ETH could reach a price below $1,000.
"ETH is in a downtrend in the short term. Smaller tops are being formed, and this support has been touched many times. If the $1,700 loss occurs, the next major target is below $1,000," she explained.
Last week, the analyst noted that ETH's support level of around $1,700 has withstood the pressure five times.
If the price does break out of support and enter a correction, Capo said the move will open a good window for long-term buying. In this sense, the indicated region to enter ETH is between $985 and $1,310.


ETH analysis. Source: CryptoCapo/Twitter.
Fix on the way to BTC
In addition to ETH, Capo says he also expects the price of BTC to correct. According to the analyst, the current lateralization movement between $29 and $32K indicates that the cryptocurrency is currently in a redistribution range.
A redistribution interval means, in practice, the market is deciding which direction it is going to take. If the price does not break the up range, the buying force usually overcomes the pressure. As a result, the price breaks out just below the zone, amplifying bearish moves.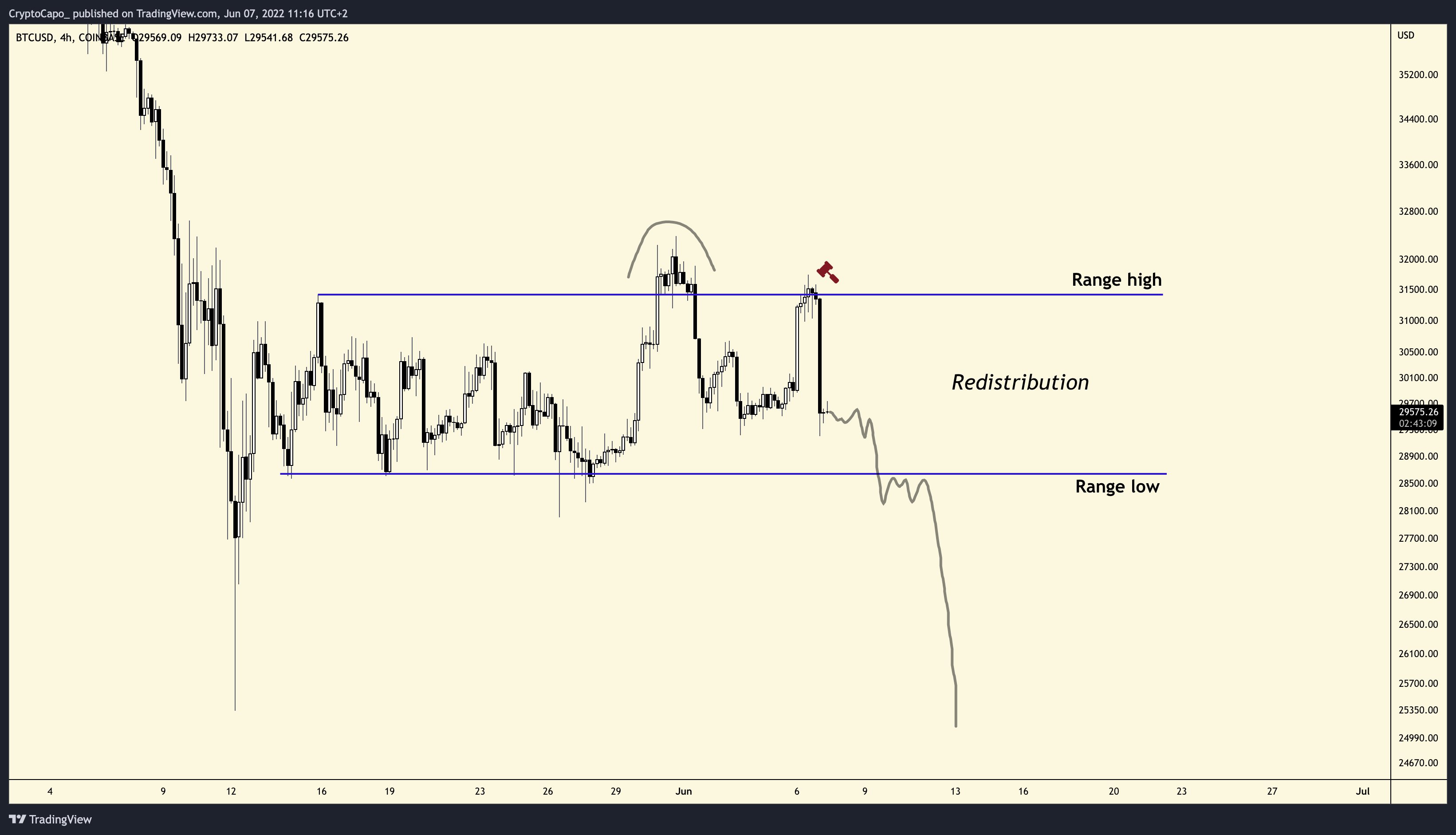 "What is happening in the range and what has happened in the high range shows that this is a clear redistribution range. If it breaks below the range's floor, the price should aim for the $21,000 to $23,000 region," said the analyst.
Yuga Labs disables code that allowed infinite creation of Bored Apes NFTs