What Changed in Crypto Markets While You Were Sleeping — Aug 23
2 min read
BeInCrypto presents our daily morning roundup of crypto news and market changes that you might have missed while you were asleep.
BTC update
Despite last week's increase, the weekly BTC chart provides mixed signs. 
On the bearish side, the price has previously broken down from an ascending support line and could now be close to validating it as resistance (red icon).
In addition to this, the Stochastic oscillator has made a bearish cross. Furthermore, the supertrend has been bearish since the May 19 drop (red line) and the downtrend line is currently near $54,000. Finally, volume still pales in comparison to that during the May crash.
If this were a bullish reversal, we would expect volume to be higher than that during the drop, or at least closer to it.
On the bullish side, the MACD is above 0 and has given a bullish reversal signal. In addition to this, the RSI has moved above 50.
Therefore, while there are both bullish and bearish signs, the weekly chart is slightly leaning on being bearish.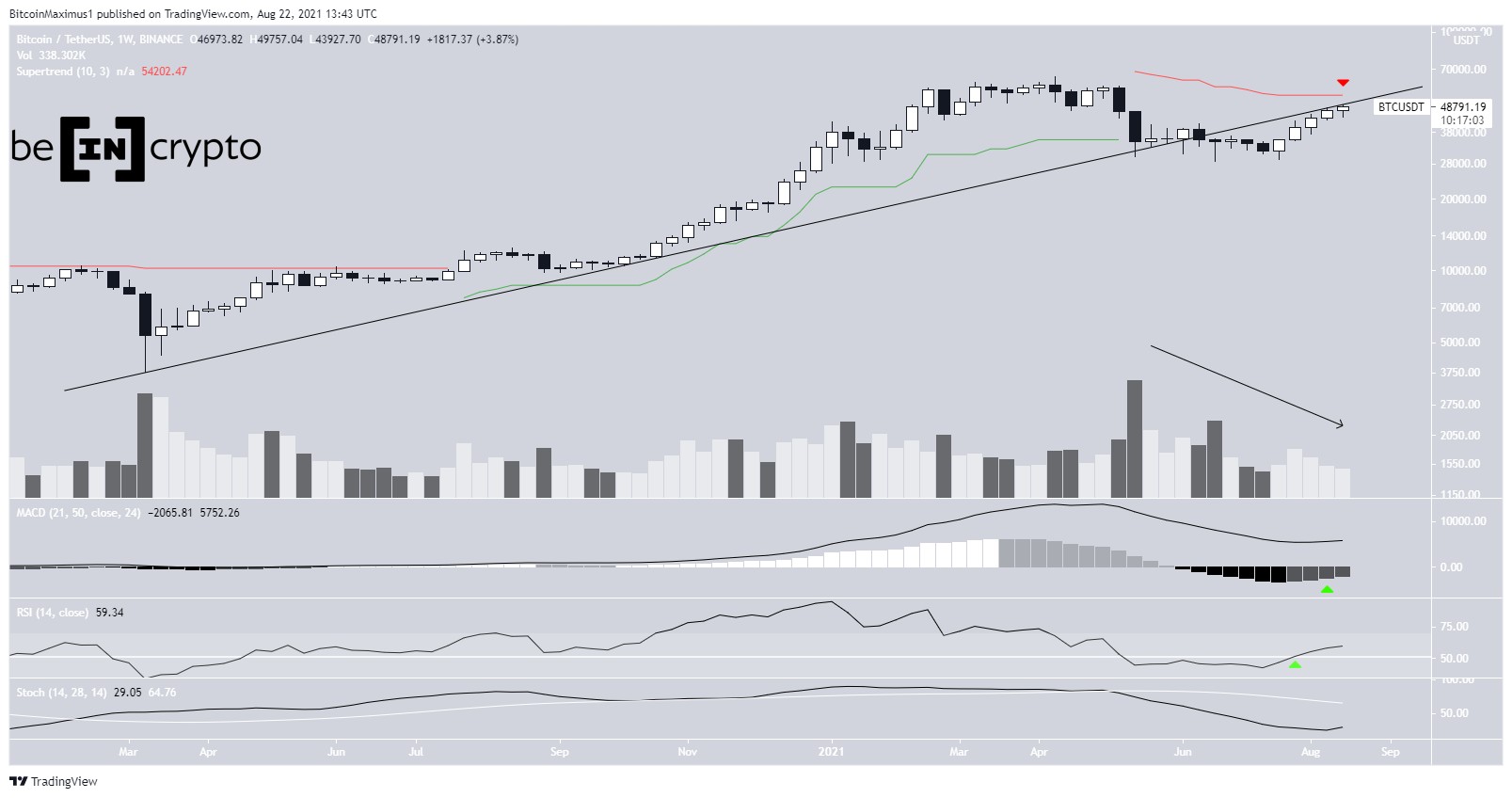 Altcoin movers
The total cryptocurrency market cap has spiked to $2.23 trillion today to reach a three-month high. It's now just a bit over 14% from retaking the all-time high of $2.55 trillion. Both BTC and ETH have made 2.2% gains on the day and are pulling up the majority of the market with them.
A handful of altcoins have managed to add more than 10% in value today. Telcoin (TEL) is the current top-dog. TEL has added 24% in value in the past 24 hours and is up by 40% in the past week. Despite this pump, TEL is still more than 50% away from hitting its all-time high of $0.06 that was achieved this past May.
Solana (SOL) is the day's biggest loser so far. SOL is down by more than 4% on the day. This is coming hot off the heels of a new all-time high of $78.45 that SOL reached on Aug 21. So despite its small losses on the day, SOL is still up by nearly 40% in the past week.
In other crypto news
Global payments giant PayPal has enabled customers based in the United Kingdom to buy, hold, and sell cryptocurrencies.
The governmental agency in charge of power generation and distribution in Iran says that crypto mining operations will be able to function from Sept 22.
Deloitte surveyed over 1,200 executives in the financial services industry, learning that a vast majority believe that crypto will become important in the next two years.
The post What Changed in Crypto Markets While You Were Sleeping — Aug 23 appeared first on BeInCrypto.