What Changed in Crypto Markets While You Were Sleeping — July 14
2 min read
BeInCrypto presents our daily morning roundup of crypto news and market changes that you might have missed while you were asleep.
BTC update
BTC is still trading inside the range of $31,300 and $40,550 that's been in place since May 19. Currently, it's trading slightly above the $31,300 horizontal support area.
The price has been moving downwards since July 12 after it reached a local high of $34,678. The ongoing descent has caused daily time-frame indicators to turn bearish.
The MACD has given a bearish reversal signal and the Stochastic oscillator has made a bearish cross (red icon). The RSI is also below 50.
Therefore, daily signals are bearish.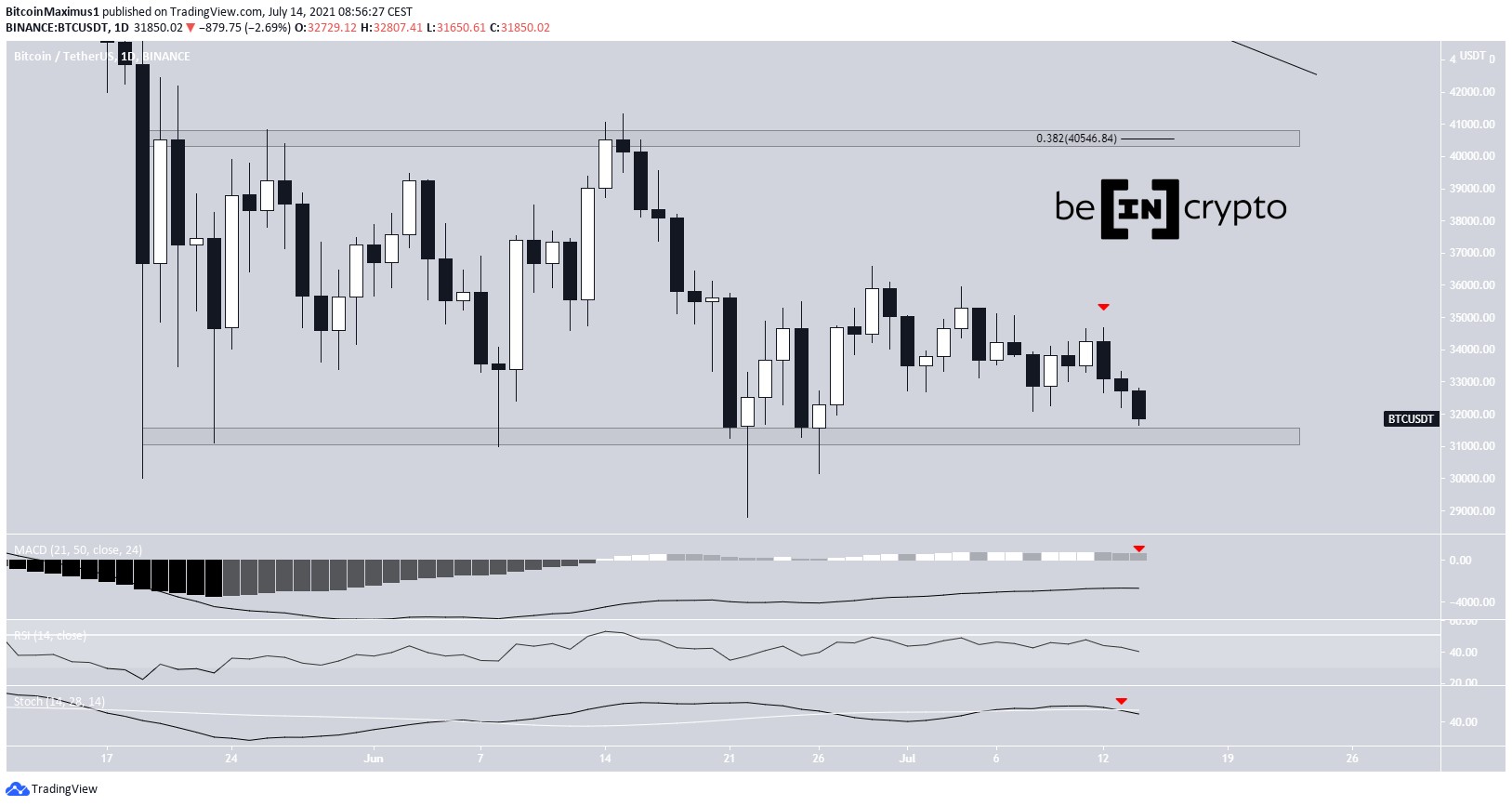 Altcoin movers
The total cryptocurrency market cap has taken a hit today, dropping by 4.5% to the $1.35 trillion level for the first time since June 26. The market cap is now dangerously close to breaking down below the range low of $1.32 trillion that was reached on June 22.
As would be expected, nearly every cryptocurrency in the top-100 is seeing multiple percentage losses in the past 24 hours. In fact, the only two assets that have made gains at the time of press are the cDAI and cUSDC stablecoins.
There are a handful of cryptocurrencies that are experiencing double-digit percentage losses on the day. Synthetix Network Token (SNX) has taken the brunt of the bearish market and is down by more than 16% in the past day. Telcoin (TEL) and Cosmos (ATOM), however, are following close behind. Each is down by more than 15% today.
In other crypto news
Another round of controversy has arisen over the decisive Uniswap DeFi Education Fund as half of the donated tokens have been liquidated into stablecoins.
The French stock market regulator has published a series of proposals asking for more supervision and regulation that could affect the crypto market.
Automated decentralized finance asset management platform Set Protocol is the latest to launch on Layer 2 aggregator Polygon.
The post What Changed in Crypto Markets While You Were Sleeping — July 14 appeared first on BeInCrypto.