What is NEO and how does it work?
2 min read
Neo is an open-source blockchain with native cryptocurrency NEO, which is part of the Smart Economy and Decentralized Finance (DeFi) ecosystem.
How does blockchain Neo work?
The project was launched in 2014 in China under the name Antshares and then underwent a rebranding in 2017 with the official launch of a new blockchain. Today, it is possible to perform peer-to-peer transactions, digitize new assets and create smart contracts on Neo.
That is why it was also referred to as the "Chinese version of Ethereum". In fact, in 2018, developers upgraded the degree of network decentralization using NeoVM, or Neo Virtual Machine. Thanks to NeoVM smart contracts, it enables the creation of new tokens based on Neo standards, such as NEP-5 tokens. To give a practical example, the ONT, DBC, and NEX tokens are NEP-5.
Decentralized applications (dApps) and DeFi based on NEP-5 standards are now used in various industries, such as exchanges, fintech, games, marketplaces, services, media, identity and infrastructure.
NEO and GAS: two native Neo blockchain tokens
Unlike many other blockchains, the Neo network has two native tokens: NEO a GAS.
Thus, while NEO serves as an investment token and allows users to vote on blockchain enhancements, GAS is used to pay fees for transactions that are completed on the network.
At the time of writing, the market capitalization of NEO cryptocurrency is over $ 4 billion with a dominance of 0.18% of the entire crypto market. In general, the NEO price followed a market trend, reaching a record high of $ 176 around January 2018, when BTC reached 20,000.
The same thing happened to GAS, which reached a price of $ 88.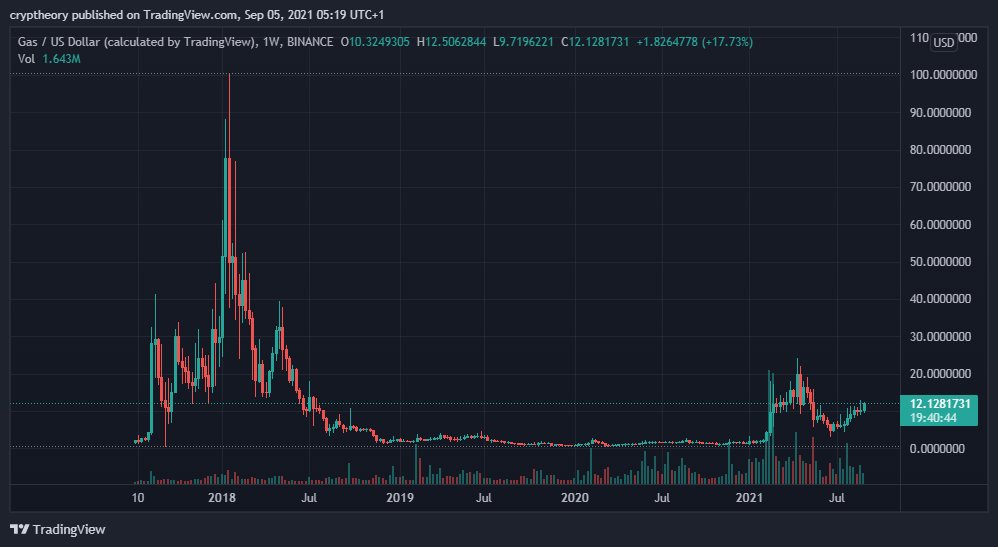 The bull run in 2021, which recorded new all-time highs for BTC and ETH, was not the same for NEO, which followed the trend, but without surpassing its previous ATH.
NEO N3: NEO version 3.0 is ready
Blockchain Neo is now ready to deploy version 3.0 of Neo.
Specifically, from September 1 to October 31, 2021, bonuses are available to all NEO users who activate the mass migration of their NEO and GAS tokens from Neo Legacy to Neo N3.
Reminder: Mass migration with incentives will start on September 1 at 10:00 (UTC). Bonuses start at 1% and decrease over a two-month period. "