BTC Could Drop to $21,000, Trader Warns
2 min read
Market turmoil has led the price of BTC to drop nearly 30% for the week. As a result, the price of the cryptocurrency reached the all-important support of $28K. But the trader known as Capo warns: the fall could continue.
According to the trader, who predicted the recent drop in the price of the cryptocurrency, BTC should follow a path similar to the correction seen in 2018. In this sense, the price should seek levels between $23,000 and $21,000.
More drop on the way
According to Capo, BTC transfers to exchanges have picked up steam again in recent days. This is supported by the latest data from Glassnode, which brings a strong spike in uploads. The rise pushed the number of BTC on exchanges above 2.5 million.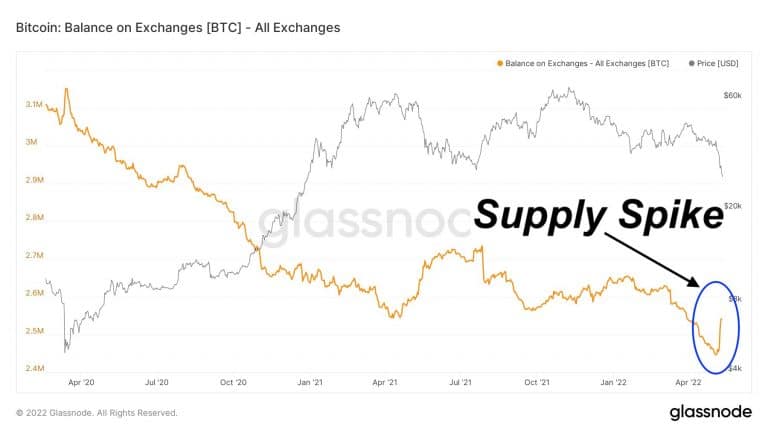 Spike of increase in BTC sending to exchanges. Source: Glassnode.
That spike is the main force driving the current dip, and it is not restricted to BTC. Capo warns that a significant amount of Ether (ETH) was also sent to FTX, which could bring further declines. ETH is down 33.67% and is now trading below $2,000.
As for his target for BTC, Capo confirms the prediction between $21,000 and $23,000. The analyst recalls what happened at the end of 2018, when BTC hit the $6,000 support. Subsequently, the price dropped nearly 50% and reached a low of $3,200.
In this regard, the analyst expects a similar fate for BTC going forward. "If you remember 2018, you know what happened when it broke the $6,000 support," he said.
BTC first time has dropped below $30,000 since July 20, 2021.
GMT at point of purchase
Finally, Capo ends his discussion by highlighting the move-to-earn protocol STEPN (GMT). The analyst said that GMT is an altcoin that he wants to buy, but only if it continues to fall in price.
Currently, GMT is worth around $1.24, a level that Capo still considers high. In his analysis, he places the region between $0.85 and $0.90 as the first entry target.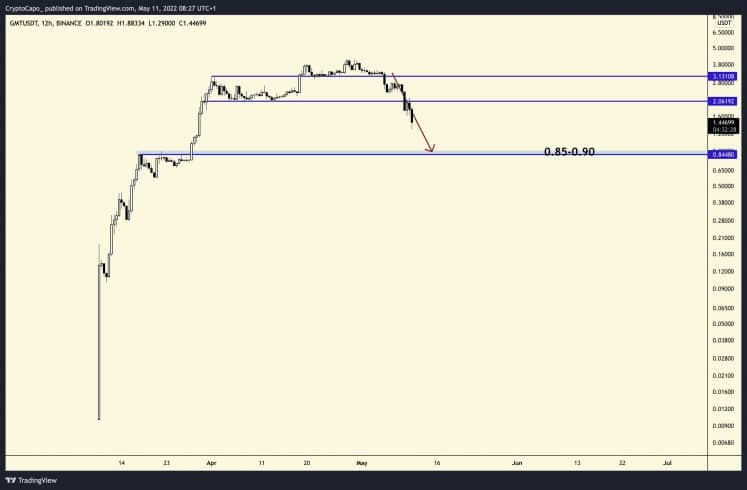 GMT entry price. Source: Capo/Twitter.
STEPN, which rewards users for taking real-life races, initially skyrocketed over 3,500% after launching in March, going from $0.11 to $3.97 at the end of April.
Long and short positions – how to trade even in times of market downturns