Fearing USDD Stablecoin Collapse Justin Sun Pledges $2 Billion to TRON DAO Reserve
2 min read
The collapse of some stablecoins, in particular that of TerraUSD (UST), has been warning authorities about possible risks of these stable assets. But it's not just them who are on alert, market players are already moving to avoid damage.
This is the case with Justin Sun, CEO of the Tron Foundation. As reported by Cryptheory, the foundation this month launched its USDD algorithmic stablecoin project inspired by Terraform Labs' UST.
But now that the TerraUSD project has collapsed, Sun is worried that its newly launched stable digital currency will do the same.
$2 billion to secure USDD stablecoin
On his Twitter account, Justin Sun announced that he will allocate $2 billion to the reserves of the Autonomous Decentralized Organization TRON DAO to prevent the USDD from losing its 1:1 peg to the US dollar.
According to him, the Tron stablecoin is likely to be the "next target" of an attack:
"TRX shorting funding rate on Binance is over 100% APR. It looks like TRX is the next target after LUNA. Tron DAO will deploy $2 billion to fight them," Sun tweeted.
The CEO of Tron Foundation highlighted the sharp increase in the cost of financing to open the TRX sold, acting as collateral for USDD. According to his estimates, in terms of annual return, the indicator rose to 377.56%. This number reflects the rapid demand for the asset by bearish traders.
After that announcement, TRON DAO tweeted about several purchases to "protect the general blockchain industry and cryptocurrency market."
Firstly, TRON DAO Reserve announced that it bought 1,000 Bitcoins, at an average price of $30,096, for $30,096,000.
It then reported that TRON DAO Reserve purchased 1,467,612,695 of TRX (1.47 billion) with an average price of US$0.0661 for the total amount of US$97,009,199.13 (US$97 million).
Soon after, the foundation tweeted that it purchased 100,000,000 USDT at an average price of $0.982 for a total value of $98,200,000. Altogether, the aforementioned purchases totaled approximately US$225,305,200.
TRX and USDD performance
The cryptocurrency market as a whole is experiencing difficult days with major cryptocurrencies posting double-digit losses in the last 24 hours.
And the TRX was not left out of the "bloodbath". The token has lost about almost 14% in the last week. But the drop is not so sudden considering that BTC has dropped 10% in the last 24 hours and almost 30% in the last week.
Meanwhile, USDD stablecoin has been struggling to stay priced at $1. In the last 24 hours, the stablecoin price has reached $0.98 and at the moment it is at $0.99.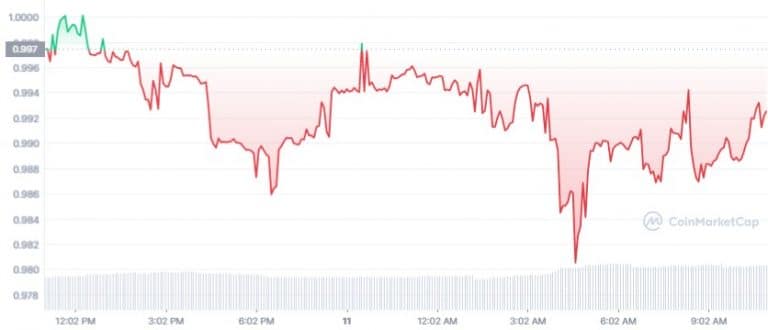 Long and short positions – how to trade even in times of market downturns